This is an accessibility review for Caswell Bay in south Wales. Caswell Bay is located about 20 miles away from Swansea and is a lovely beach. It's not just great for the scenery but also for its disabled facilities.
Caswell Bay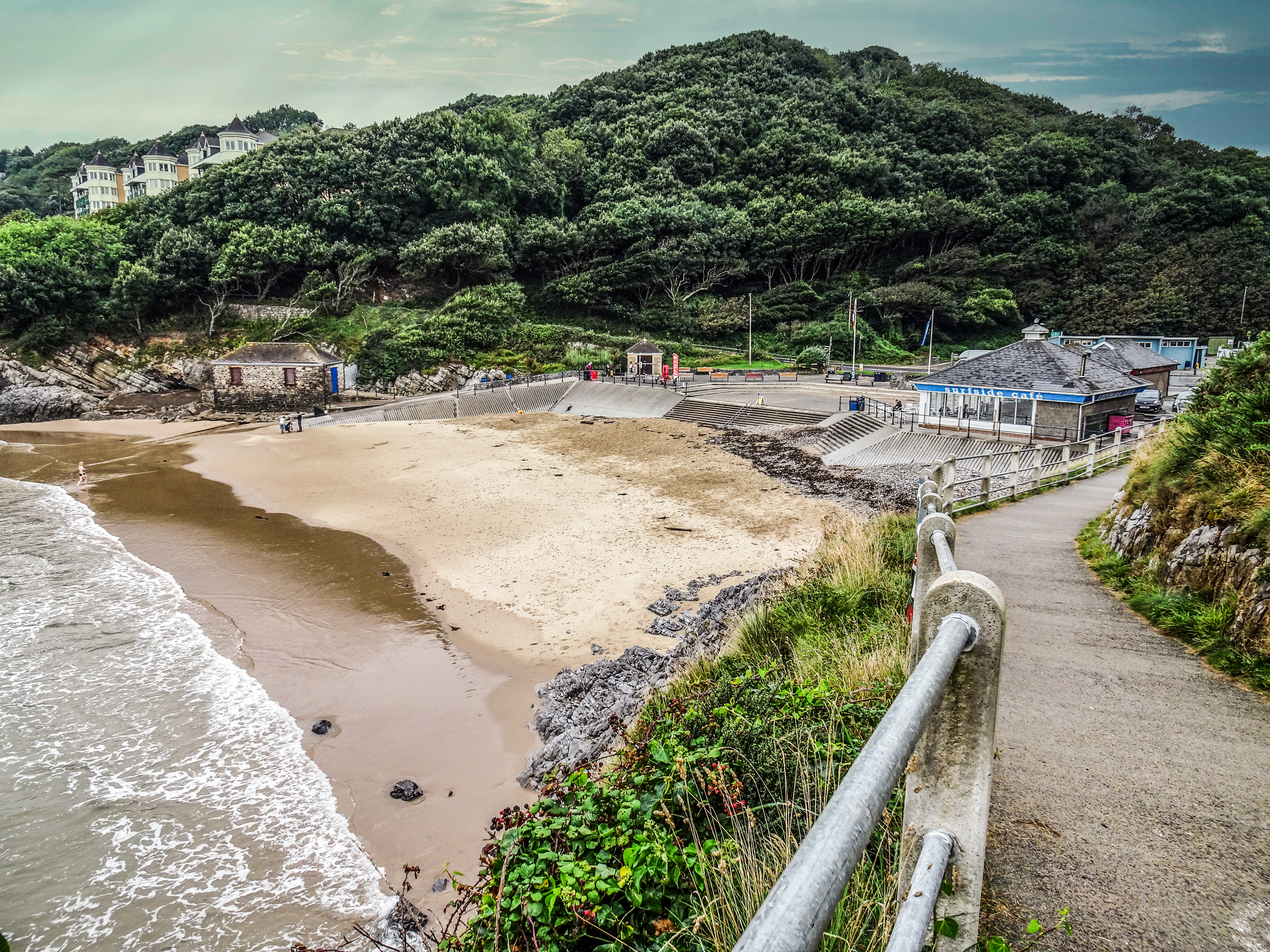 Caswell Bay beach has golden sands with big hills rising up around it. A concrete promenade lays between the beach and the road. Beside this, there are some cafés and a shop selling the usual seaside gifts and snacks.
Chairs and tables were set up outside the café so you can eat alfresco if the weather is nice.
The car park for the beach is only about 100 m away across the road and there are a decent number of disabled parking spaces.
Caswell Bay accessibility
A concrete ramp runs down from the promenade to the beach allowing access for wheelchairs right up to the sand. But if we want to go onto the beach then we would need to make use of the beach wheelchairs which are available nearby.
Surfability
The Surfability building is situated just next to the road and it's here that you can find beach wheelchairs. They have big chunky wheels which can easily cope with the sand and a seat kind of like a deckchair. A changing places toilet is also next door which is spacious and has a ceiling hoist and changing table.
Surfability helps disabled people to go surfing in the waves of Caswell Bay. They have surfboards with seats on them so physically disabled who can't hold themselves up would be able to go on a surfboard.
Check out the following video:
4 people will be with me while surfing – 3 in the water and one sat behind me only surfboard. They would be able to quickly turn me upright in case I fall over.
I spoke to someone at Surfability and they said the best time to go surfing is around May time.
Hopefully, I can go back next summer to try out surfing. It sounds like great fun!
Conclusion
Caswell Bay, near Swansea, is a beautiful place with good accessibility. I would love to go back next summer to try accessible surfing and then I can write about it on here. It was great to see a changing places toilet nearby as well which is always useful, plus the beach wheelchairs. All in all, it's a great beach for disabled people to visit