A few days ago I decided to find the answer to a question. The question was this: will my Powerchair fit into a train?
Every time I have been on a train before I did it in my manual chair. Purely because I thought my Powerchair would be too big to fit into the train.
So in order to answer the question, I decided to take the train to London in my powerchair for the first time.
It was a bit of a gamble because I had to book the train tickets in advance and the assistance. So if I couldn't get on the train then I would have to hope that they gave me my money back. But I was quietly confident that everything would be fine, so that was a risk I was willing to take.
Whilst I was in London I decided I would visit the new Body Worlds exhibition in Piccadilly Circus. This involved going on the underground, so it was a good test of the transport system.
The journey
I'm delighted to inform you that the experiment was a success. My powerchair managed to fit the ramp to get on the train and the doors were wide enough. There was just about enough space for me to turn around once inside the train. And the wheelchair space was just about big enough for my Powerchair. However, I had to sit sideways in the space because the table was in the way. It would have been easier if the table was removable.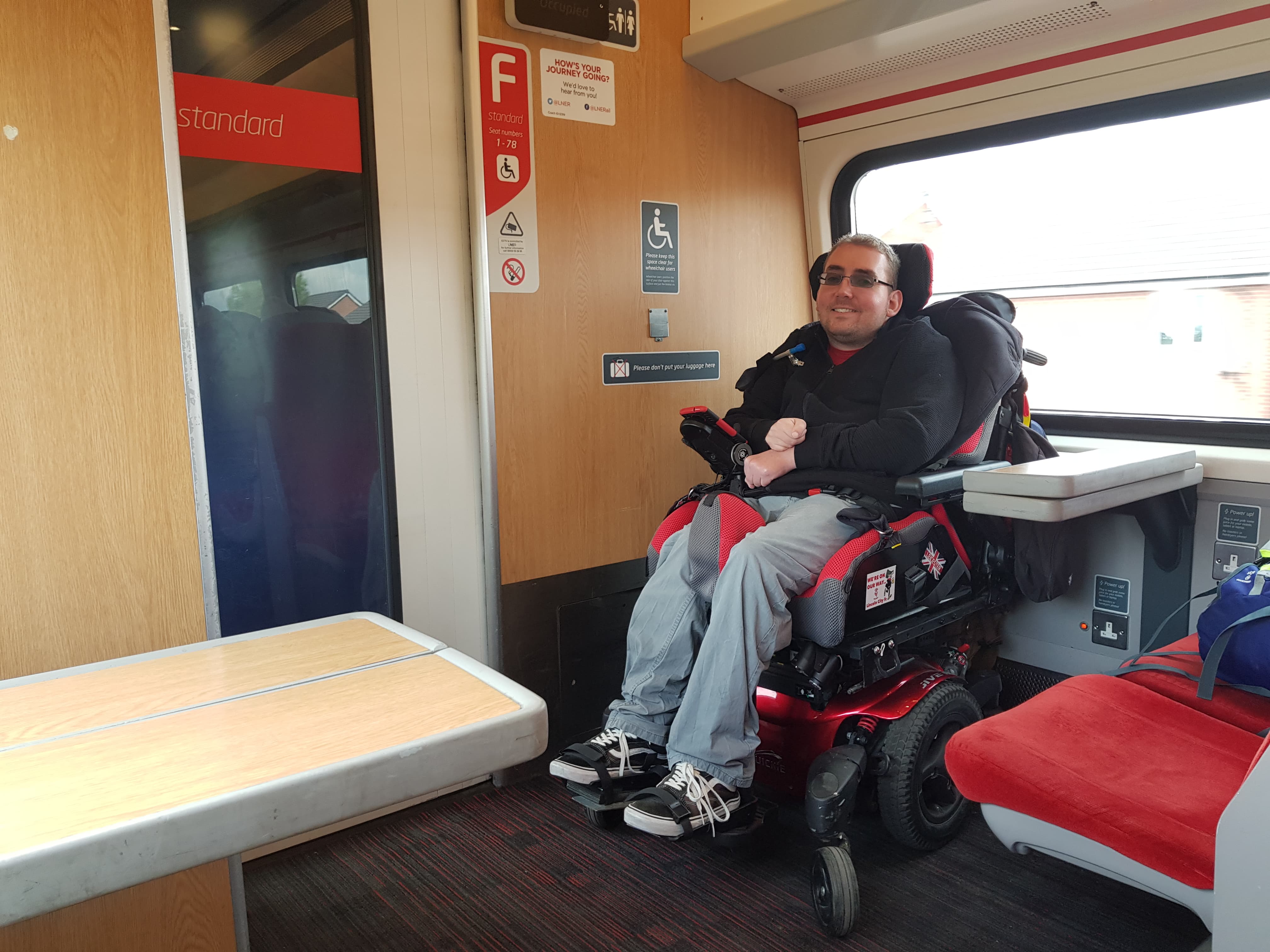 Happily, my powerchair also managed to fit into the toilet. There wasn't a lot of room for the carer as well as me but it was doable, and importantly it was possible to close the door.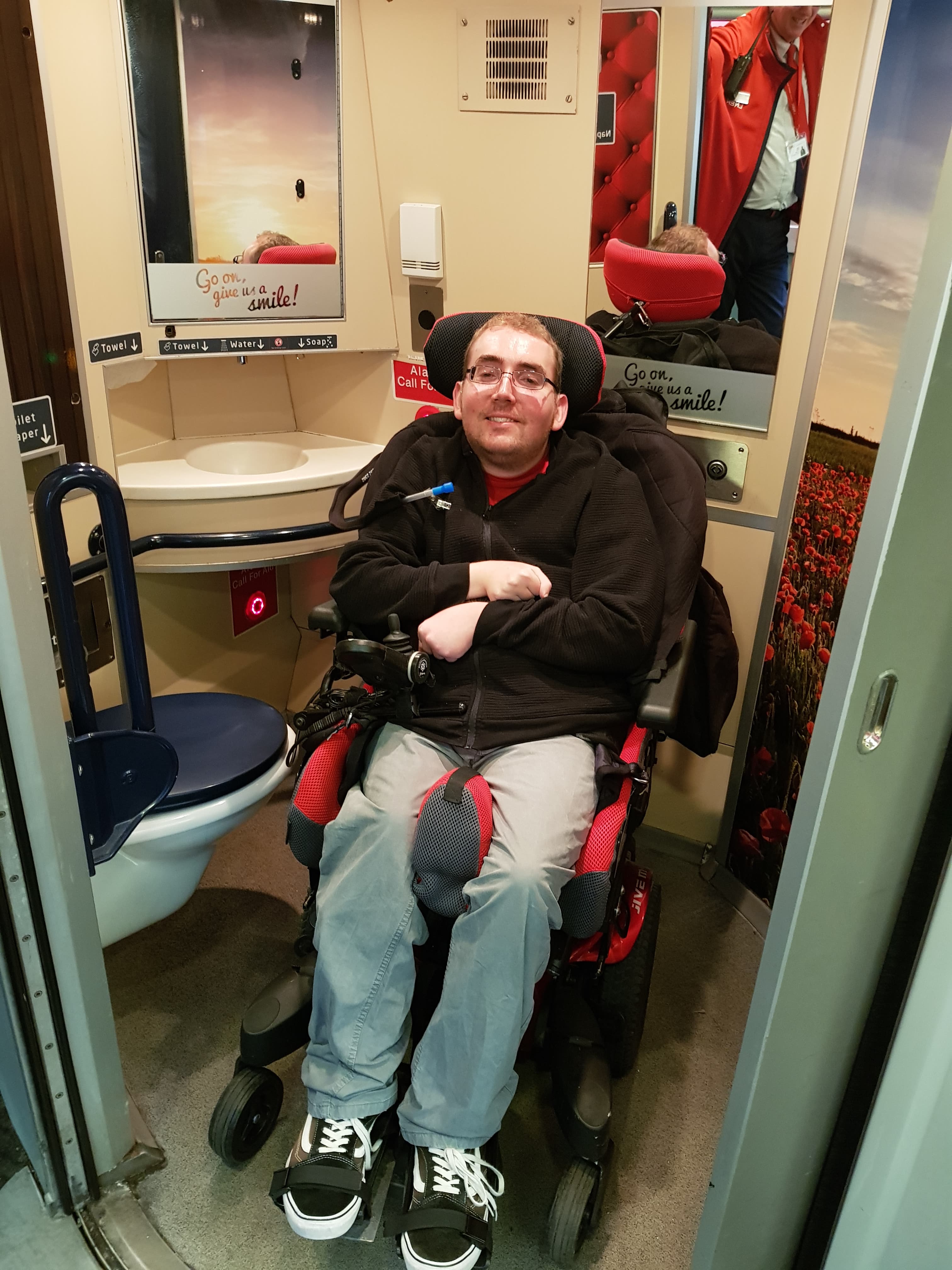 Going Underground
When we arrived at King's Cross I had to go on the underground to get to Piccadilly Circus.
I used Google maps to plan a route beforehand to get there on public transport. There is a useful option to select Wheelchair Accessible routes when looking for directions on Google Maps. Just click on the public transport icon > Options > Wheelchair Accessible.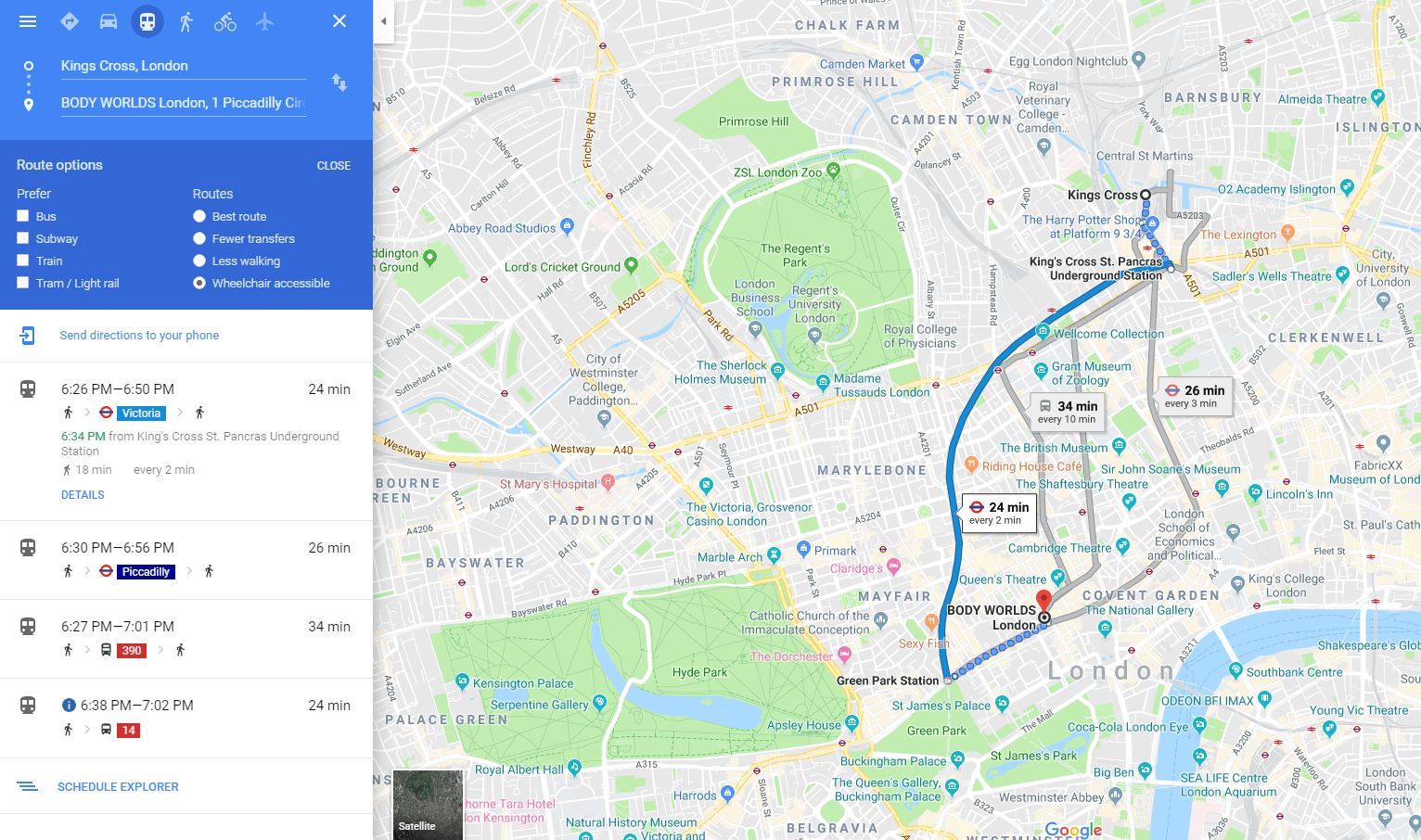 One of the options was to take the Victoria Line from King's Cross to Green Park station, which is what I did.
At King's Cross you have to take 3 different lifts to get down to the Victoria line, which is fine but maybe a little confusing sometimes. The platform itself had a raised section so that the platform was level with the floor of the train so I could drive straight on.
It took about 10 minutes for the train to arrive at Green Park station where I got off. Again the platform had a raised section so that it was level with the train and I could just drive straight off without incident. I love it when stations are completely accessible, and you can get on and off the train without any faffing about.
I then took a couple of lifts up to street level. Piccadilly Circus was then a 10-minute walk/roll straight down the road. Driving down the road was quite easy. The pavement was quite smooth and the only thing I had to look out for was people in the way.
All in all, it was a pretty straightforward journey. The trip back to King's Cross on the underground at the end of the day was more interesting. It was during rush hour so the place was heaving. In fact, it was hard to see where the lifts were because there was just a wall of people everywhere.
When we finally got down to the platform there was a member of staff who helped clear a space on the train for me, where I slotted myself in like in a game of human Tetris.
In case you are not aware body worlds is an exhibition displaying real human bodies.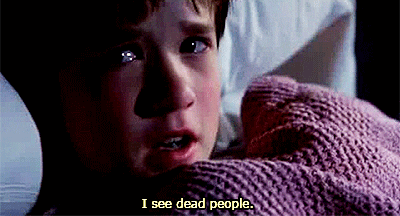 The bodies have been converted into plastic-like statues using a process called plastination, and the finished specimens are called plastinates.
It preserves the body incredibly well and they can be positioned in any pose. It's a fantastic way to learn about human anatomy – much better than reading a textbook. The skin is removed from all the plastinates and you can see all their muscles and internal organs.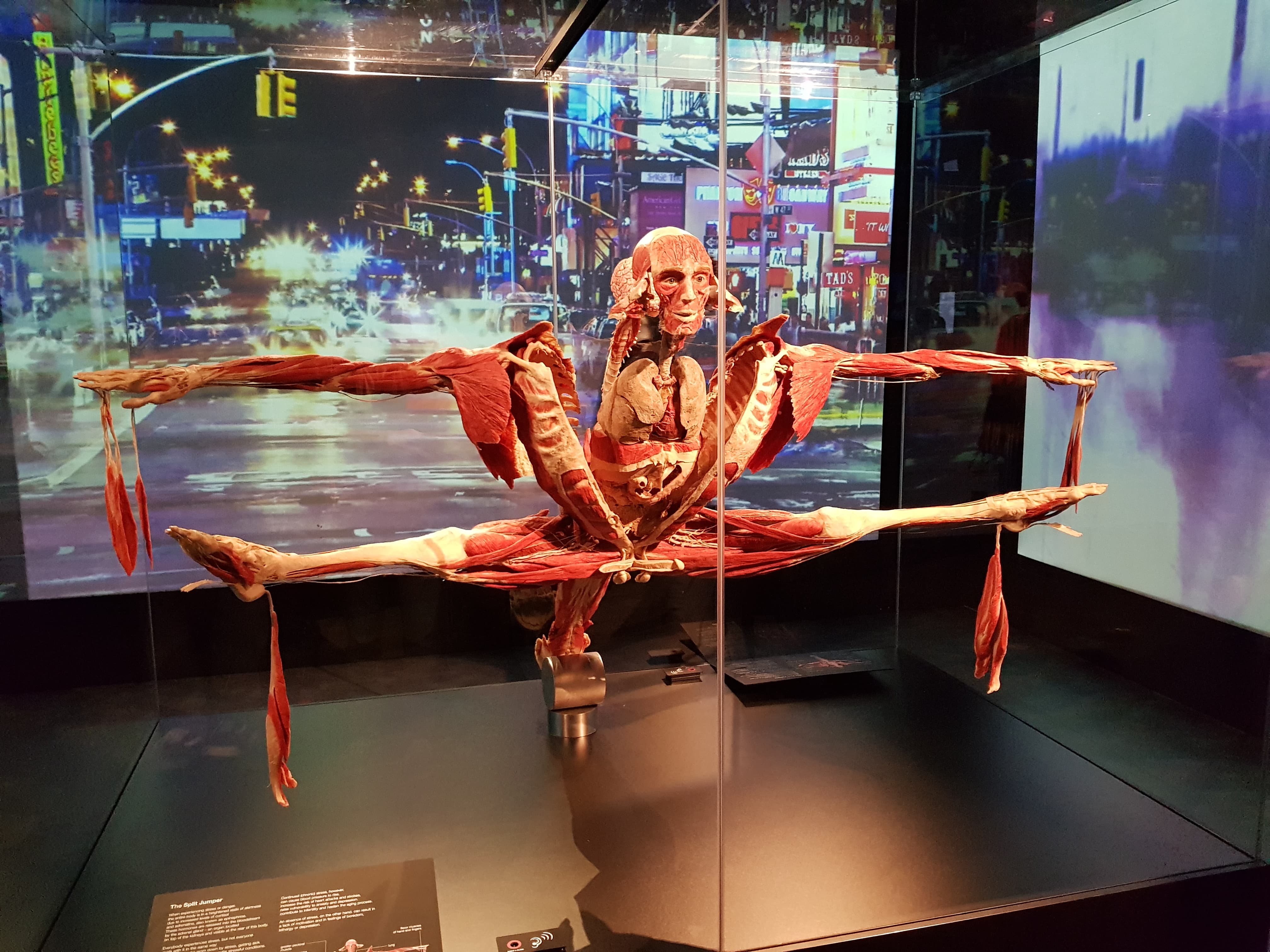 Like I said earlier I visited body worlds in Amsterdam and the one in London is quite similar. A lot of it seemed to be the same but there were some differences. For example, in the London Body Worlds they have a plastinate of a huge horse rearing up on its hind legs with 2 riders on its back. It's very impressive.
If you want to see some more photos of Body Worlds have a look at my post about Amsterdam. There are a lot more to see on there.
I would definitely recommend visiting Body Worlds if you want to find out how your body works. It's not gory or anything like that. I don't like blood and guts but I was completely fine with Body Worlds. They just look like plastic statues, and it's easy to forget that they used to be living breathing people.
Final thoughts
It was a very successful trip and everything went to plan. Nobody died, which is always a bonus. I can now look forward to more trips to London in the near future in my powerchair which will give me more freedom and independence.
I'm also pleased that the accessible route suggested by Google maps was indeed accessible. It gives me more confidence in using the feature in the future.
Sometime in June London North Eastern Railway are going to be introducing a new type of train called Azuma. I'm looking forward to seeing what this is going to be like and am hoping that there is more space inside.