At the beginning of June I spent a week in Tenerife – the second most visited destination in the world for disabled people, behind Florida. The reason is not only because it has fantastic weather and scenery; it also has great disabled access. In this post I will tell you about my trip and discuss the wheelchair accessibility of Tenerife.
Tenerife, a Spanish territory, is the largest of the seven Canary Islands. The weather is consistently hot, dry and sunny with an average temperature of 22°C. So it's a fantastic place for Sun worshippers.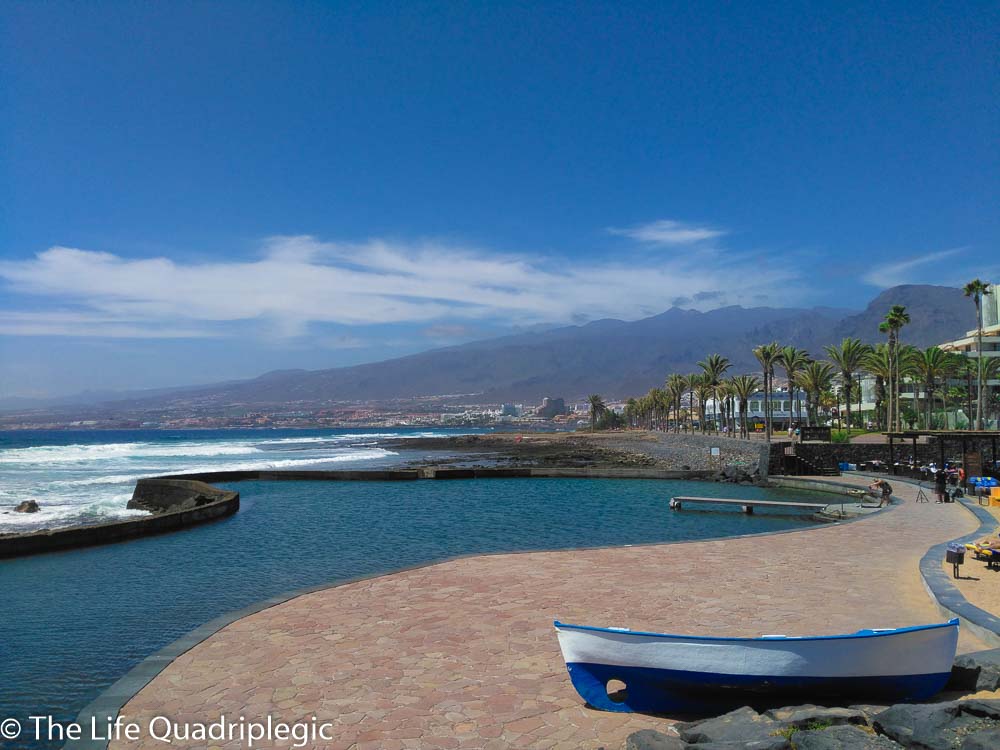 The island was formed by a volcano, called Mount Teide, which is the third highest mountain in Spain. The landscape is dark, rugged and dry; but there are green forests too. So there are an amazing variety of landscapes on Tenerife to explore.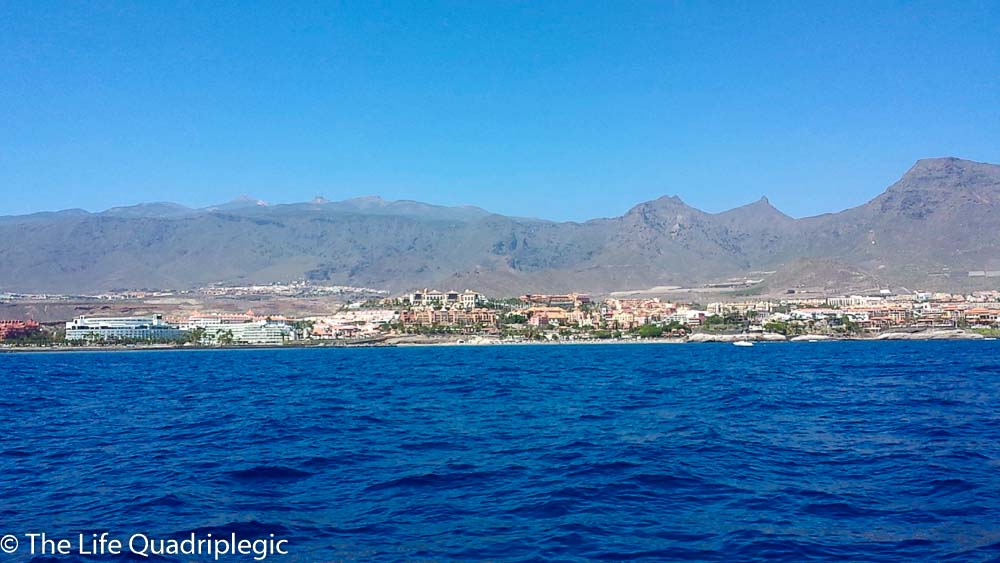 The Hotel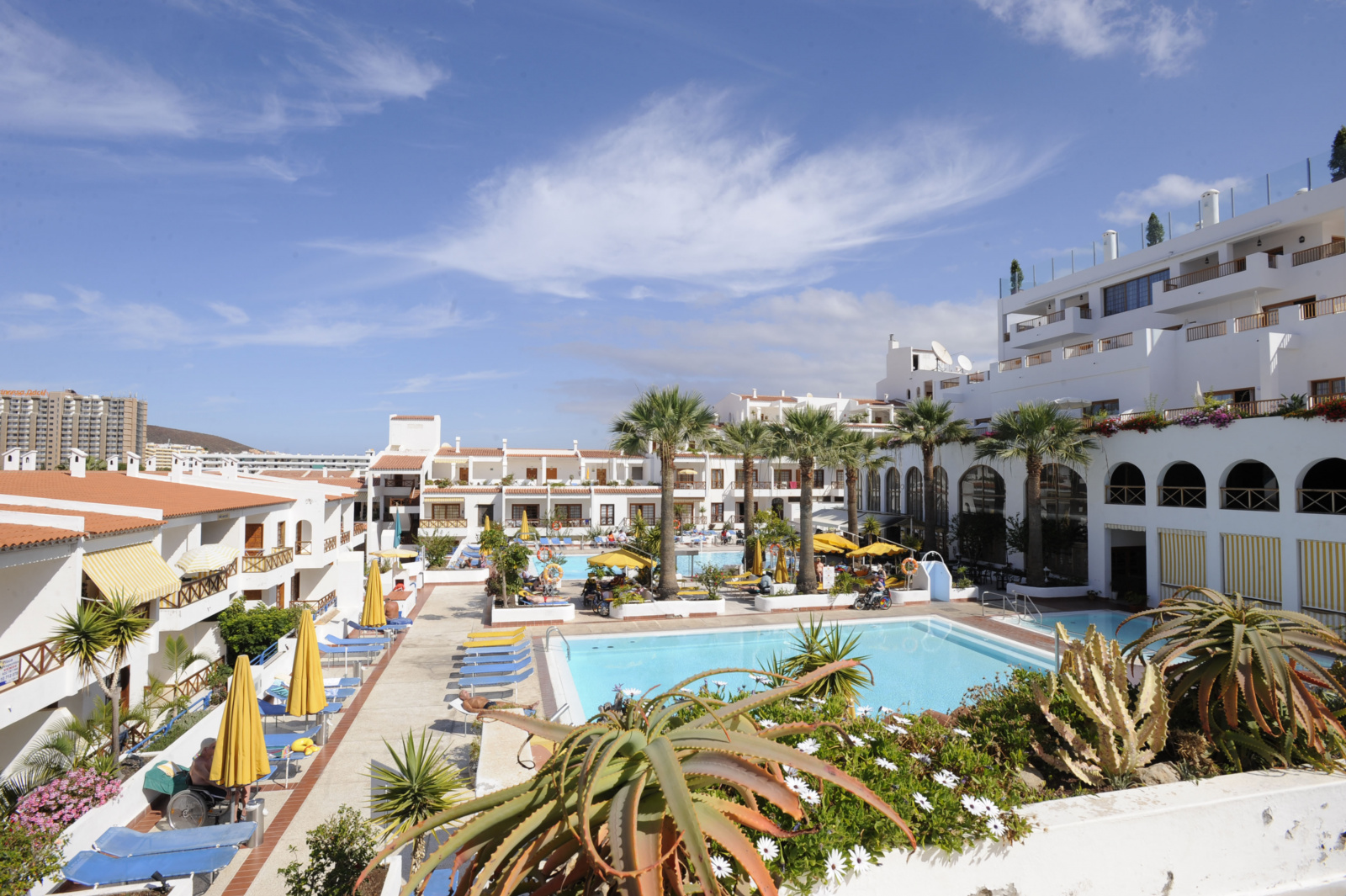 I stayed at the Mar y Sol hotel in Los Cristianos, on the south coast of the island. The Mar y sol was specially built for disabled people so it is totally accessible. The corridors are wide and easy to navigate and there are plenty of disabled toilets. Plus numerous lifts allow you to get to every floor.
My apartment was spacious, with a living room area, patio, and an adjoining bedroom for my carer and I.
Next door was a handy company, called LeRo, where you can hire equipment and book excursions. All the equipment you need will be waiting in your room for when you arrive. Unfortunately most of the excursions offered by LeRo seemed to be booked up, so we hired a car instead.
The hotel has a therapy centre, called TeraLava, where you can book a range of treatments such as massages. Plus there is a sports hall where you could play sports such as Boccia or wheelchair basketball if you wish.
In the centre of the hotel there are a number of outdoor swimming pools, each with a hoist. Some were cold and some were heated but I only got round to trying one of them – and it happened to be the cold one. I only realised that it was freezing cold once I was in it, so I didn't stay in it for long!
The hotel restaurant serves lunch and dinner where food is laid out like a buffet so you can eat as much as you like. I thought the food was excellent and we were happy to eat in the hotel most nights.
The hotel is in a nice location and is a 1.4 mile walk away from the nearest beach. The street outside the hotel is on a gentle slope so it may be a little bit tricky for users in the manual chair to wheel up and down it. There are shops and restaurants literally just around the corner from the hotel so you don't have to go very far to find them.
Tenerife Accessibility
The municipality of Arona covers resorts in the south of the island (such as Los Cristianos and Playa de las Americas) and is one of the most accessible in Tenerife.
Arona has developed the Integral Accessibility Scheme Initiative which covers all walkways, buildings, and transport and tourism facilities. There are now many accessible walkways in the area, including a 7 km long accessible beachfront promenade in Los Cristianos – the longest in Europe. There are plenty of dropped curbs and the pavement is generally wide and flat giving a fairly smooth ride for me. However, there are a few hills which may make things a bit tricky for manual wheelchair users.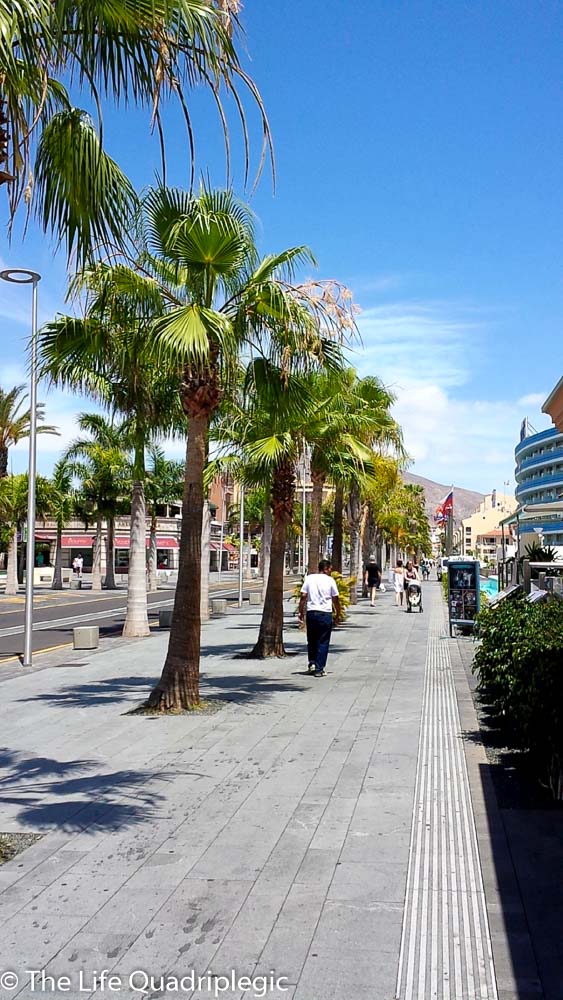 I also noticed that most, but not all, shops and restaurants have ramps, even some of the tacky souvenir shops. Playa de las Vistas beach has won an award for its disabled facilities such as wooden walkways, accessible toilets and amphibious beach wheelchairs. It's definitely one of the most accessible beaches I've ever encountered.
Have a look at this Barrier free tourism guide to Arona for more information.
Tenerife South Airport website has a page with useful information for disabled travellers. The website is also regularly updated with the latest airport information and Covid 19 protocols.
Activities
Mount Teide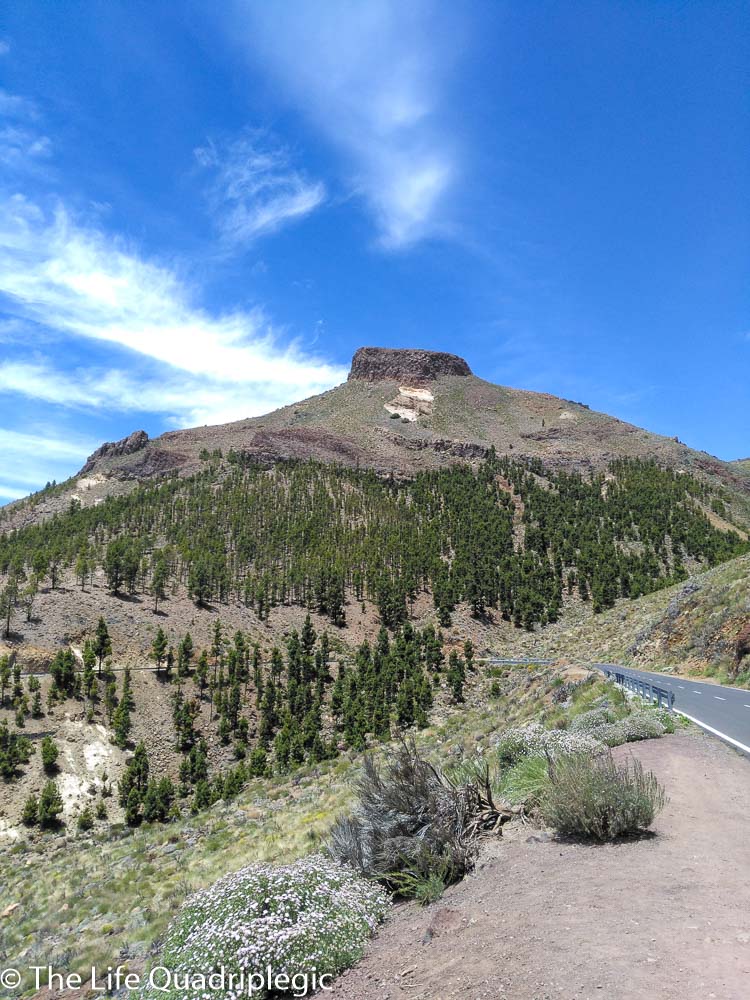 This is an absolute "must do" if you visit Tenerife. Mount Teide is the highest peak in Spain, measuring 3718 m. The surrounding National Park is where you can see some of the most stunning scenery on the island. Most of the landscape is rocky and arid, but in other areas there are great forests covering the slopes.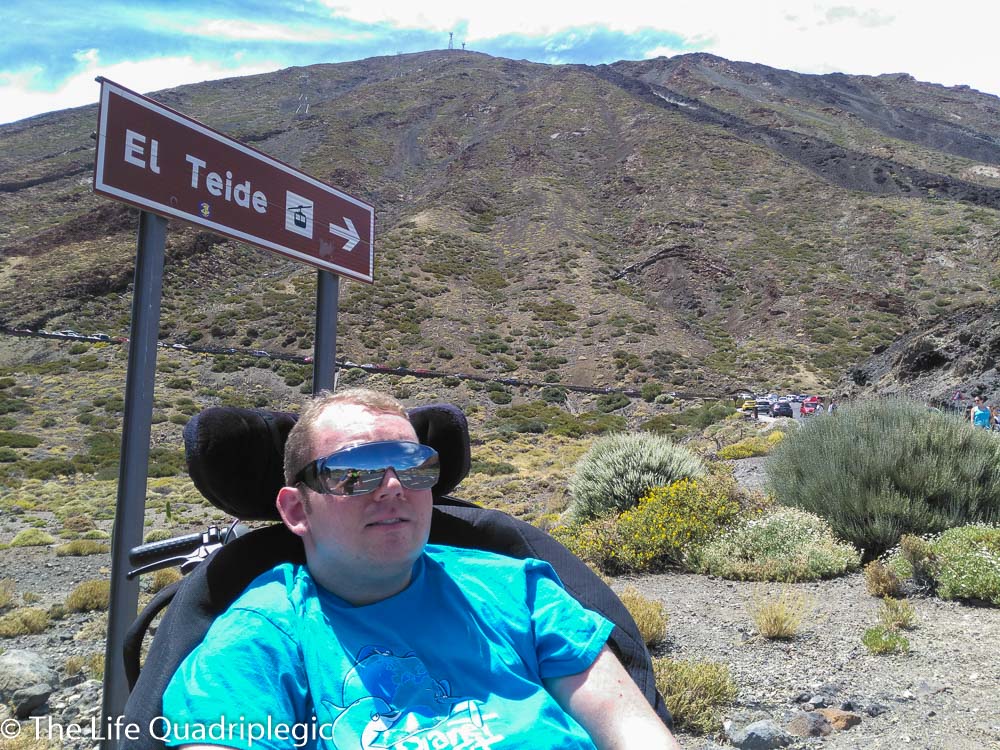 To get to Teide you have to drive on a winding road that is cut into the side of the mountain. As you drive through Teide National Park there are many places where you can park up to enjoy the view, which I highly recommend. We hired a wheelchair accessible car so that we could drive up there ourselves. However, you can also get there on tourist coaches or an excursion with LeRo.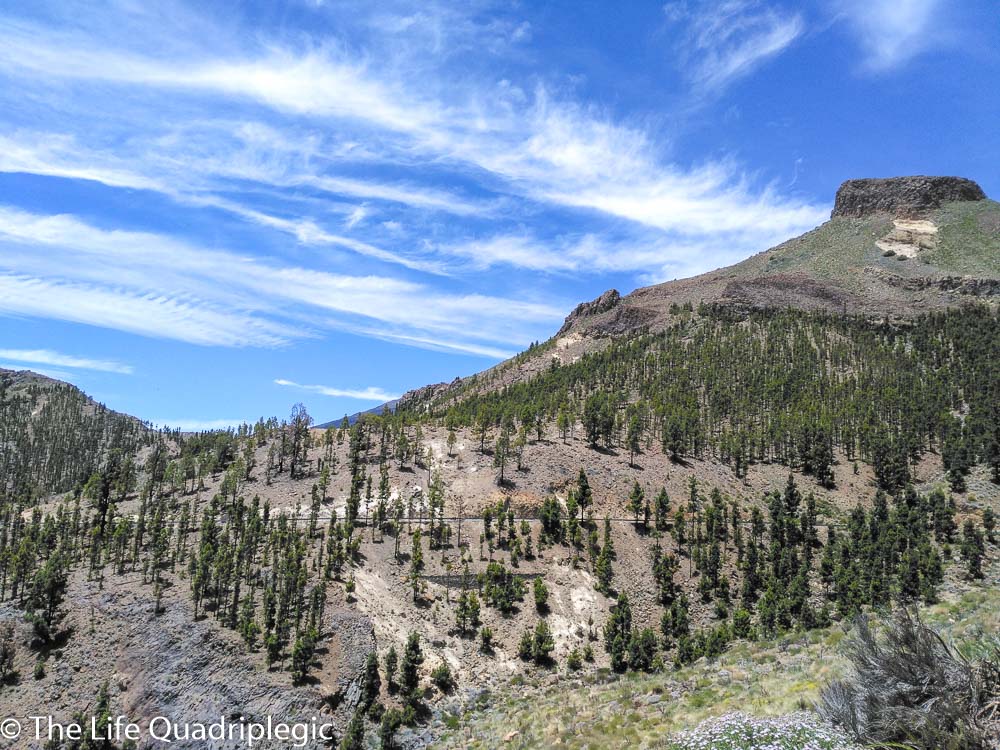 You can drive up to 2356 m where there is a cable car station. But to get higher you have to ride the cable car, which disappointingly is not wheelchair accessible.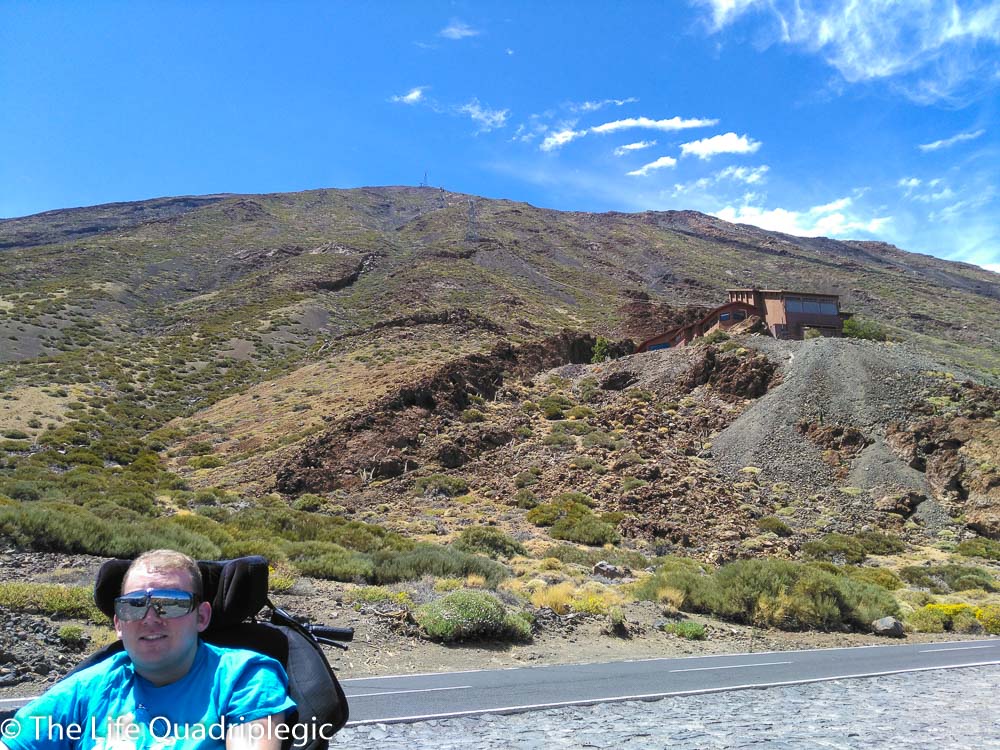 I found out after I got back that there are a couple of accessible paths that you can walk in the Teide National Park. According to the "Guide to accessible Tenerife" (which is definitely worth looking at) by Sinpromi the Roque de Caramujo and the Alto de Guamazo Path path are fully accessible. Next time I'll try these paths out for myself.
Loro Parque
This nature park is rated number one in Europe on Trip Advisor, and number two in the world. It's a big park and they have all sorts of animals such as tigers, parrots, chimpanzees, dolphins, and Orcas, to name a few.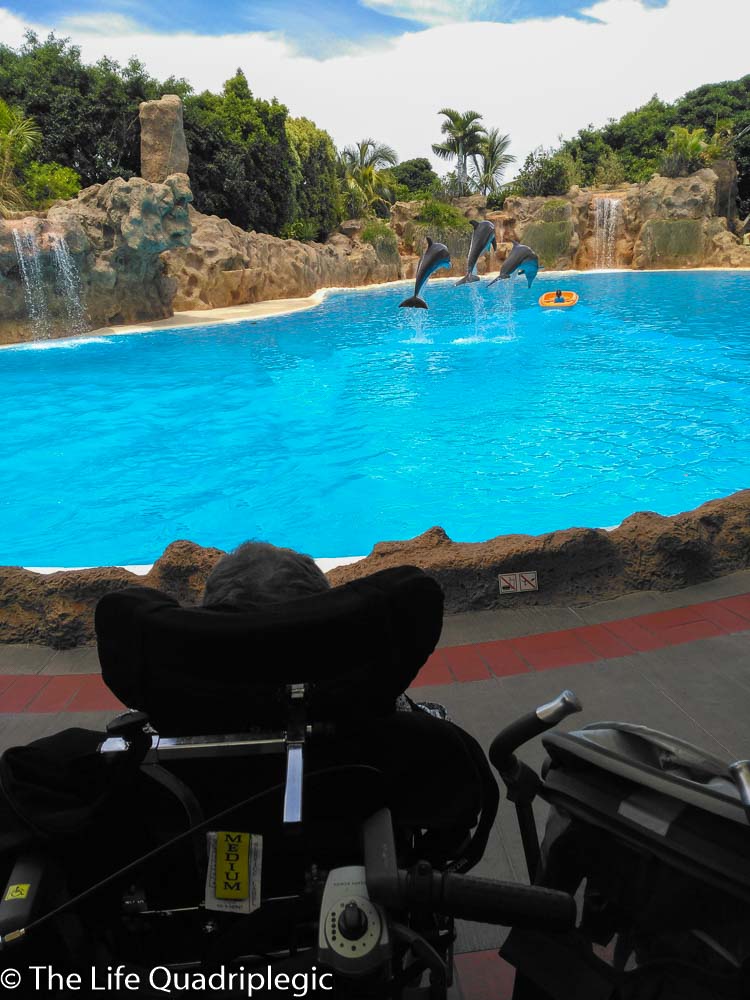 The park does a number of animal shows including with sea lions, dolphins, and Orcas. I went to see some of the shows and they were quite impressive.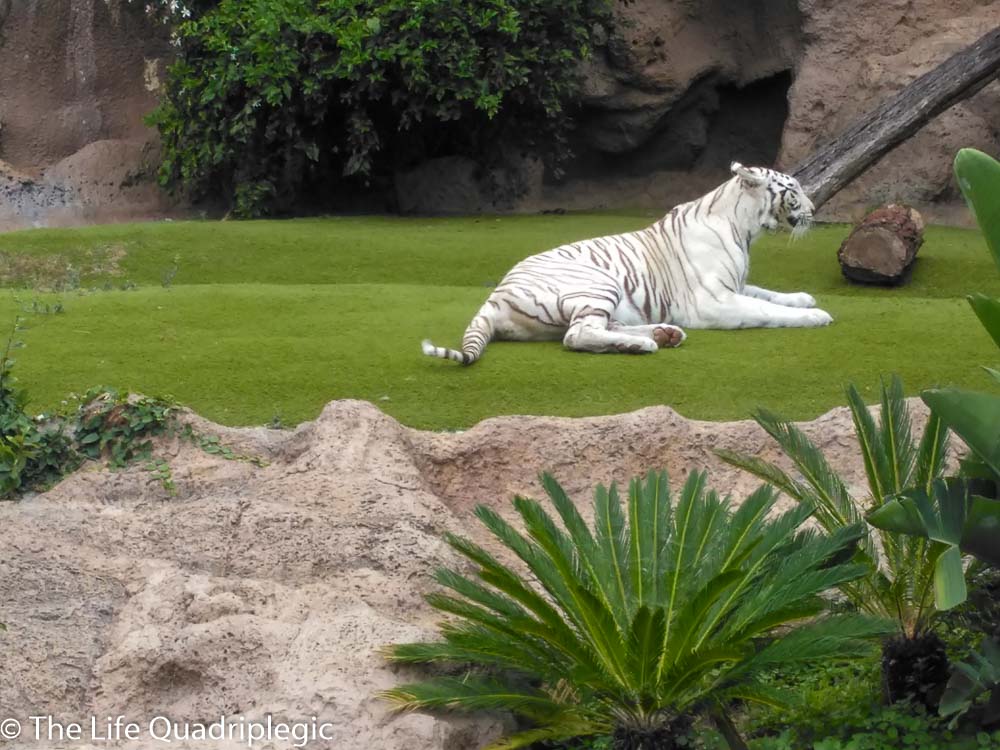 There is good wheelchair access around the park with smooth paths that go everywhere. However, the paths to some of the animal enclosures were on a fairly steep slope, which made things a little bit strenuous. At the animal shows the accessible seating is in a good position so you get a good view. Especially in the orca arena as I was sat literally just a few feet away from where the Orcas came up.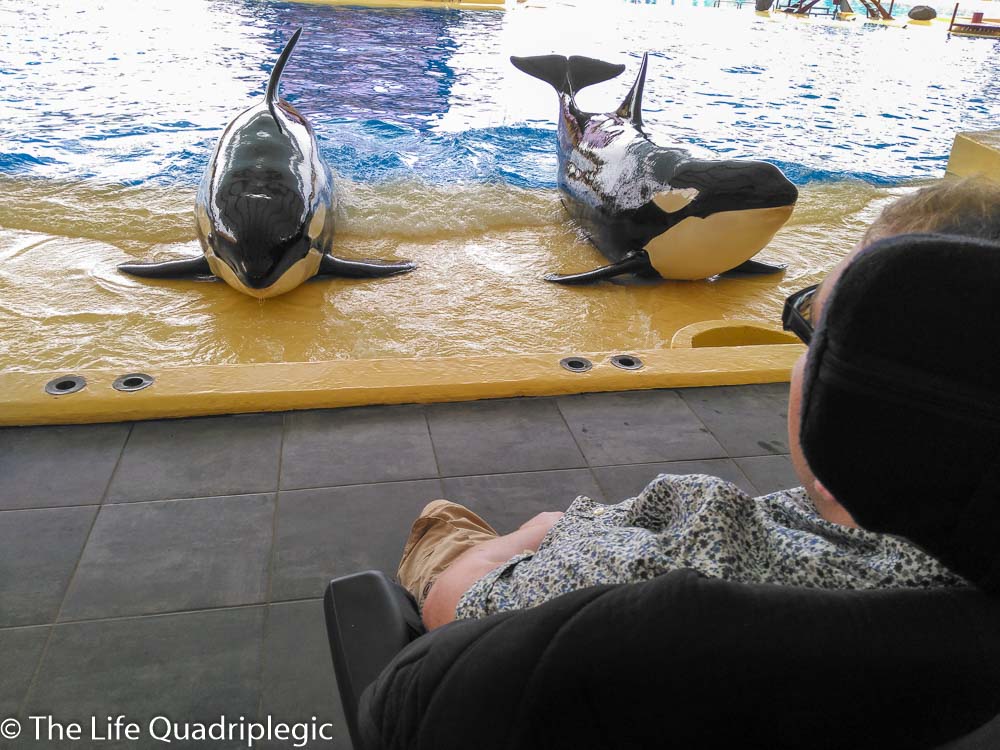 Beaches
Near Los Cristianos the most accessible beach that I visited was Playa De La Vistas, which is widely regarded as one of the most accessible in Tenerife. The beach was about a 20 minute walk from the hotel and there are wooden boardwalks that stretch across the beach, plus a number of accessible toilets.
A floating beach wheelchair was kept on the beach for disabled people to use. There wasn't a mobile hoist unfortunately, so my carers had to lift me into it. Then the lifeguards pulled the chair out into the sea and I floated around in the shallows.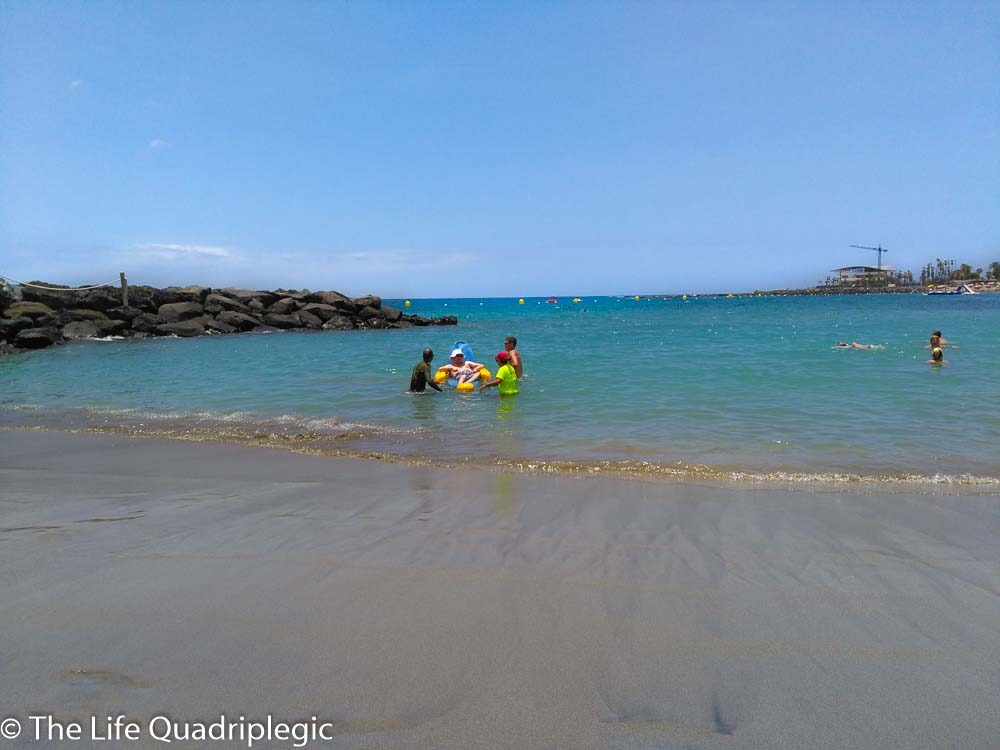 It was an invigorating experience as the water was freezing cold! Unfortunately I was only allowed to stay on the chair for 15 minutes though as it needed to be shared with other disabled people. It would have helped if they had more than one beach chair.
I then went and had a rinse in the public showers and before drying out in the hot sun. Not a bad way to relax on the seafront!
Piramides de Guimar
In the North of the island there are some stone stepped pyramids built by Tenerife's earliest inhabitants. They were studied by the anthropologist Thor Heyerdahl who was interested in how ancient people managed to cross the Atlantic Ocean to settle in new places.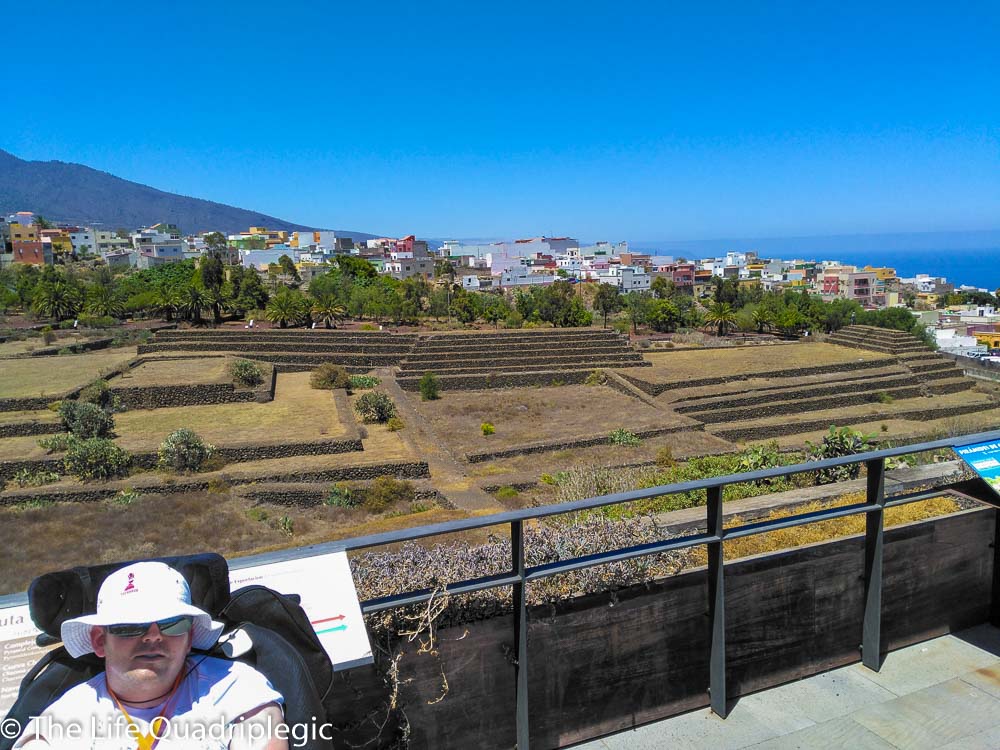 There is an interesting accessible Museum with lots of information about Heyerdahl's work, and the ancient people of Tenerife and other islands. The grounds cover 64,000 m² so there is a lot of area to discover. As well as perusing the pyramids you can explore various gardens.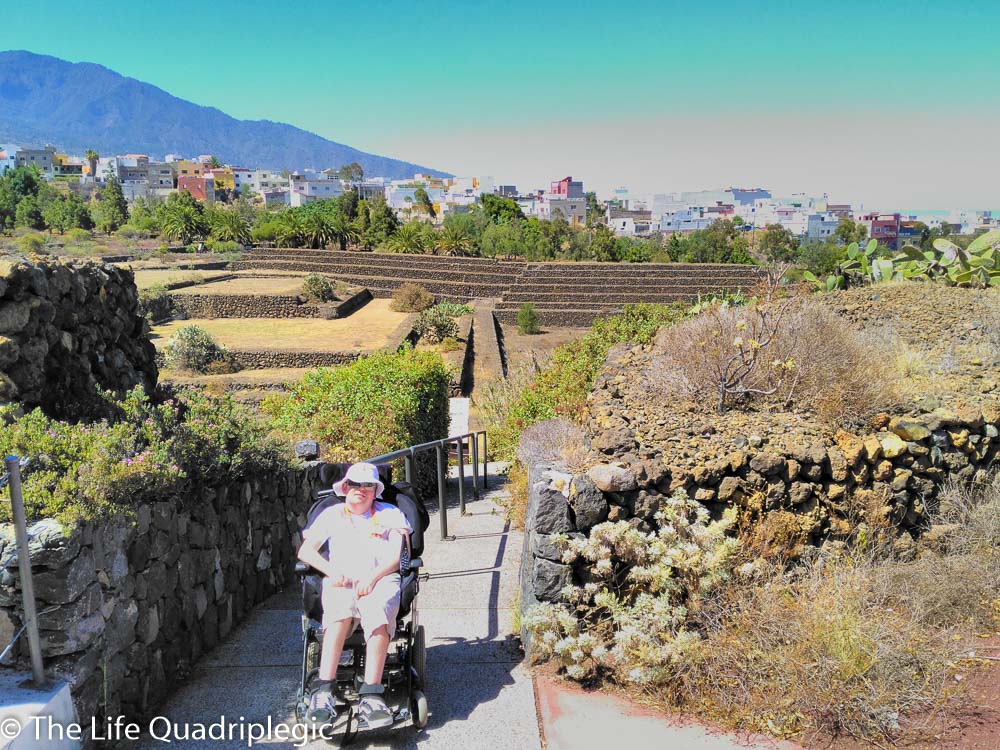 One garden is full of poisonous plants, with paved sloping paths running through it. Some of the plants were in an area surrounded by a gravel pathway, which could be a bit tricky to wheel through. There was also a cultural route with information boards along the way talking about the culture, history, and flora and fauna of Tenerife.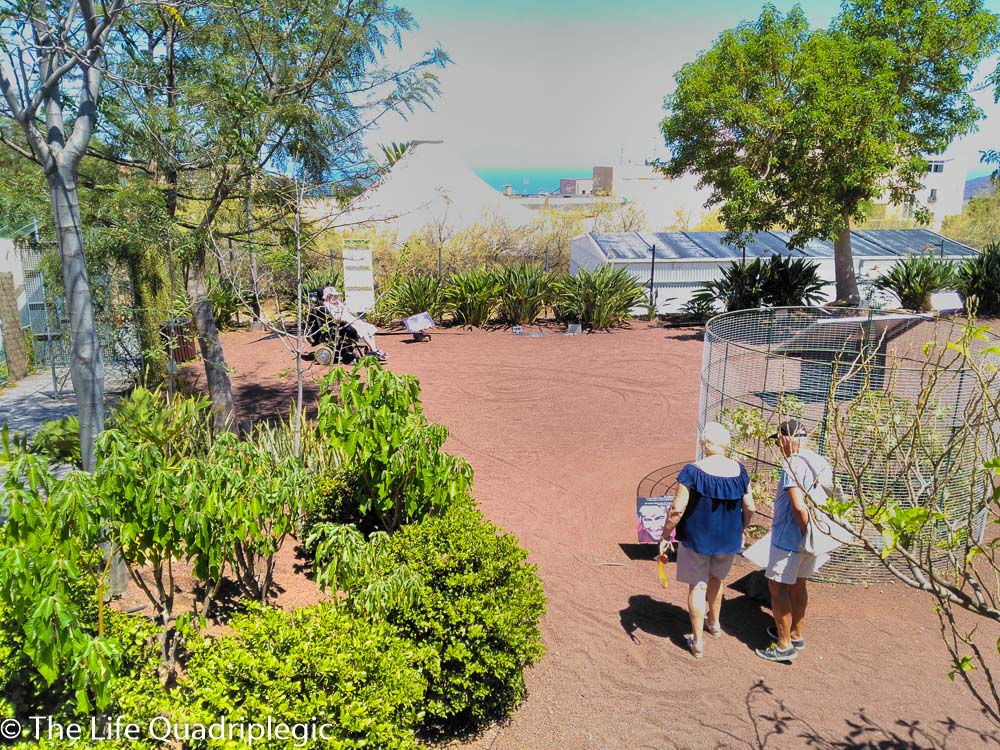 The paths around the pyramids and the gardens were paved concrete and pretty easy for wheelchairs to get around. The only problem may be that some of the paths were fairly steep which could pose a problem for manual chair users.
One last point, it's probably not a good idea to be wandering around outside in the middle of the day as it was scorching! Now I understand why the Spanish have a siesta around this time.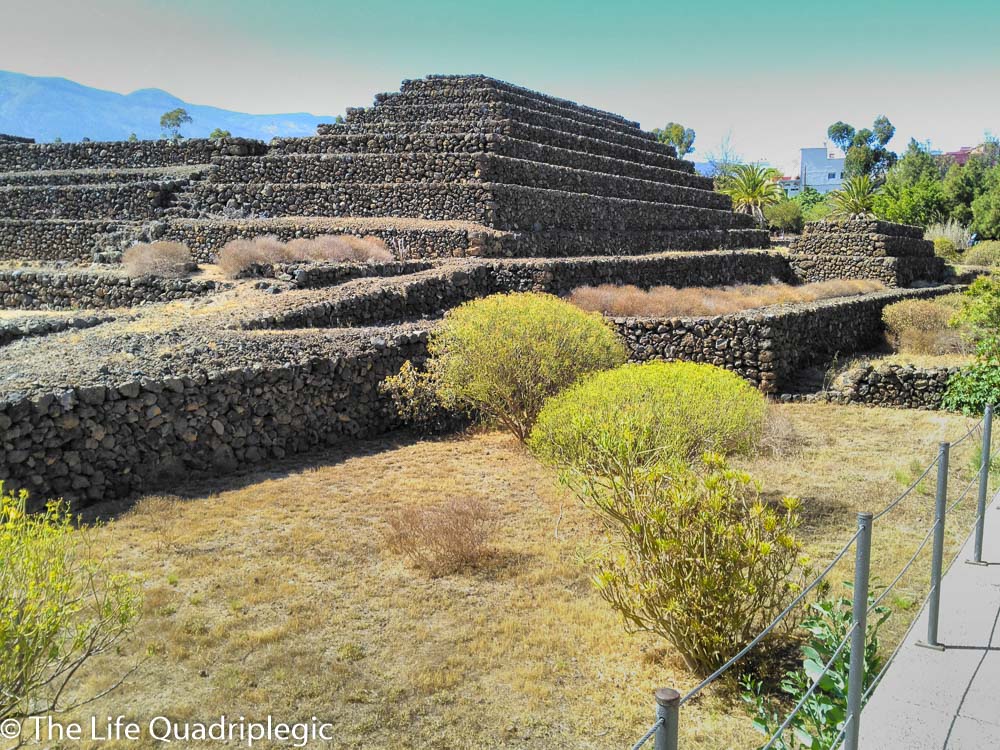 Dolphin Watching Trip
Tenerife is a great place to go dolphin and whale watching as the deep waters surrounding it are an ideal habitat for them.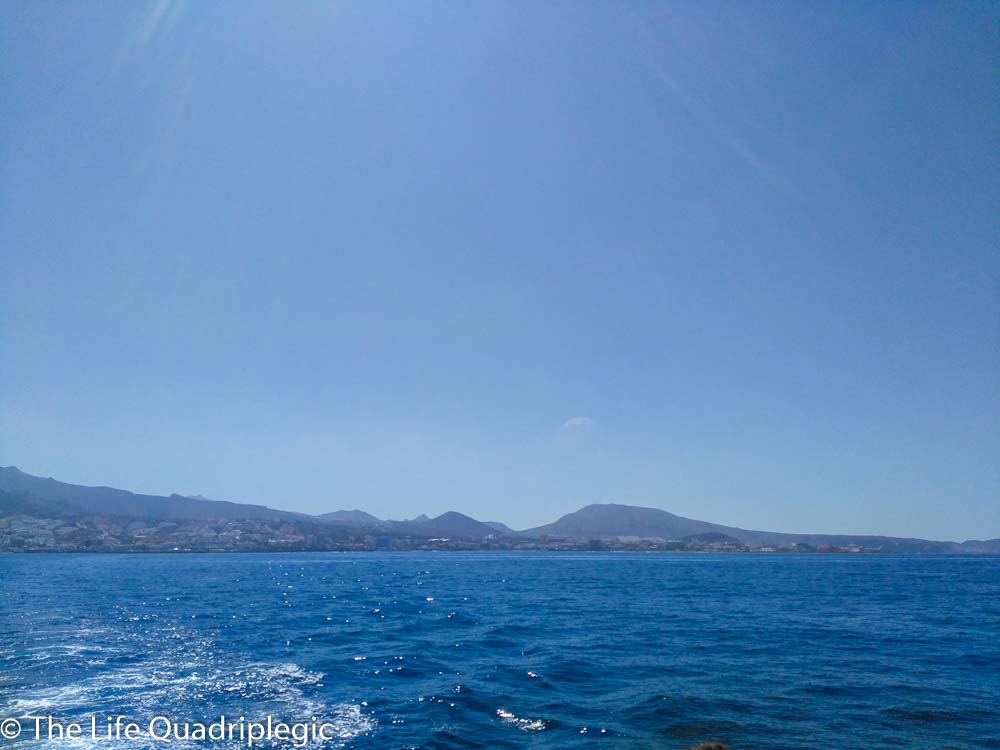 Unfortunately I found that there was a very limited choice of accessible dolphin watching boats to choose from.
I was initially advised by an excursions rep that a boat called the Royal Delfin was accessible and had a disabled toilet on board.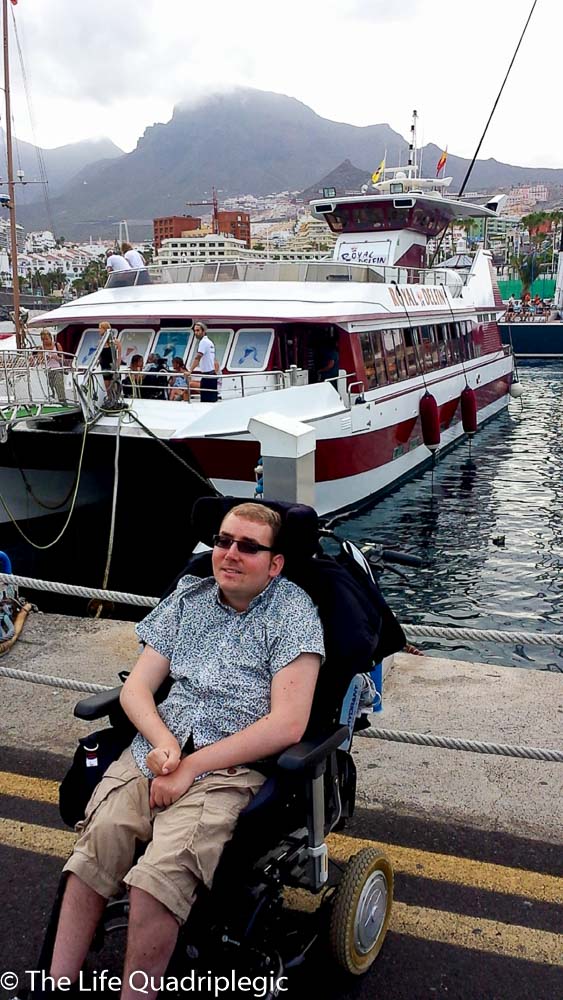 However, when we got on board we found that there was in fact NO disabled toilet on board. As the cruise was meant to last for three hours we decided to get off and get our money back.
Moored next door to the Royal Delfin was a boat called the Shogun. I could see it had numerous wheelchair users on board, so we booked to go on this one instead.
The Shogun was far from ideal though. Firstly, there was a step to get onto and off of the gangway when boarding the boat. So four crew members had to lift my chair over the step and onto the boat. Then there was another step to go from the front to the middle of the boat, and another to get to the back. It did have a toilet just about big enough for my wheelchair to get into though, but my chair had to be lifted over a small step to get into it.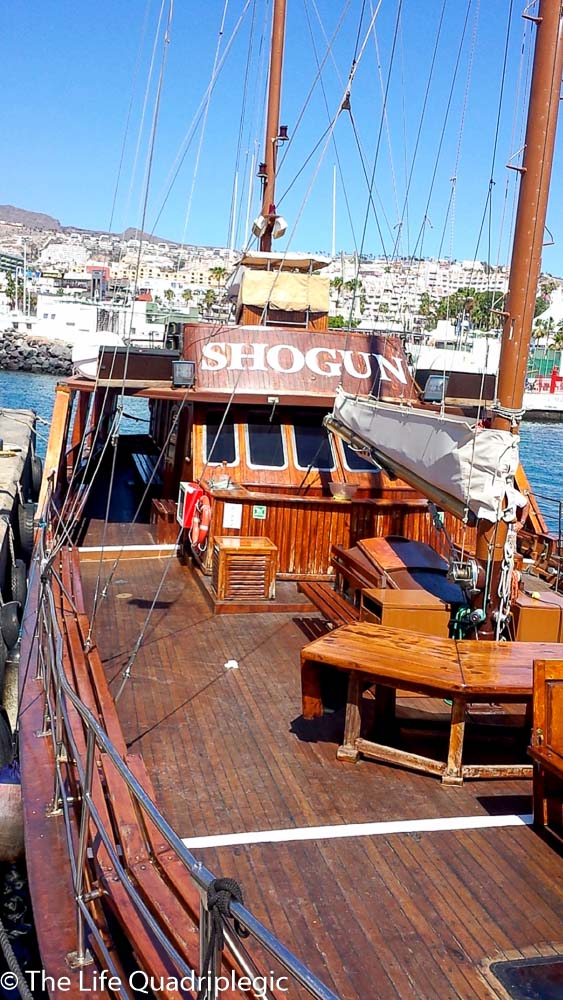 I enjoyed the actual cruise which lasted for five hours. We saw some dolphins and anchored just off shore from some massive cliffs where people went swimming in the sea. They also served a hot meal for lunch which was very tasty.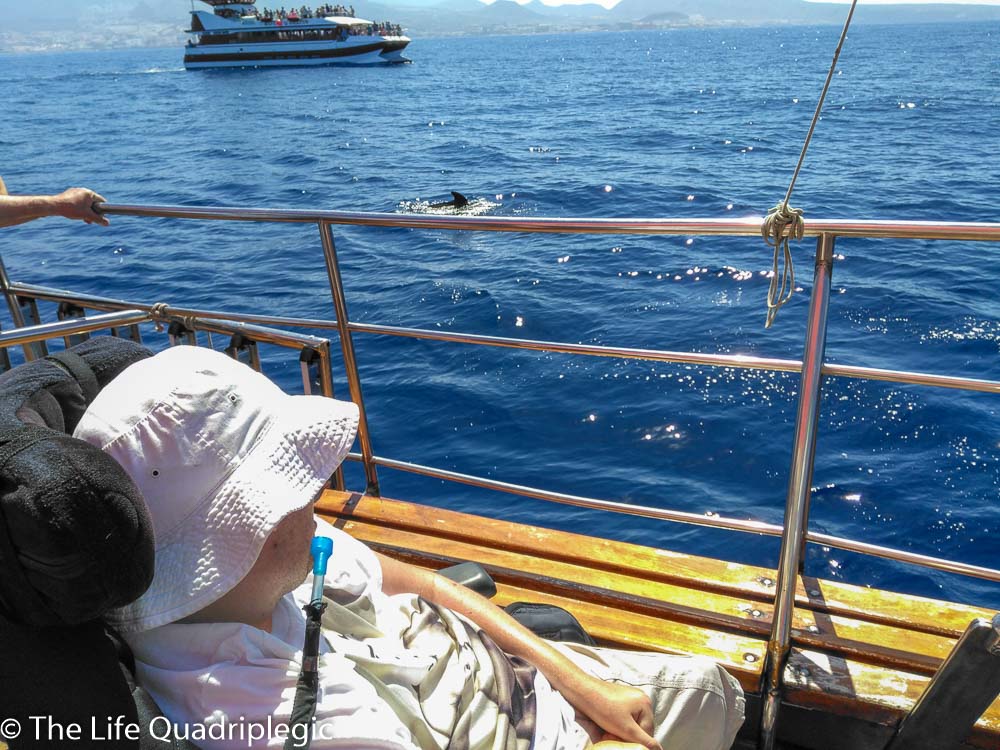 People had to use a ladder to get in and out of the sea, so disappointingly I was unable to go in. I could have been thrown in, but It I wouldn't be able to get back out again! A hoist, like they have for swimming pools, would have been a good idea.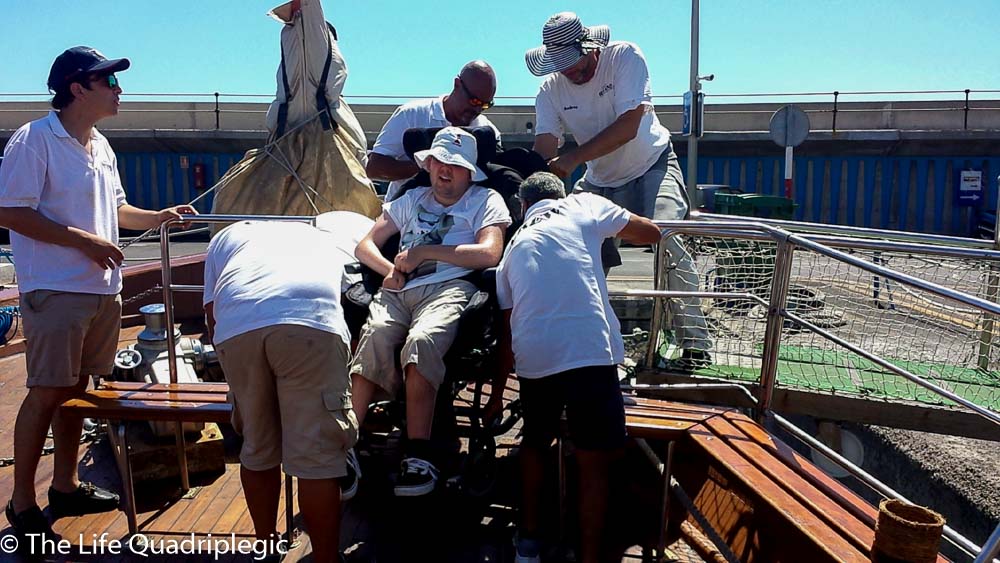 The Nightlife
Los Cristianos, and particularly the livelier Playa de las Americas, has many bars where you can relax in the evening. A lot of them seem to be British to cater for the "Brits abroad". Almost all of the bars had outdoor seating and musical entertainment, so it was nice to relax outside and soak up the atmosphere.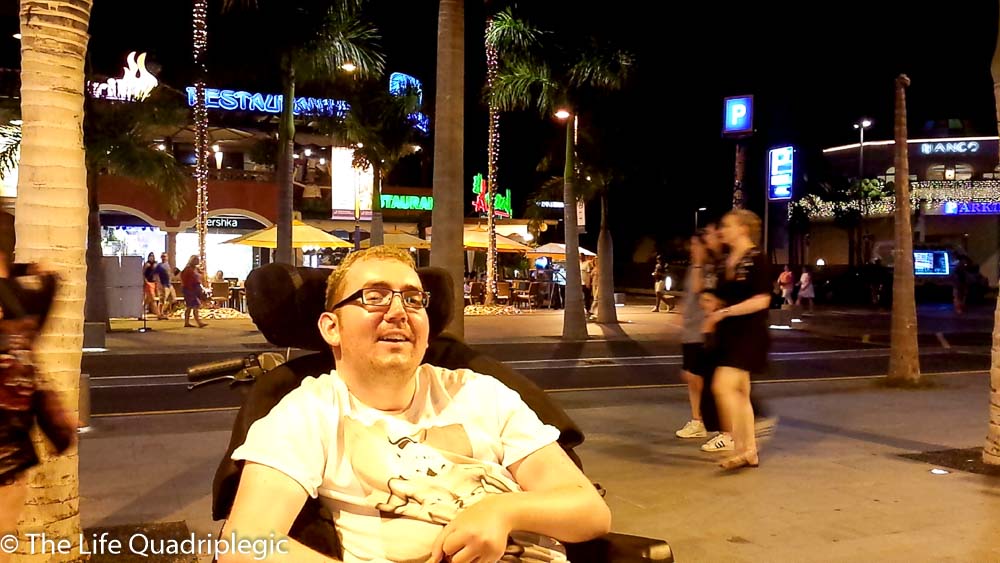 We went to a karaoke bar one night, and of course I had a go! I'll let you judge for yourselves how well I did in the video below!
[wpvideo XaIV5o3s]
On the last night we went to a Tapas restaurant to experience some authentic Spanish cuisine. We were expecting the food to come in small portions, which is what tapas is supposed to be. So my carer and I ordered about 8 different dishes to share.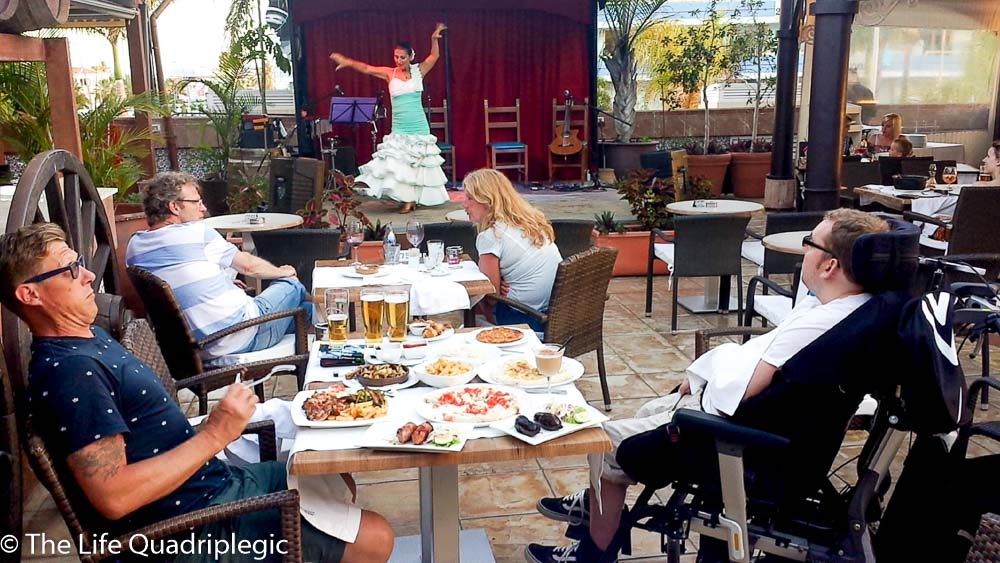 But alarmingly each dish was the size of the full main course! By the time it had all arrived it filled the whole table, and we were close to panicking! There was no way we could finish it all, so we had to take it away and eat it for breakfast the next morning too!
In Conclusion…
Almost everywhere I went in Tenerife was wheelchair accessible, and most of the public buildings have ramps which is great. Playa de la vistas is a very accessible beach and it was awesome to go into the sea which was something I can't even remember doing before. Plus the landscape of the environment is stunning and the weather is fantastic. So it really is one of the best places to go if you want an accessible sun -soaked holiday.