This is an accessibility review of the London archway Premier Inn, in Islington. I chose this hotel because I read online that it has 9 accessible rooms with ceiling hoists. Yes, you read that correctly, NINE rooms with ceiling hoists.
I discovered that this hotel had ceiling hoists on a useful website called the Ceiling Hoist Users Club that, amongst other things, lists hotels in the UK that have rooms with ceiling hoists. I would recommend checking out the list before you travel somewhere if you need a hoist. It's much easier if the hotels themselves actually have hoists rather than having to bring your own.
I'd never stayed in a hotel room with a ceiling hoist before, so this was something I really wanted to try. Usually, when I stay in hotels I have to bring my mobile hoist with me but on this occasion that was not necessary. Not having to bring my mobile hoist allowed me to travel relatively light so I went down to London on the train rather than having to drive.
Booking rooms with Premier Inn is easy as you can do it all on their website. There is an option to select an accessible room, so it's a very easy process. We did phone up to confirm that the accessible room actually had a ceiling hoist in it. The first staff member we spoke to didn't know but then the second one confirmed that there was indeed a ceiling hoist.
When we arrived at the hotel and went up to our allocated room, we discovered that there wasn't actually a ceiling hoist which was a bit alarming. I didn't want to spend the night in my chair. We returned to reception and they had to do a bit of checking to find out what rooms had ceiling hoists. Thankfully, after a short while, they did allocate us a room which had a ceiling hoist.
The Room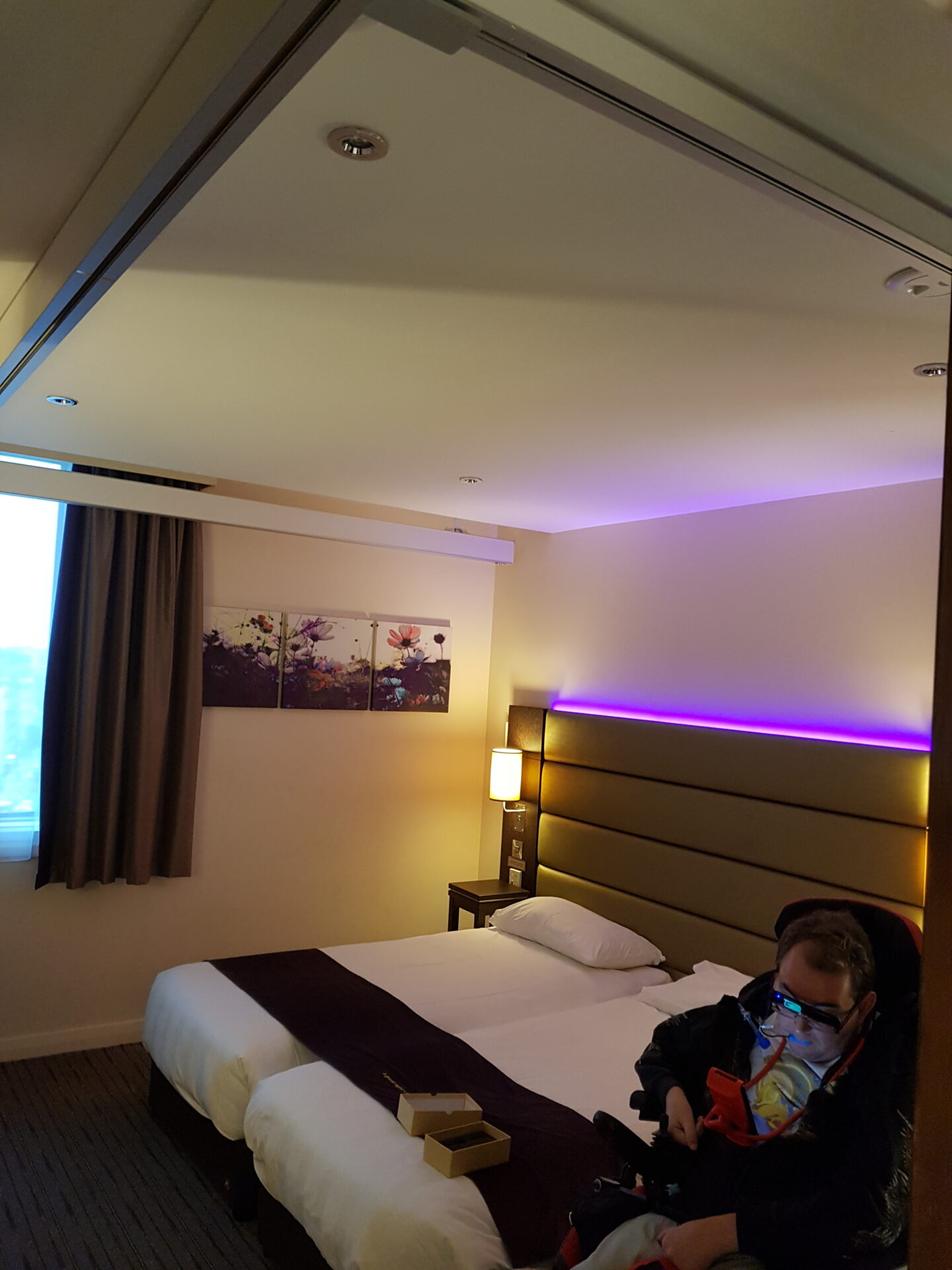 The room itself was not the biggest hotel room but it was big enough for my needs. There were two single beds in the room which could be zipped together if needed. The ceiling hoist covered the entire ceiling of the room and the track also went into the bathroom over the toilet and over to the shower cubicle. There was a fold-down shower seat attached to the wall but I didn't use that.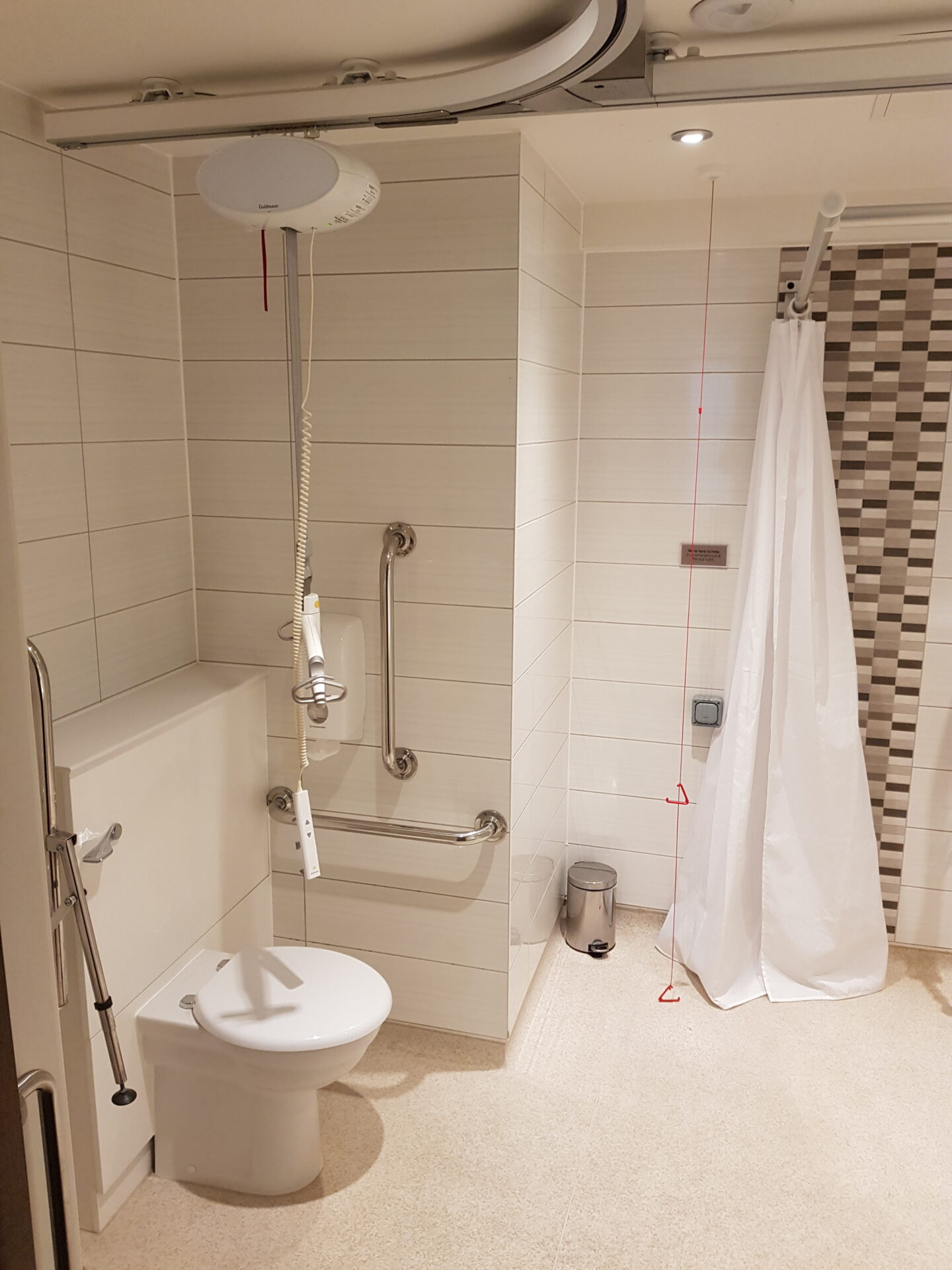 Initially, we thought that they had made a mistake when putting the tracking for the hoist up. The rail for the shower curtain went right around the shower cubicle and it wasn't clear how the hoist was supposed to get into the shower area without passing straight through it. We soon discovered though that the rail could be detached to allow the hoist to pass by.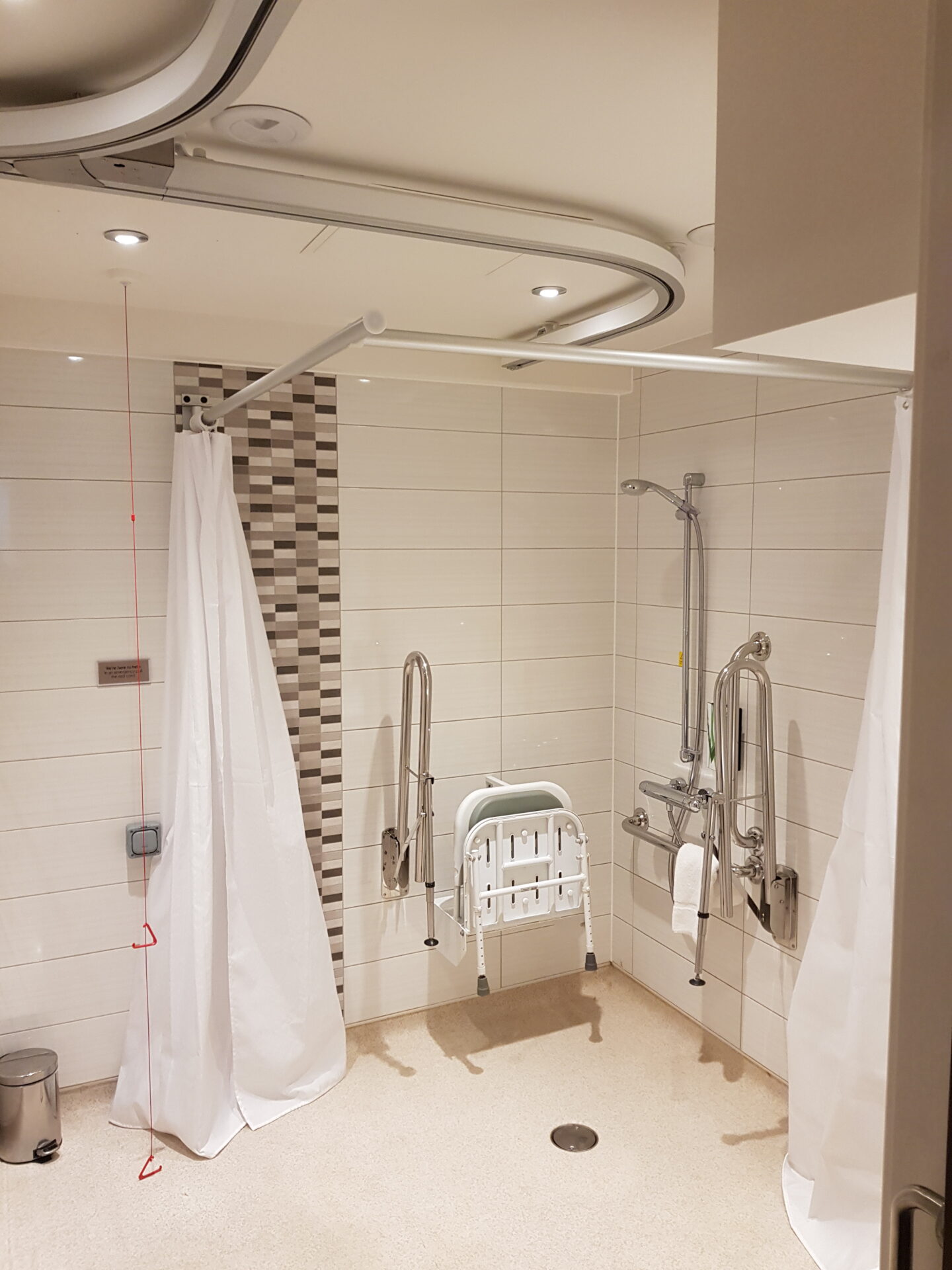 The hotel is in a pretty good area with a number of restaurants and shops nearby. We went to a pub round the corner called the Whittington Stone where we had a very nice meal. There was an accessible entrance into the pub round the side but unfortunately, they didn't have a disabled toilet.
To eat I had battered Quorn fillets with chips and peas. I'm not a vegetarian but I'm allergic to fish so fish is off the menu for me. I found the Quorn to be a good substitute though, it was tasty and satisfying.
I've had Quorn scampi before which has a similar texture to real scampi so it didn't feel that different.
Anyway, enough about Quorn, back to the hotel.
Conclusion
In conclusion, the London archway Premier inn was a comfortable and accessible place to stay. The rooms with ceiling hoists make staying there more convenient and the interior of the hotel was spacious. If you find yourself having to stay in the Islington area of London then I recommend the London archway Premier inn.