I have had an Amazon echo first-generation (which I reviewed in 2017) for probably about 5 years. So last month, I decided it was time for an upgrade. I traded in the old echo for the Amazon Echo Show 8 (1st gen) and this is my review of it.
Price
I traded in my old echo for the Echo show 8. Under Amazon's trade-in scheme, when you trade in an old echo device, you get 25% off another qualifying echo device and a £20 voucher. This depends on the condition of your trade-in. My old echo was in good condition so I got a £20 voucher added to my account. If it wasn't in good condition, I would have only got a £5 voucher.
The Echo Show 8 (first-generation) costs £69.99. However, combining the 25% off, £20 voucher, and gift vouchers from Christmas, I got it for the bargain price of £0. Not bad, eh?This
I bought the first-generation echo show 8 because it's £50 cheaper than the second generation. Plus there isn't much noticeable difference in functionality between the 2.
Amazon Echo show 8 physical description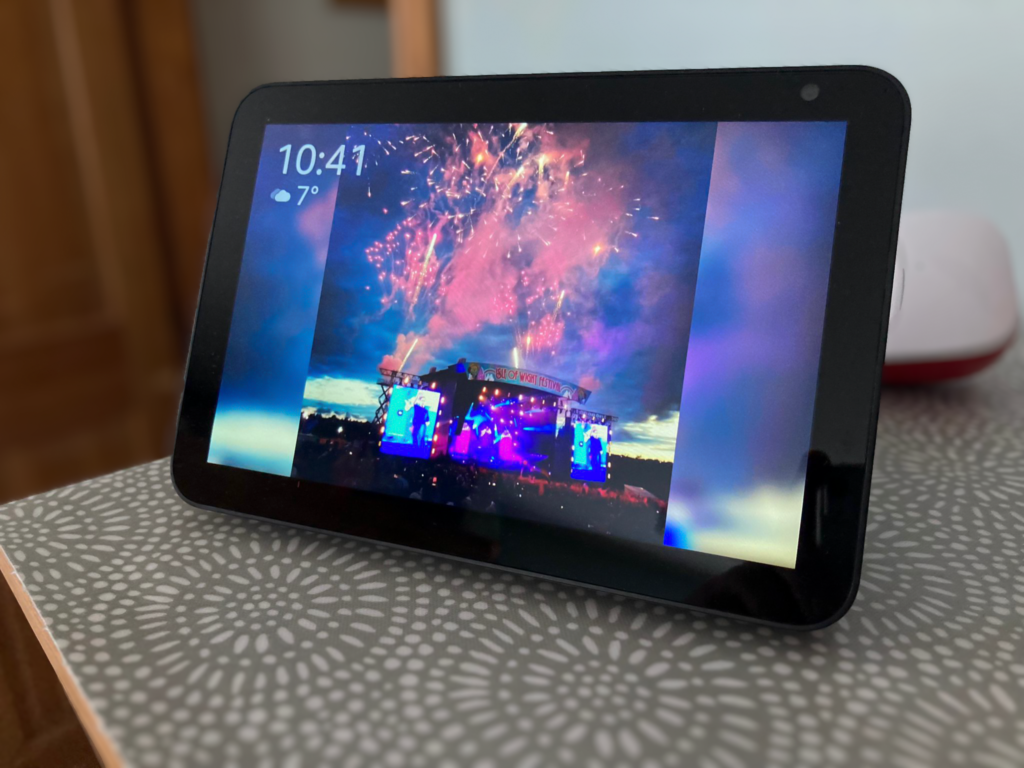 The Echo Show 8 has an 8-inch screen, hence the name. It's the most apparent difference from the first-generation echo – which resembled a black Pringles tube. It can show you photos, videos, weather reports, and more. Plus it has 2 stereo speakers which provide good sound. Mine is black charcoal coloured, but you can get it in white if you want.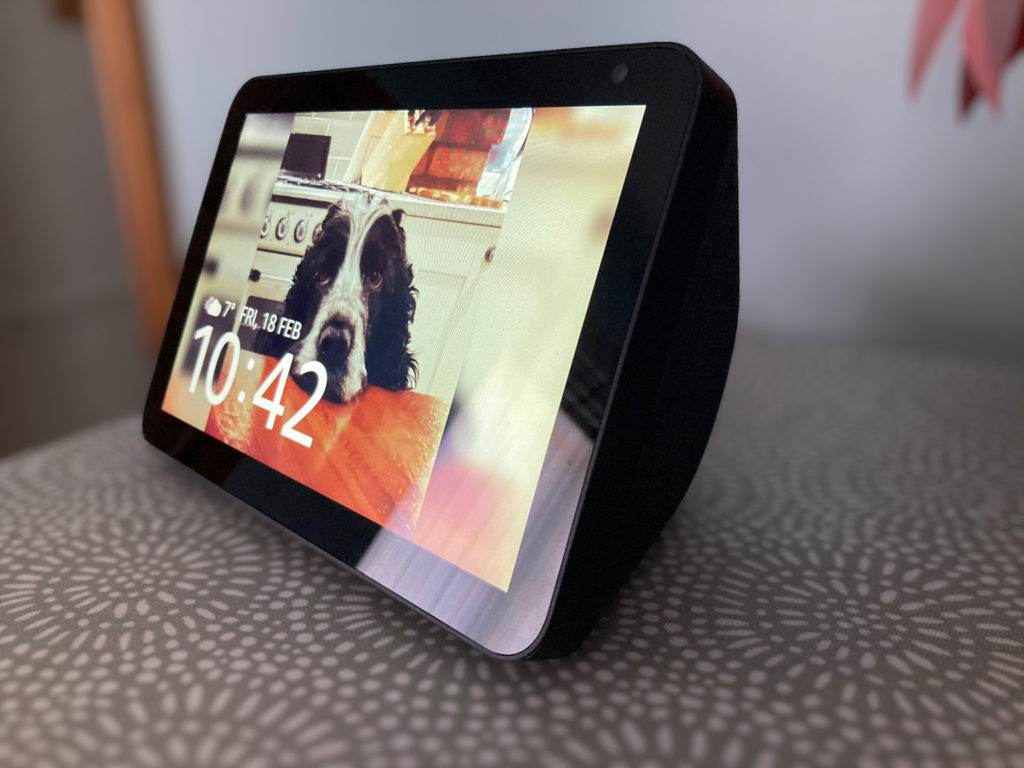 It has a 1 MP camera to take photos and do video calls but I don't really need it. You can cover up the camera when you're not using it, which is a nice privacy feature.
Echo show 8 Features
One of the main attractions for me was having subtitles on-screen when Alexa is speaking. Due to my hearing loss, I couldn't understand what she was saying with the old echo. So the subtitles on the 8 help a lot. Unfortunately, the subtitles only work with what Alexa is saying, not with other things like news reports.
Sometimes the subtitles can be annoyingly out of sync with what Alexa is saying.
Another great feature is it shows lyrics to songs when they are played on Amazon music, so you can sing along if you want. I don't know the lyrics to many songs, so this is a great way to learn them.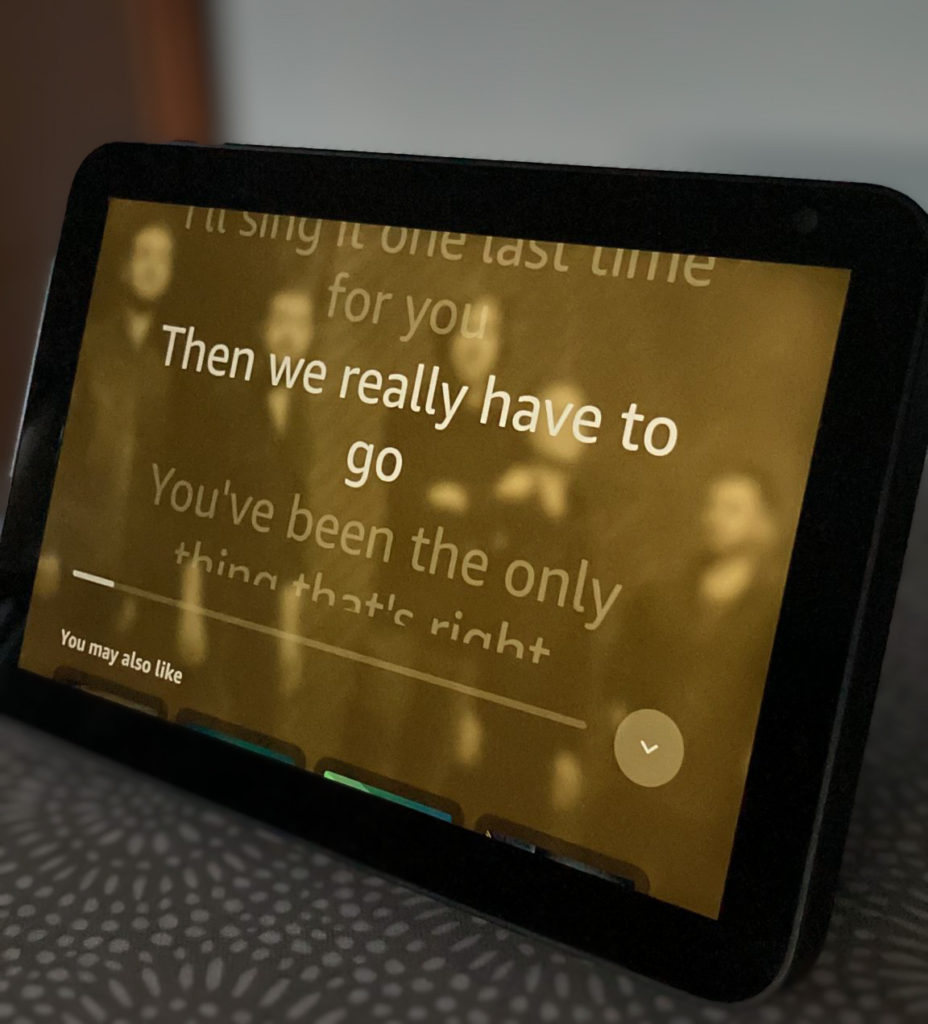 My PA lives in another room, so I sometimes use the announce feature when I need to call them. There's an echo dot in my lounge and the Echo show in my bedroom. I say, "Alexa, announce [whatever]," and it announces it on both devices so my PA will hear it. I do have a call button, but it's helpful to have multiple ways to call them if one doesn't work.
You can upload photos on the Alexa app, and the Echo Show will display them like a slideshow, so it becomes a digital photo frame. It's a nice way to display your photos.
Amazon Echo show 8 review Conclusion
the Echo show 8 is much better in my opinion than the first generation because I like seeing things on the screen. The subtitles are a great help, and I love seeing the lyrics to songs and seeing the weather forecast and photos, amongst other things.
So if you have a hearing loss and struggle to understand what Alexa is saying, then getting an echo show is a good idea as you can use the subtitles. The screen is great for many other things too, like watching videos, so it's definitely worth buying in my opinion.