Sicily is a beautiful and historic island not far off the southern tip of Italy. I spent a week in Sicily from the 7th to 14 October staying at Kikki Village – an accessible holiday resort.
The Journey
We flew with EasyJet from Manchester airport to Catania – the main airport in Sicily – which was a three-hour flight.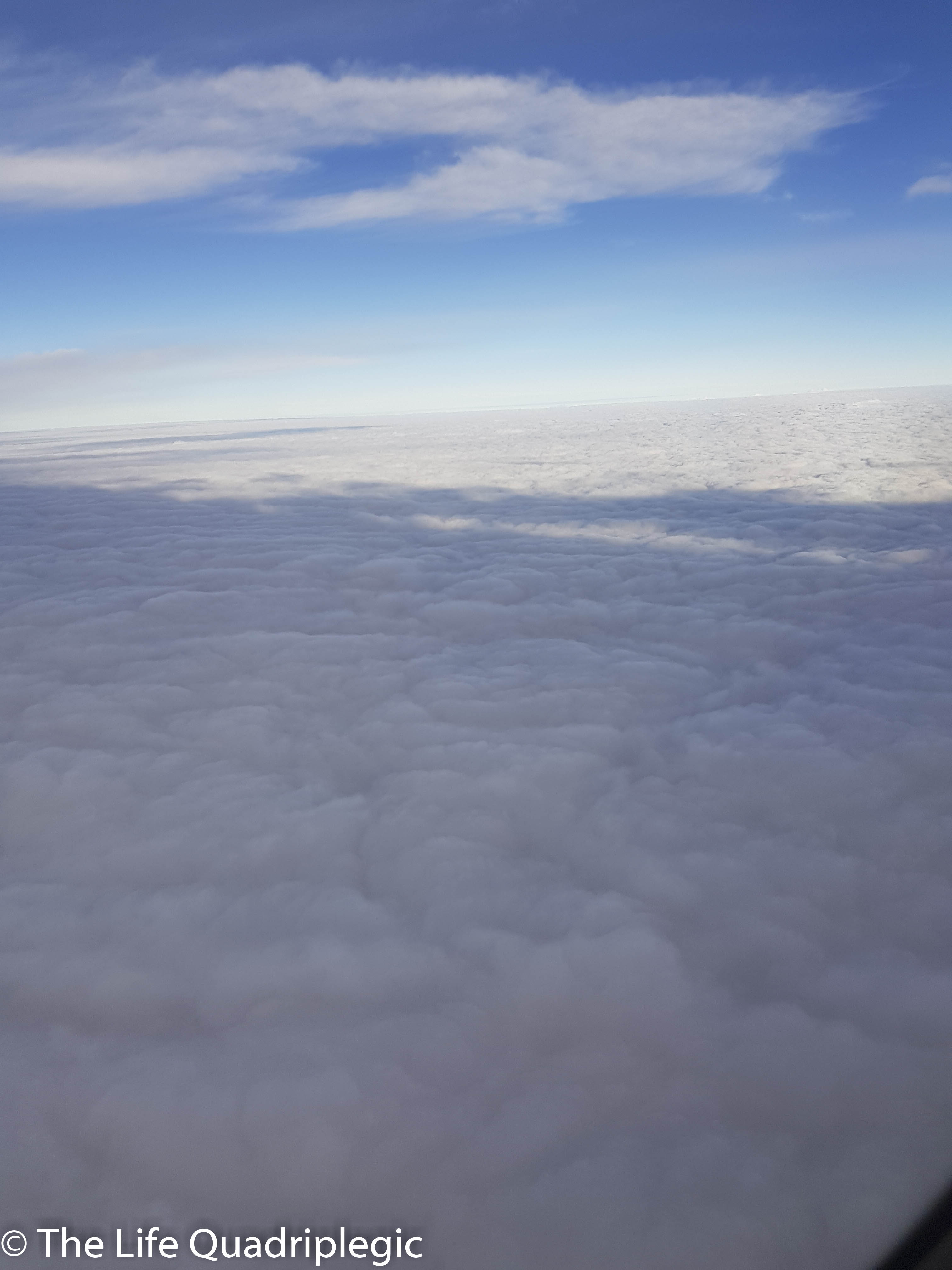 Once we arrived at Catania we were met by a driver from Kikki Village who drove us in an accessible minibus the 1.5 hour journey to our accommodation.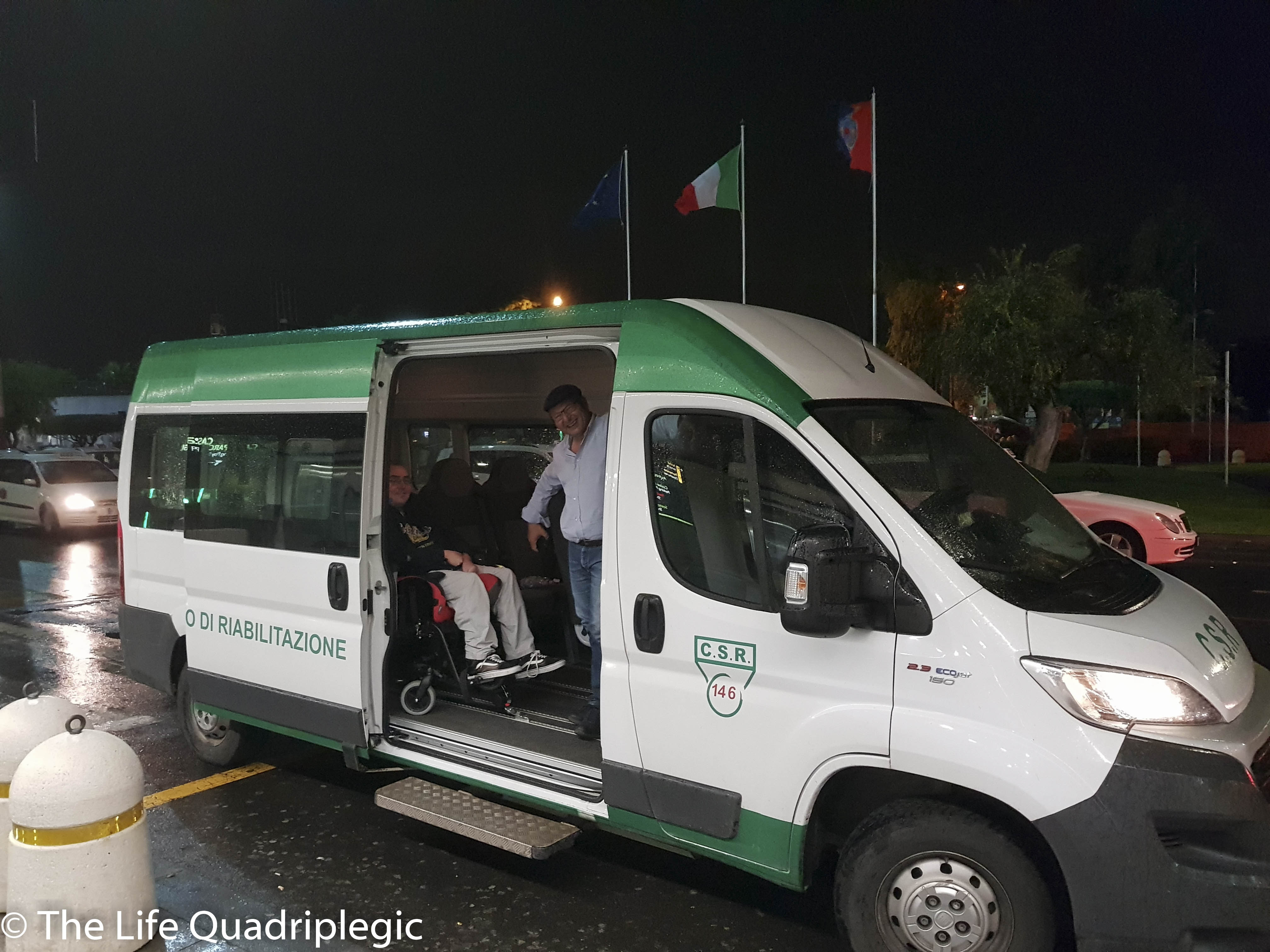 Kikki Village
Kikki Village is a four-star fully accessible resort near to the south coast of Sicily, and a 10 minute drive from the seaside town of Pozzallo.
Accommodation
Kikki Village has lots of accessible rooms. I had a spacious double room with an ensuite bathroom which I shared with one of my carers. My other carer stayed in an adjacent room connected by an adjoining door.
I had hired a mobile hoist and shower chair which was waiting in my room when I arrived.
I slept in a double bed which was raised off the floor providing enough space for my mobile hoist to fit underneath.
In the bathroom the roll-in shower had a small lip around it on the floor to contain the water. This meant that pushing my shower chair over the lip required a little bit of effort but it wasn't too bad.
Swimming pool
In the centre of the resort there is a good-sized swimming pool with a ramp which allows easy access into the pool. There is a beach wheelchair with big wheels that can be used to go in the pool if you want.
I thought about going in at some point but there seemed to be a few dead flies and leaves in it, so I decided not to.
Food
We had breakfast, lunch, and dinner in the on-site restaurant most days. The food was fantastic – mostly traditional Sicilian and Italian food – and there was A LOT of it.
For breakfast we had a simple continental breakfast which was nothing special. But for lunch and dinner it was a different story.
Lunch consisted of a starter, then a first main course, then a second main course, then a desert. So it's literally a 4 course meal for lunch and dinner… every day.
I was usually stuffed after just the first main course, although I tried to squeeze in a desert.
Don't come here if you are on a diet! You have been warned. It would take a lot of willpower to resist so much tasty food.
Excursions
Excursions were organised by staff at Kiki village and the resort's accessible minibus was used for trips. We visited a good number of interesting places but the only problem was it was a bit rushed sometimes. We usually only had a couple of hours at each place before we had to go back.
Ragusa
Ragusa is a beautiful old city built on the side of a hill, and is a UNESCO world Heritage site.
The main road to Ragusa winds around the hillside and it reminded me of the road on Mount Teide in Tenerife. There were fantastic views of the hillside as we drove along.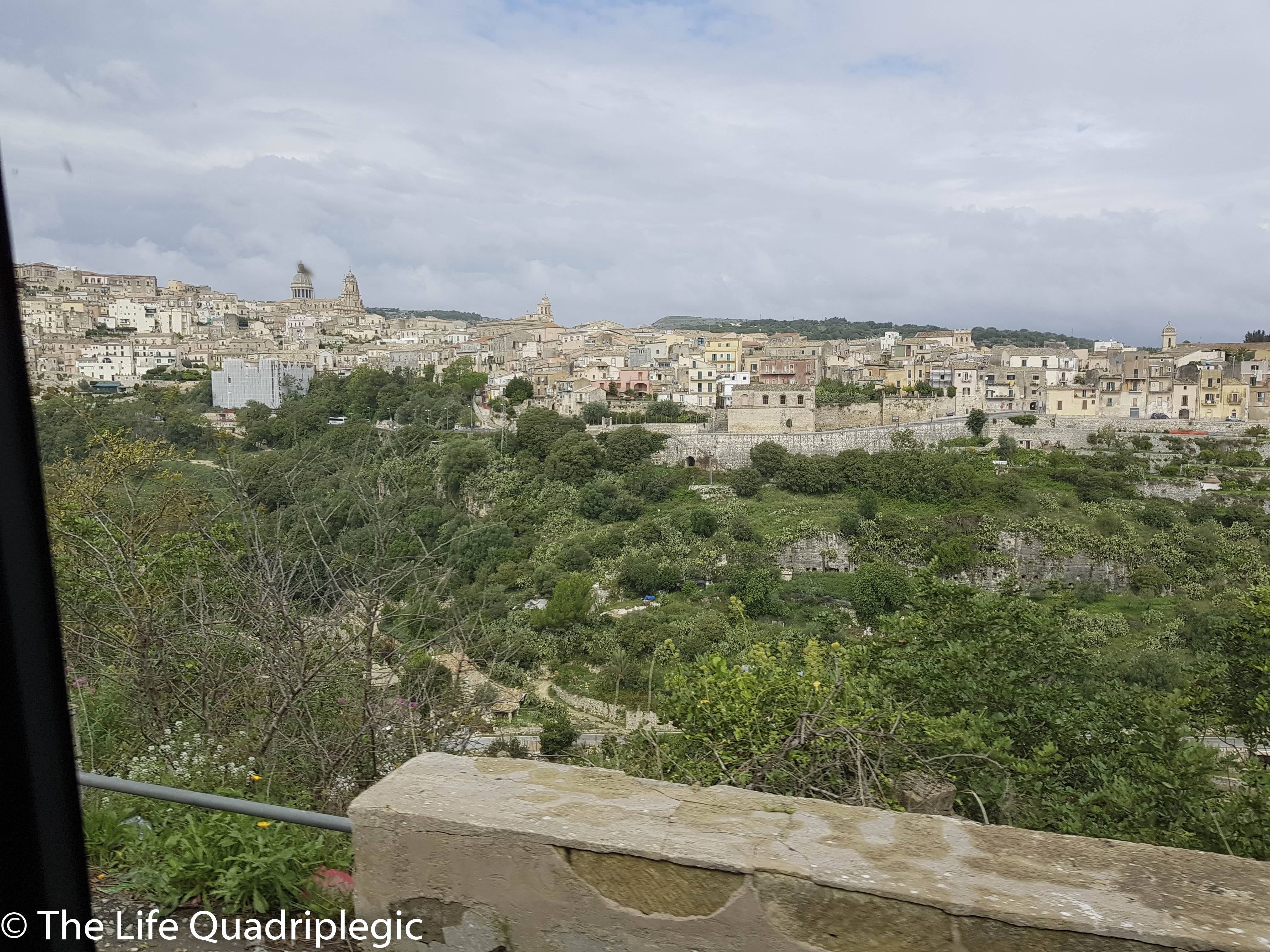 We went to Ragusa on 2 occasions.
The first time we were dropped off uphill in the town so that we could move downhill which would be easier.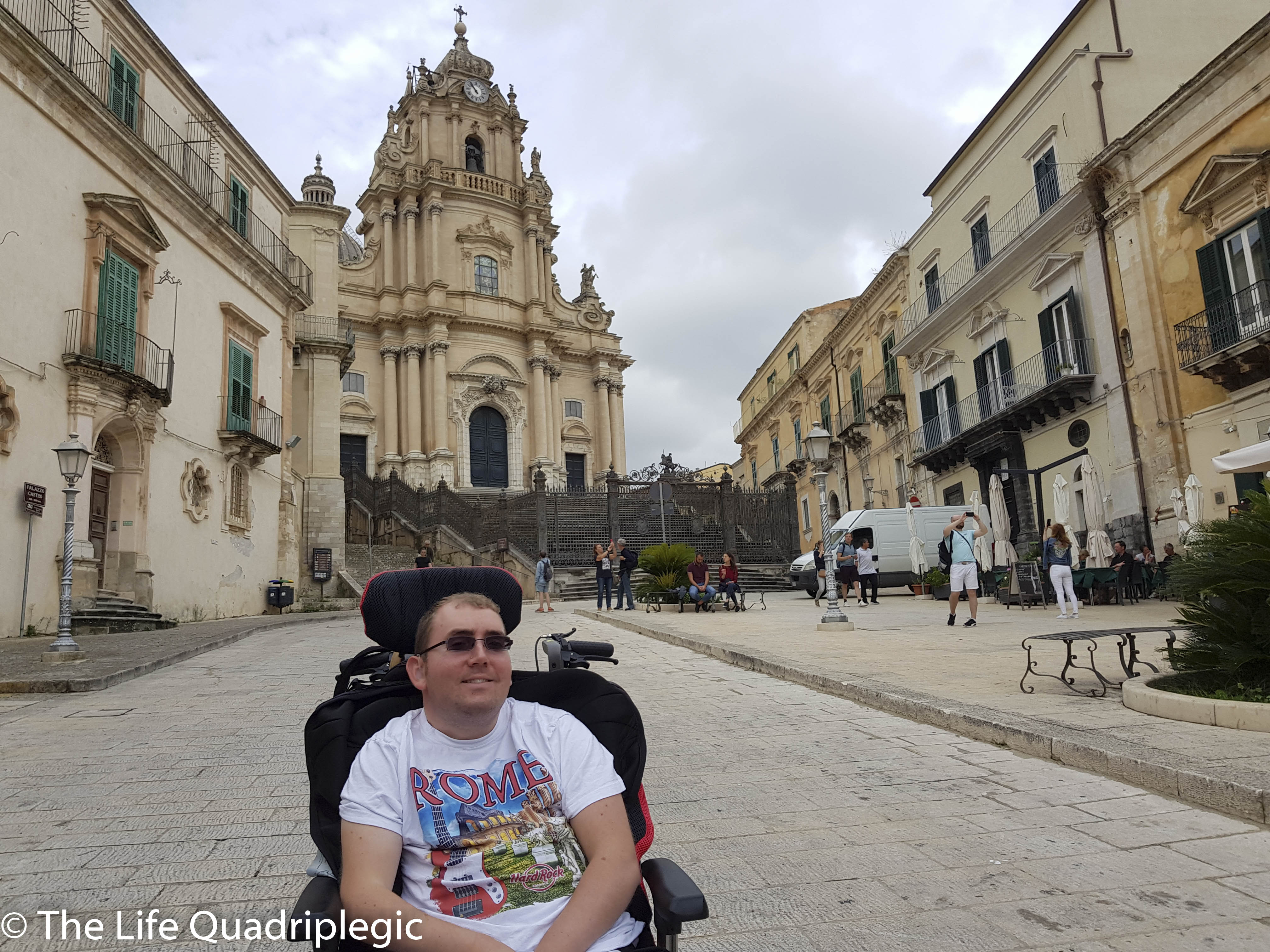 I went to see an old church called the Duomo di San Giorgio which had a lift to get into it. The church was nice, but I didn't find the inside of it to be very different to any other churches I have seen before. Maybe that's just me though.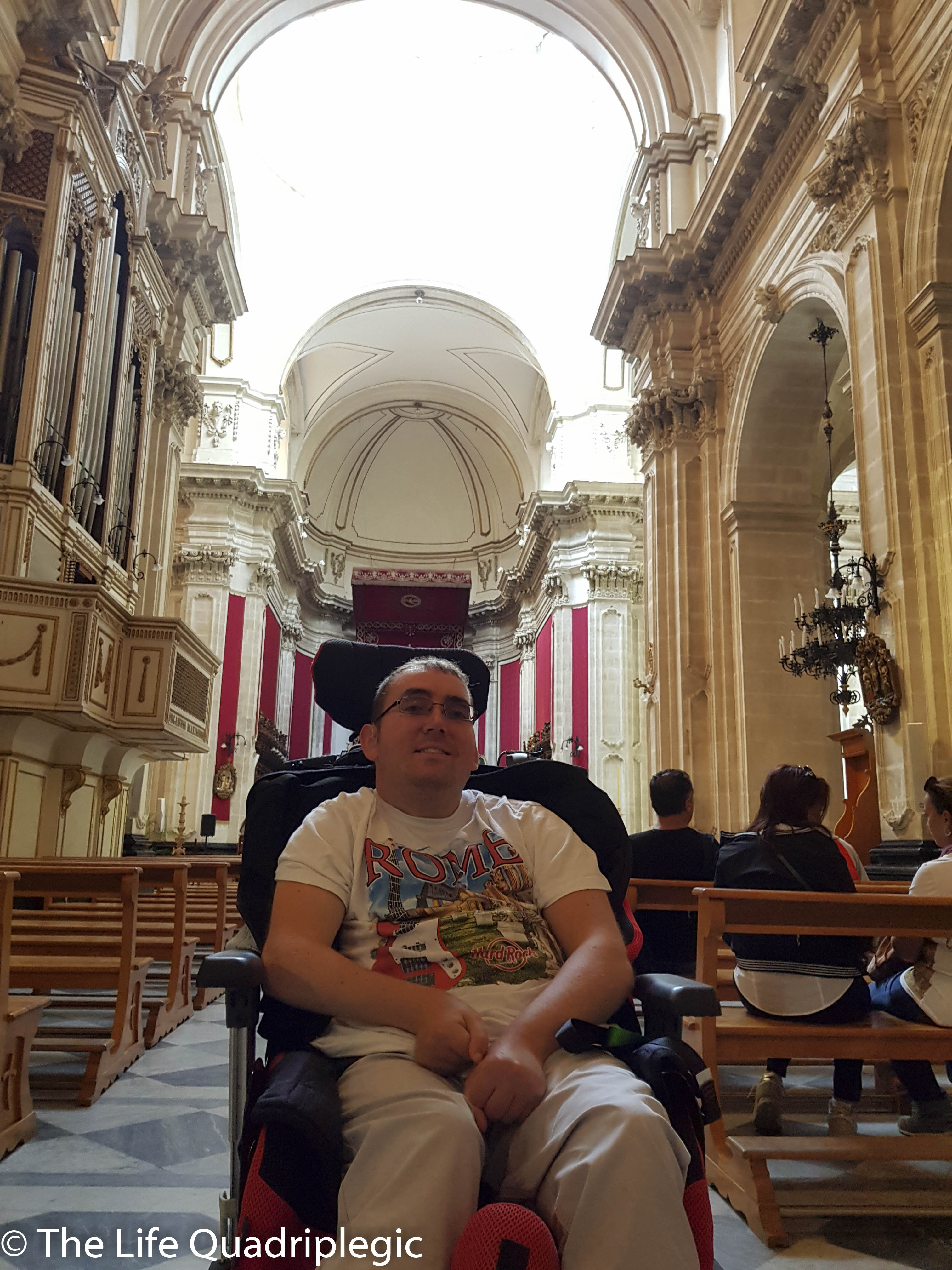 After this we went to find a café to shelter from the pouring rain whilst eating a cannoli. It rained on and off for the first 2 days and I was starting to worry that it was a bad idea to come here in October. It did brighten up after this though.
On the 2nd occasion that we went to Ragusa was for a carnival taking place one evening. The city centre was very busy as you might expect with lots of street vendors and entertainers.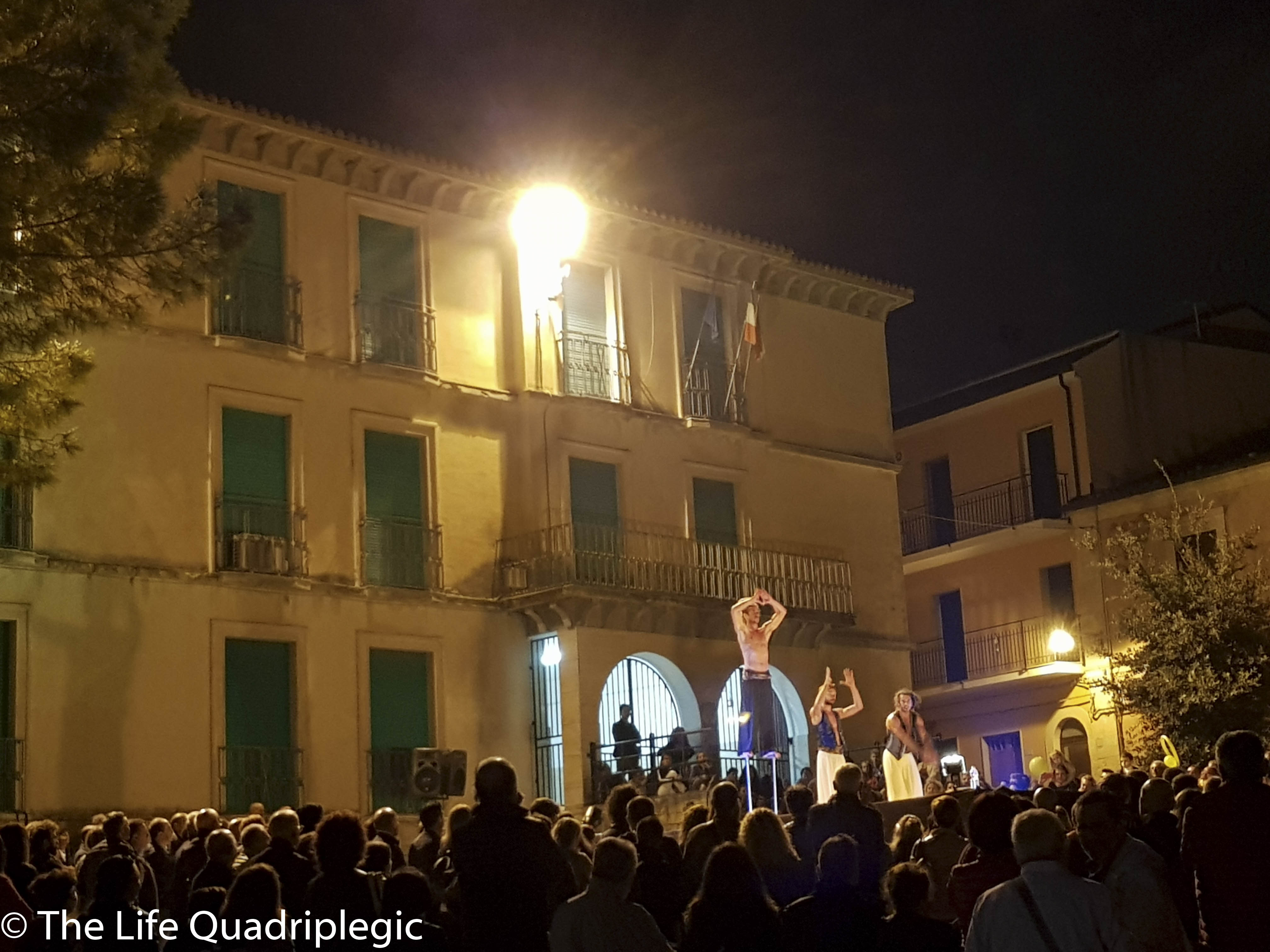 Whilst I was sat outside a pub having a non-alcoholic cocktail a couple of Italian buskers with a guitar came over to sing to us all, which was a slightly awkward experience.
We only had about 2 hours to stay here before we had to head back so we didn't see all of it. It did give me another chance to explore a bit more of this lovely place.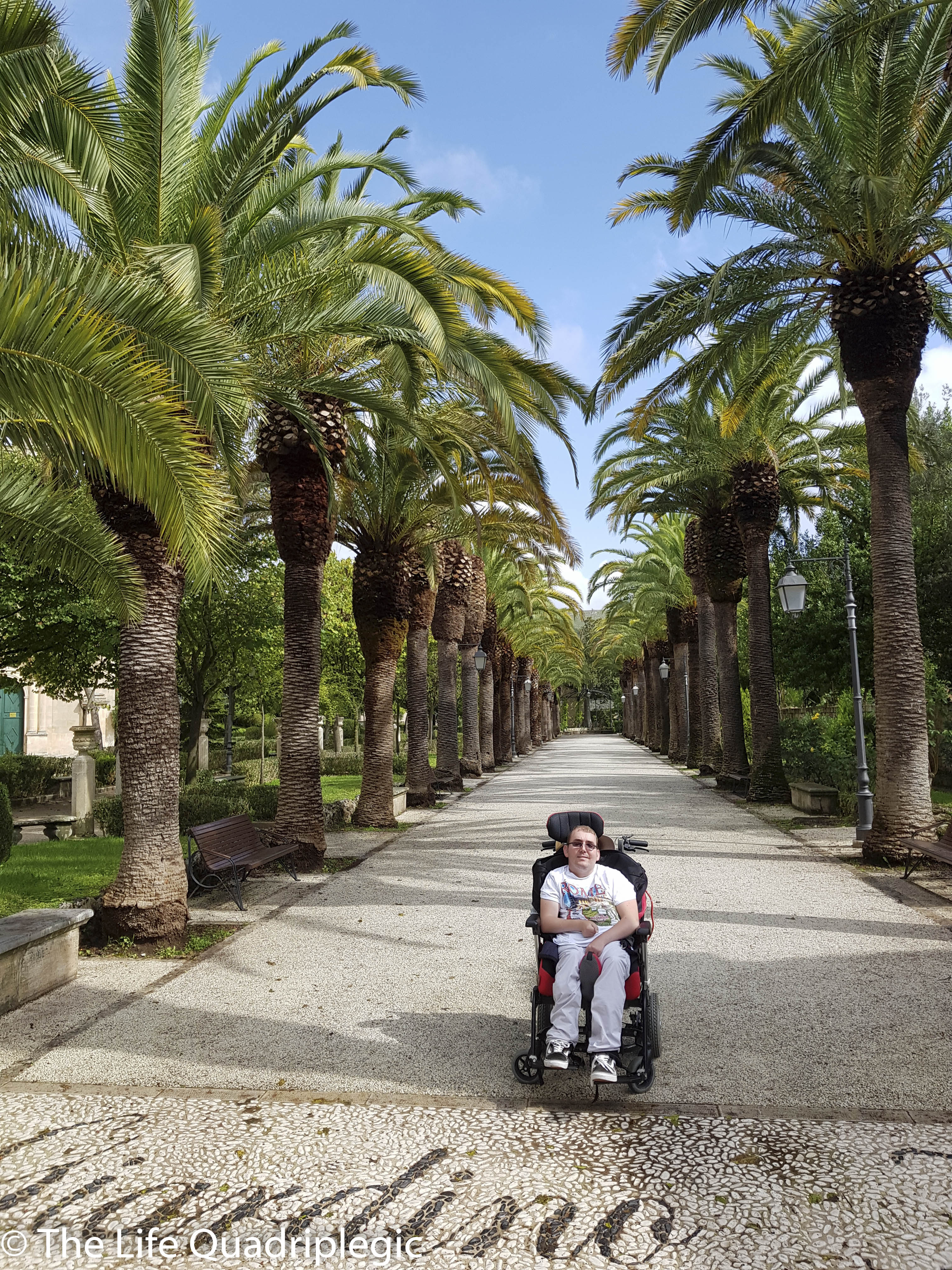 The main streets of Ragusa are mostly level access with a decent number of dropped curbs. However, those smaller sidestreets are less likely to have dropped curbs.
Mount Etna
Mount Etna is the most active volcano in the world and is probably Sicily's most popular attraction.
It took about 2 hours to get to Etna from Kikki Village. Etna is not far from Catania.
We drove 1900 m up Etna to Rifugio Sapienza , which is a hotel and restaurant complex. There is a cable car that goes up from here to 2500 m which I wanted to go up.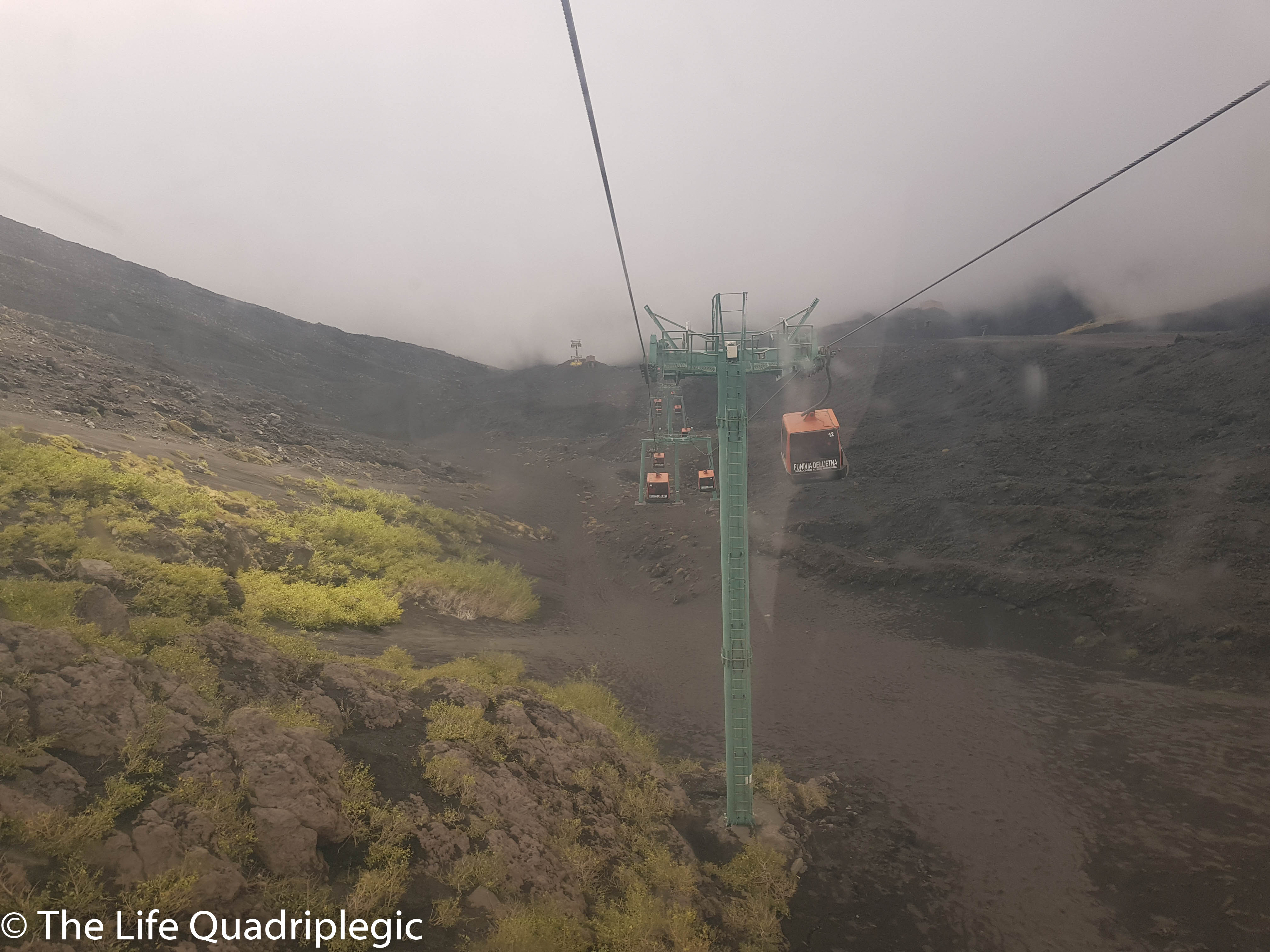 The minibus dropped me off at the back of the cable car station where there was an accessible entrance.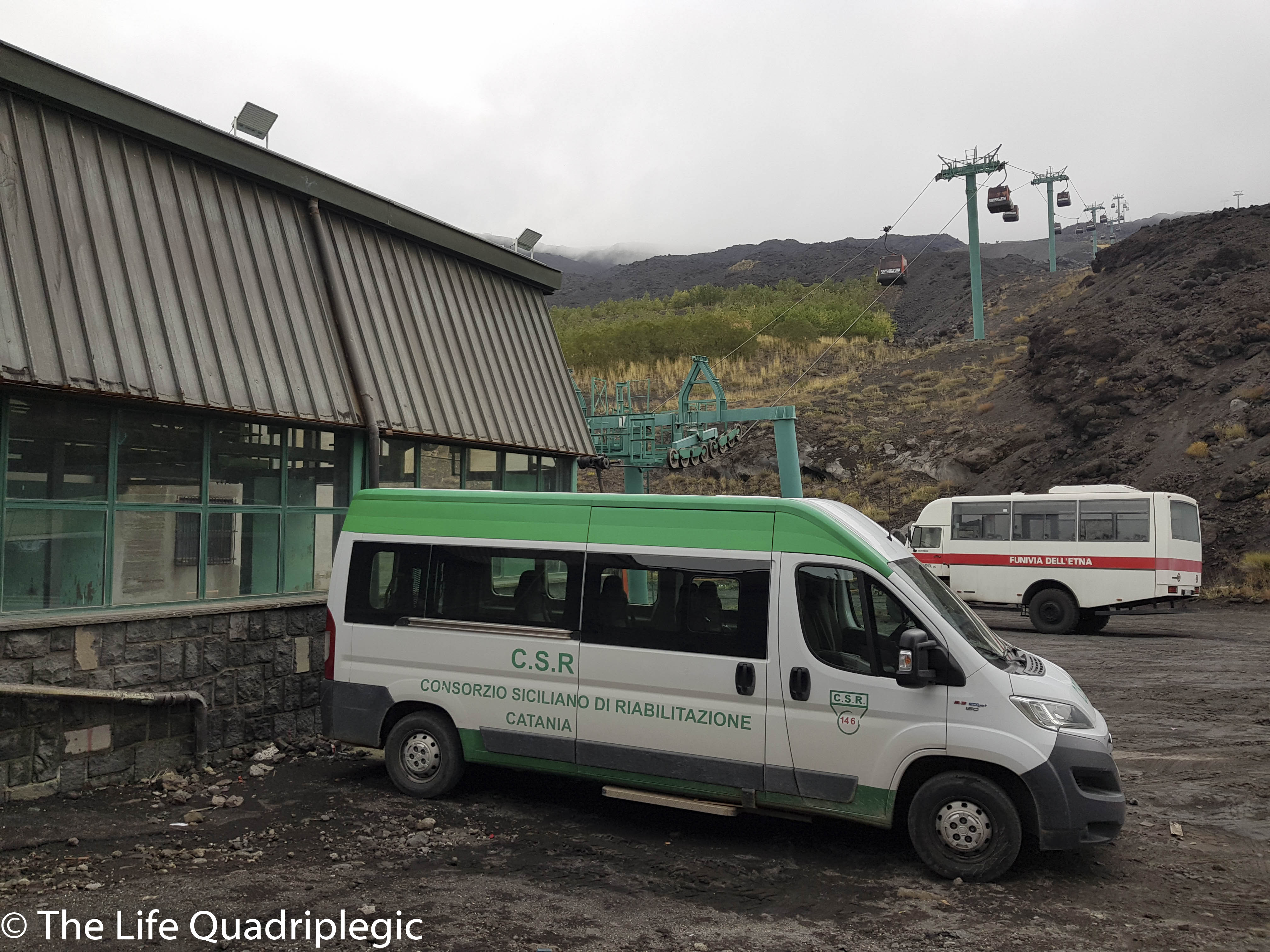 Lots of people were queueing for the cable car but luckily I didn't have to wait for long. There was only one accessible cable car (capsule?) so we had to wait for it to come down to the station. When it arrived the staff turned off the cable car and we were ushered past the queue. They had a metal ramp that laid on the ground to help me get into the cable car.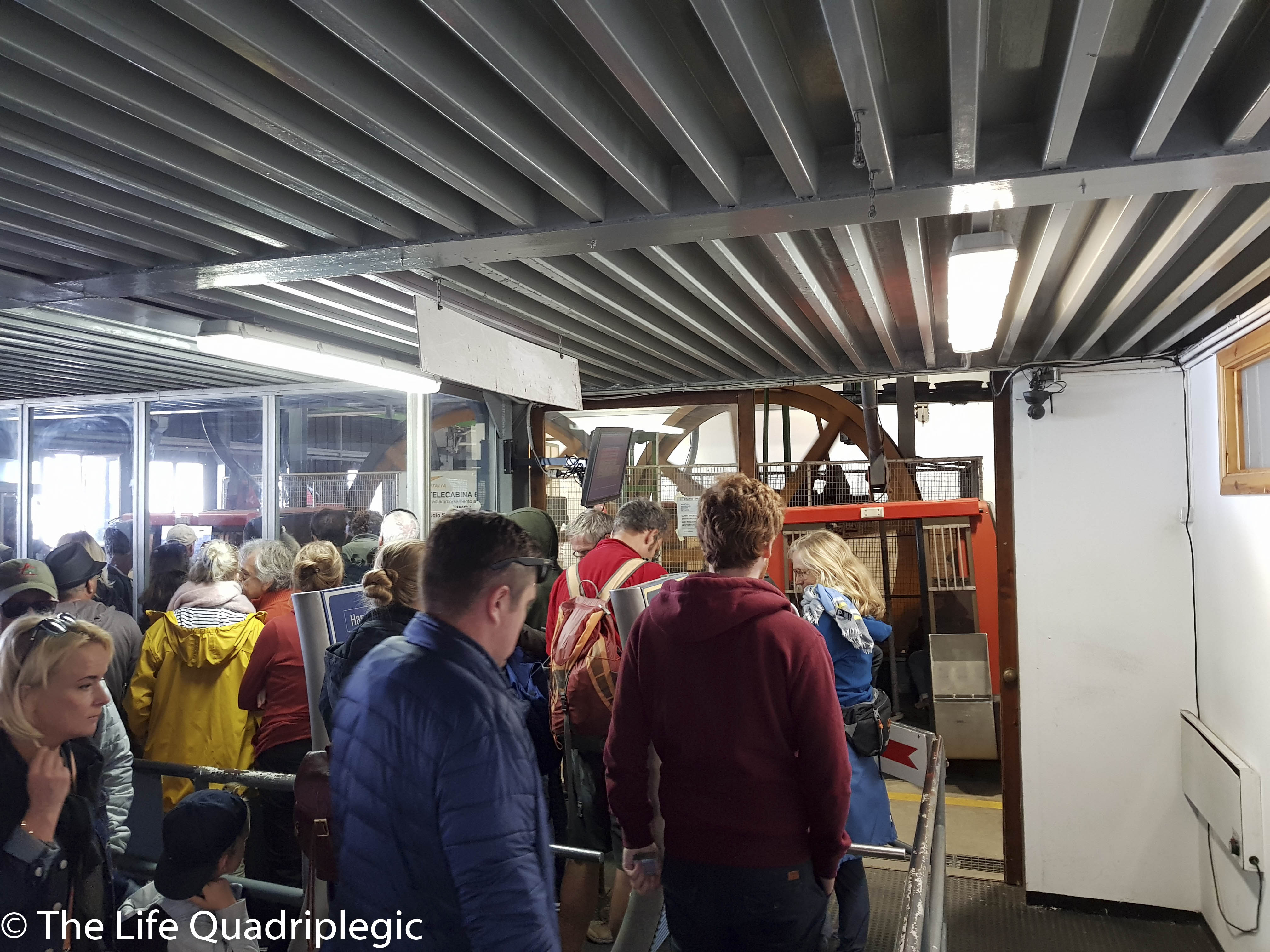 The car itself was quite cramped as there was a vertical metal bar in the middle of it which my chair had to go down the side of. Nevertheless my carer and I managed to fit into it.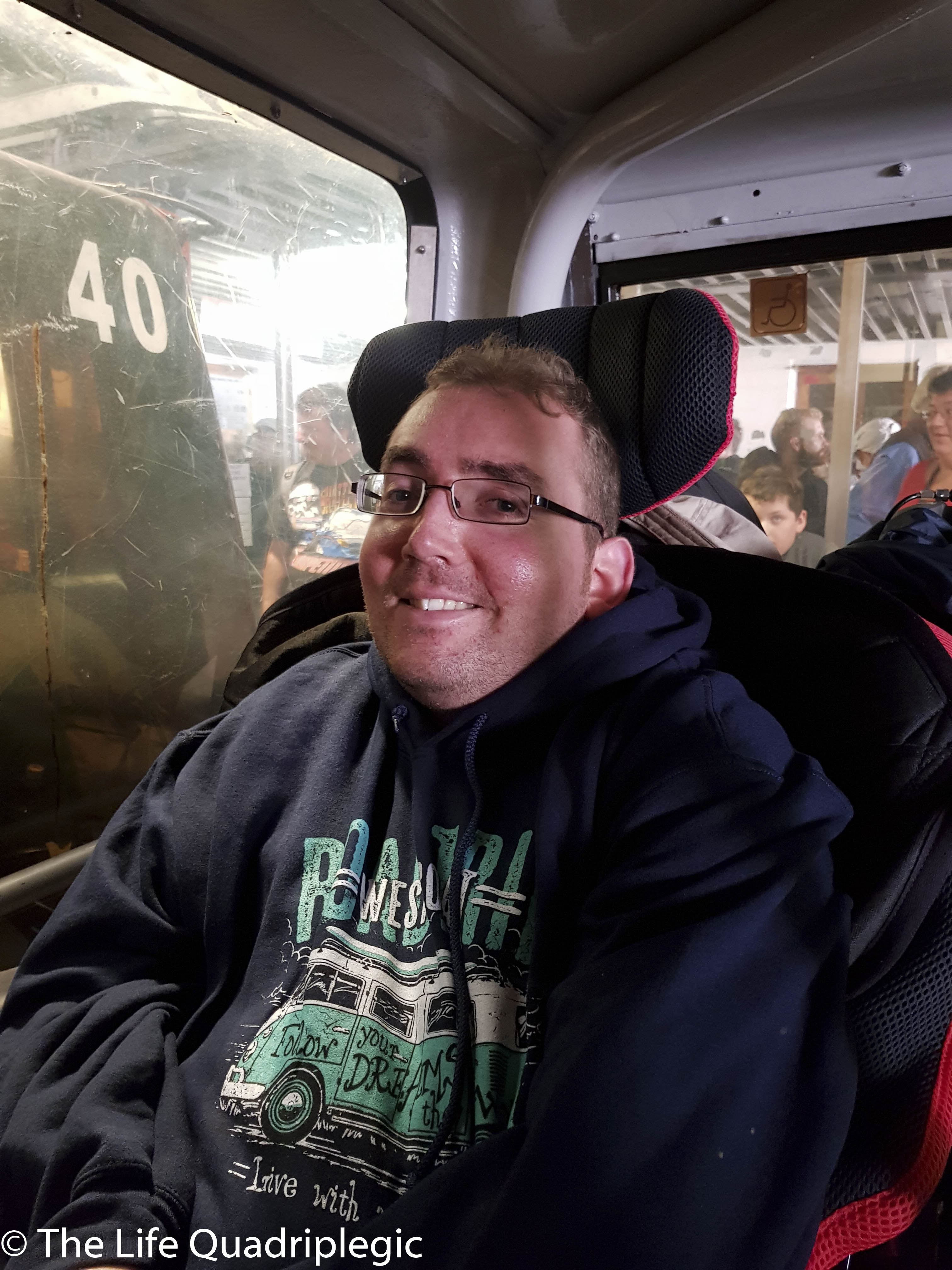 I had a great view of the mountain as we were going up in the cable car. Most of it was black and rocky but there was some vegetation as well. One of the windows of the cable car was tinted orange so it made the outside look like the surface of Mars.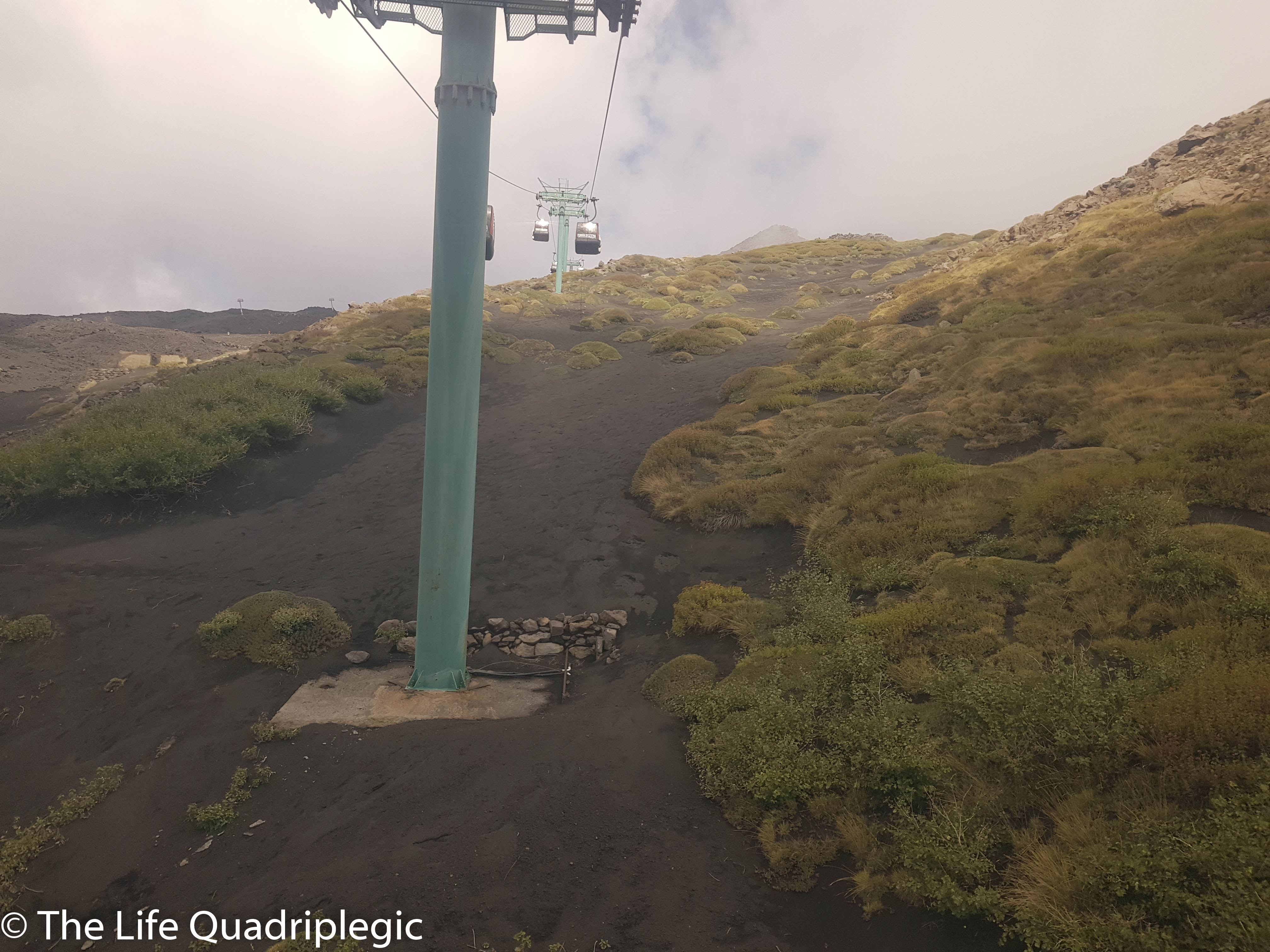 15 minutes later we were 2500 m up at the end of the cable car line. Here there was a hut containing a café and a gift shop. The surrounding land was just a black and barren slope.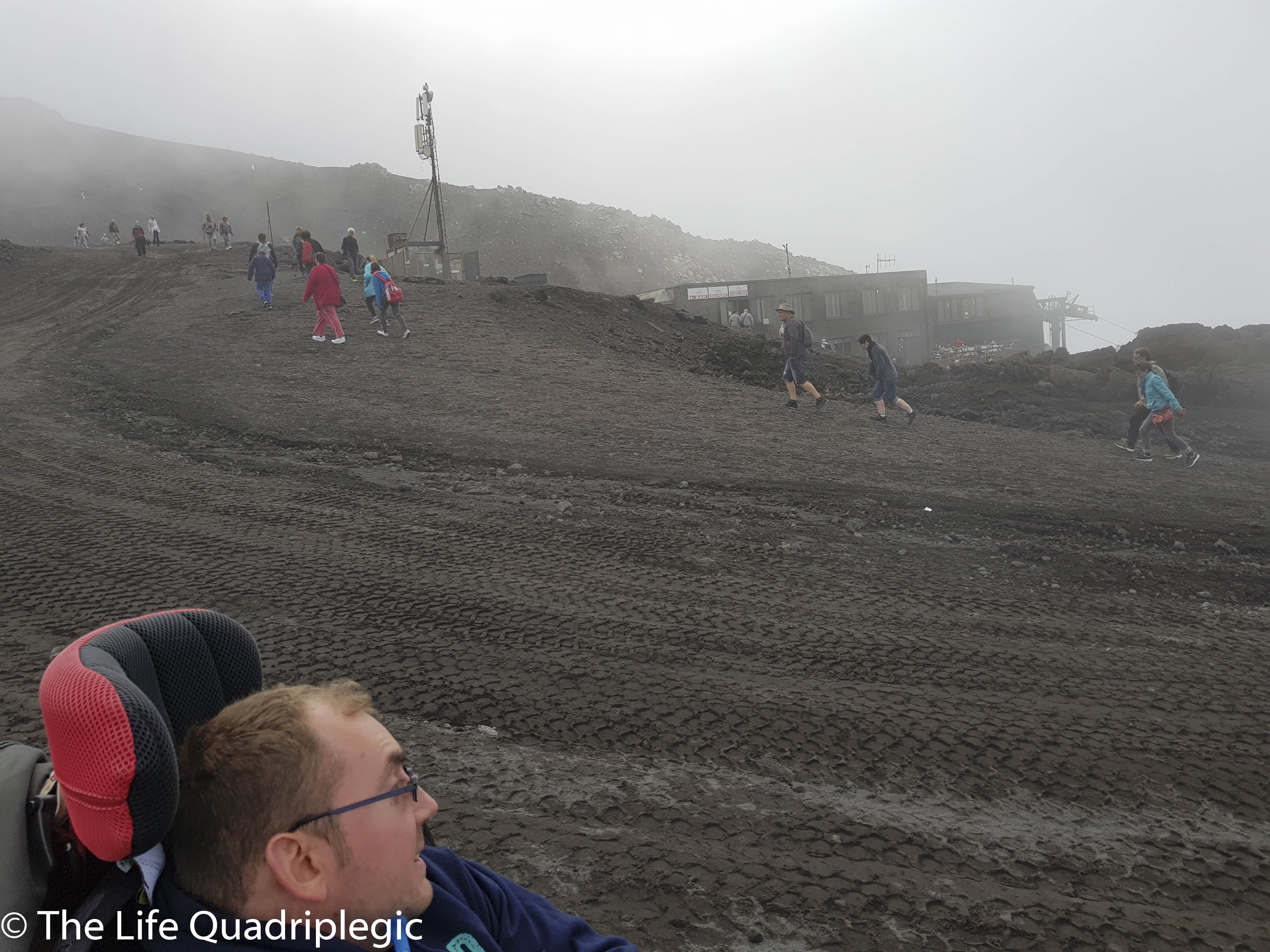 To get further up you either had to take a 4×4 bus that had huge chunky tyres or you could walk up on your own. Unfortunately, I could not do either so this was as far as I got up Mount Etna.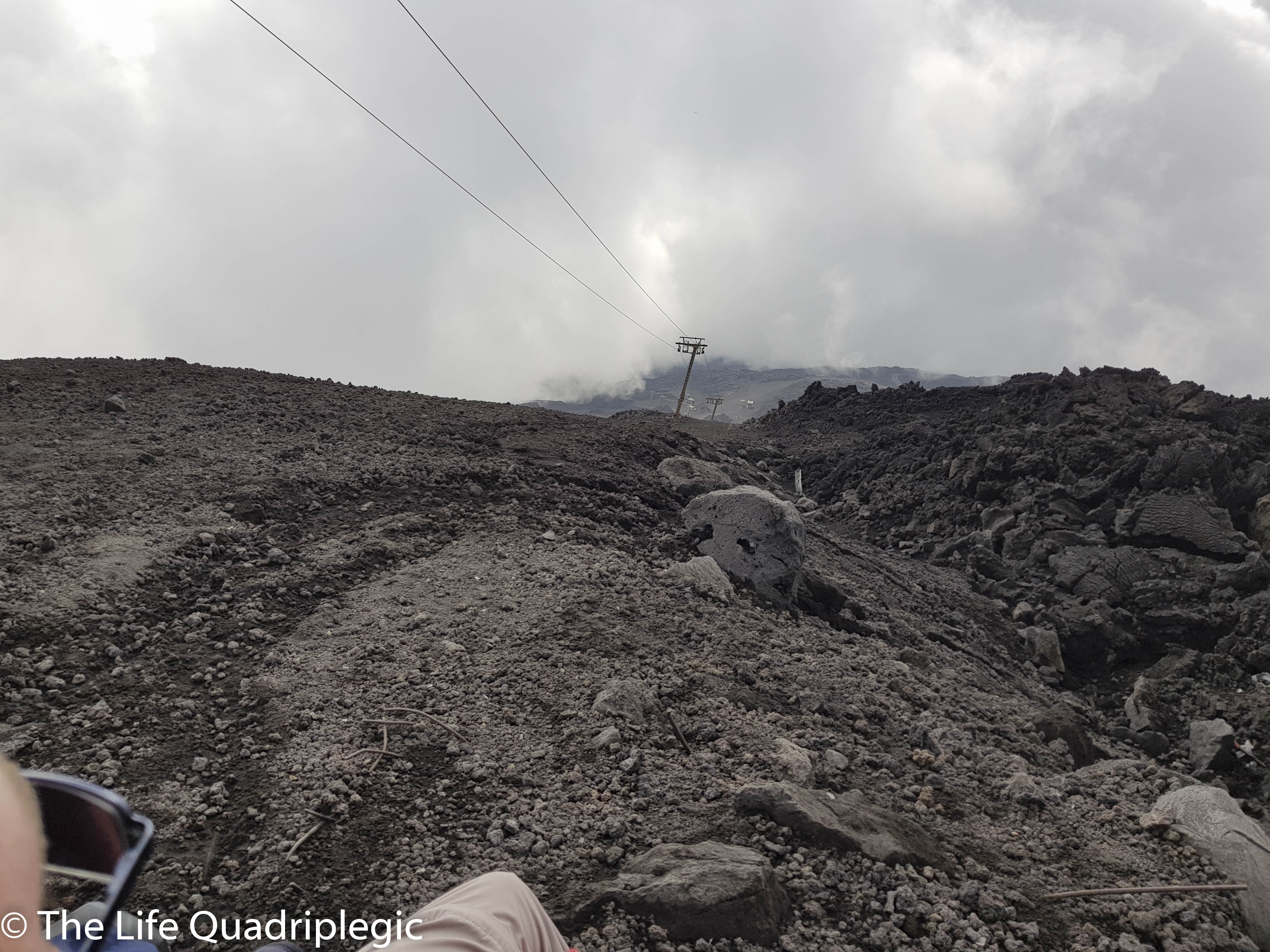 There wasn't much to see at this point either as the mountain was shrouded in clouds. The ground was bumpy and uneven which made it hard for my carer to push my chair.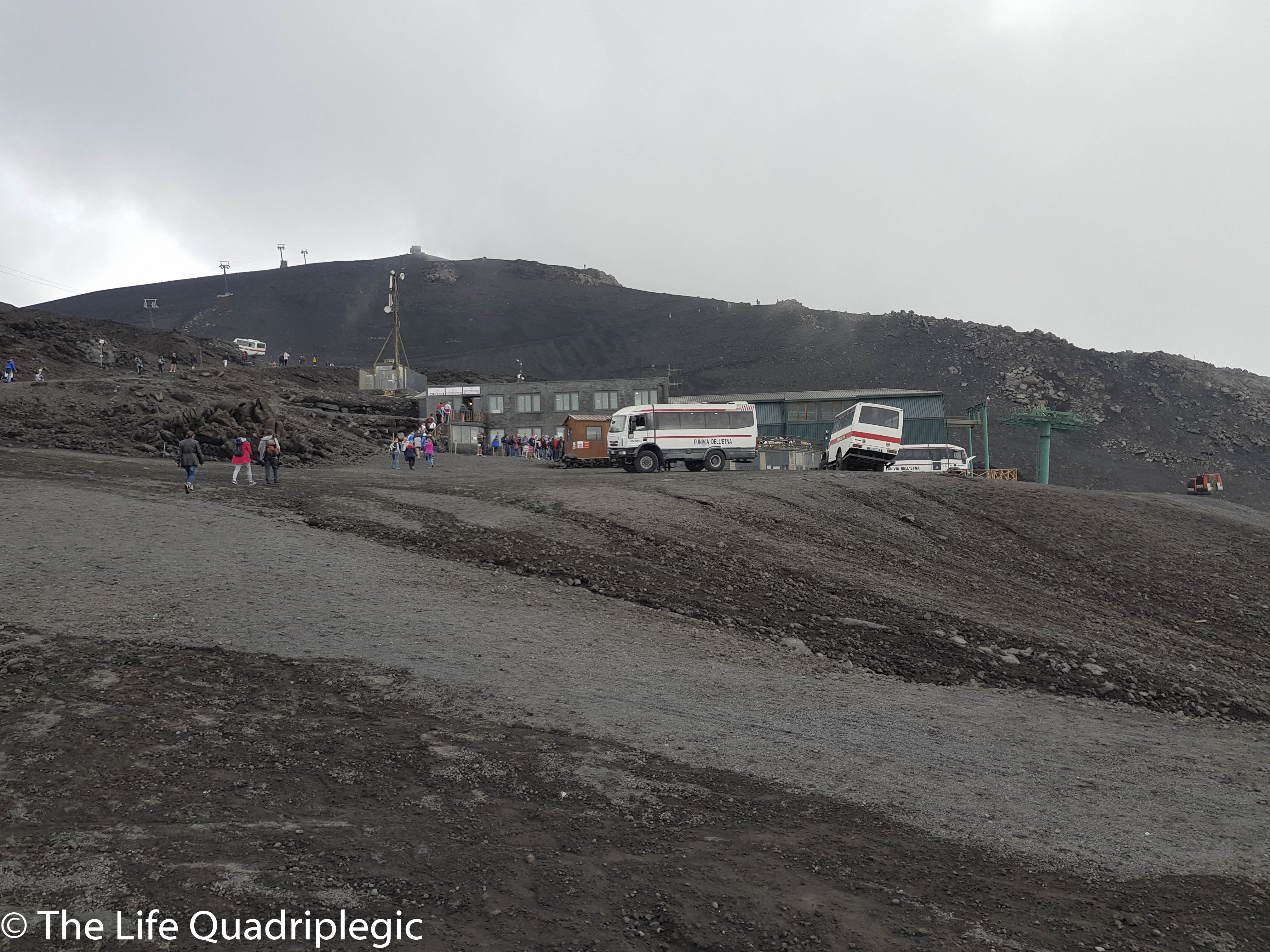 The best bit about going up Mount Etna was being on the cable car as it provided the best view.
After having lunch in the café I went back down in the cable car. I visited a gift shop at the bottom where there were lots of sculptures made from basalt (solidified lava). I bought a sculpted elephant and a sculpted spaniel.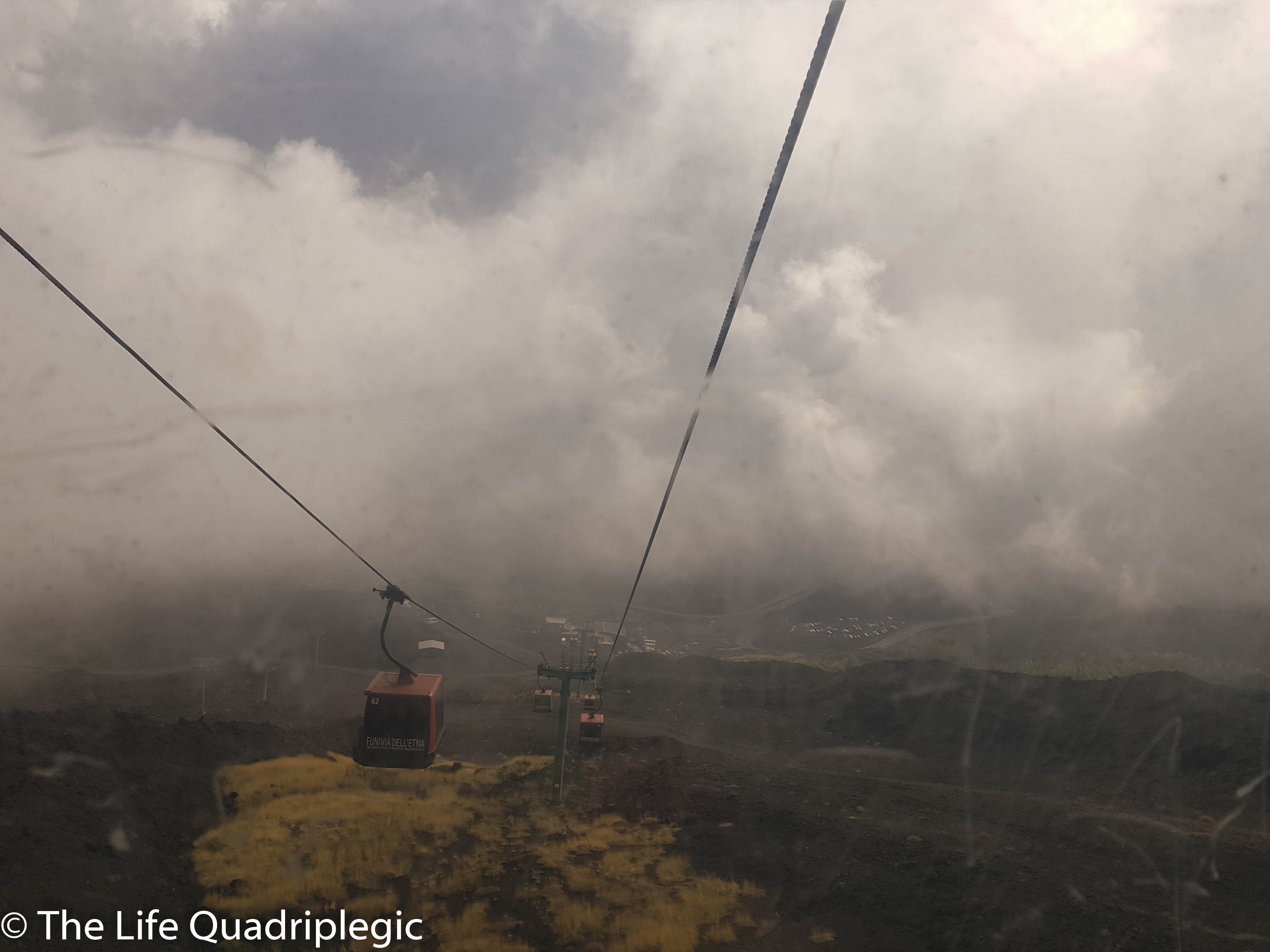 Catania
Catania is Sicily's second largest city and it lies in the shadow of Mount Etna. We spent a couple of hours wandering around the streets and hanging out in the main square Piazza Duomo.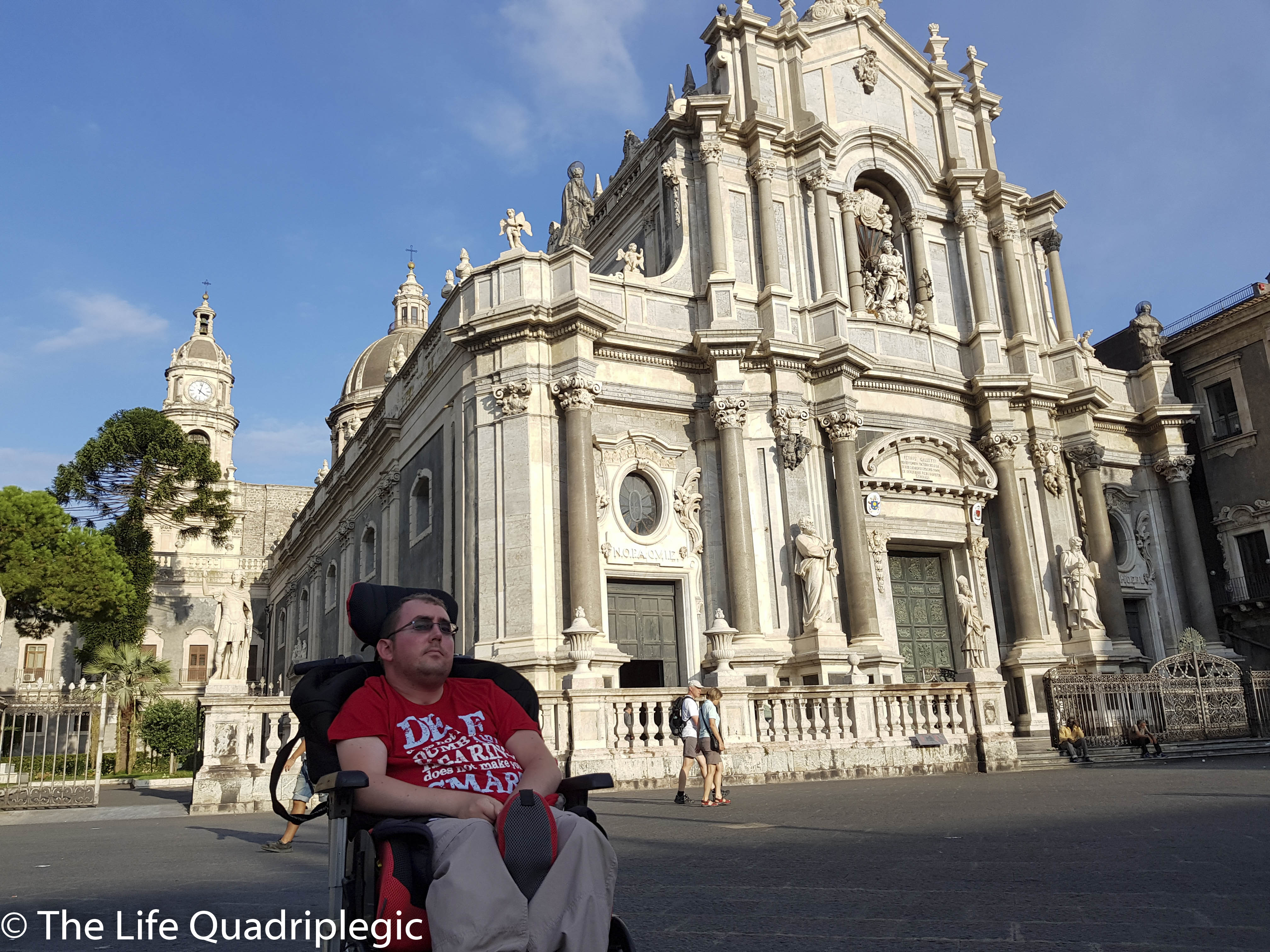 Around the square are some beautiful buildings like the city's Cathedral, and in the centre is the elephant Fountain. This consists of a black lava elephant (which is the symbol of Catania) with an Egyptian obelisk on its back.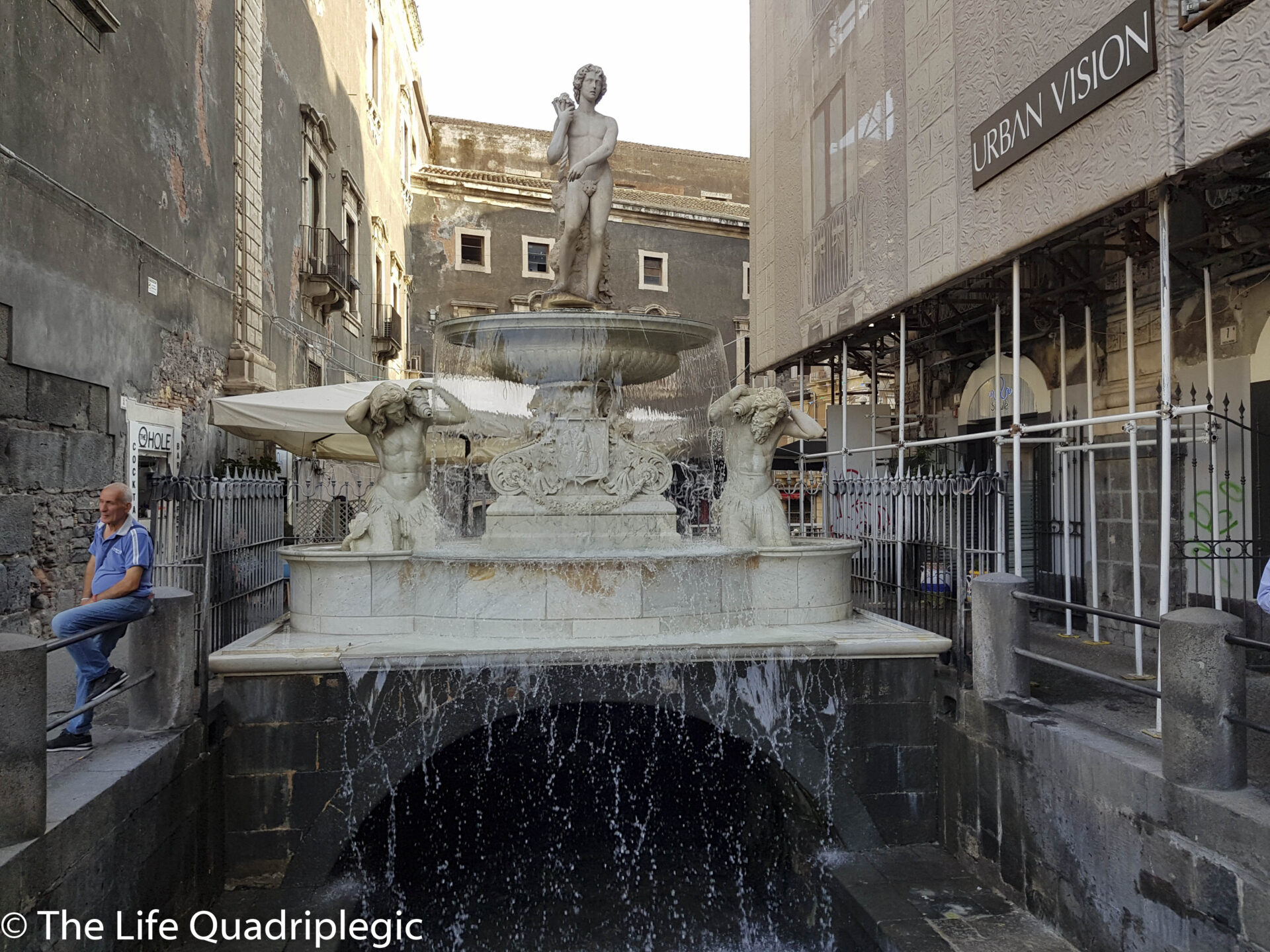 The city has some beautiful buildings with interesting architecture and pretty fountains. We also came across a street with lots of different coloured umbrellas hanging over it. It's a great way of brightening up the area especially when the sun shines.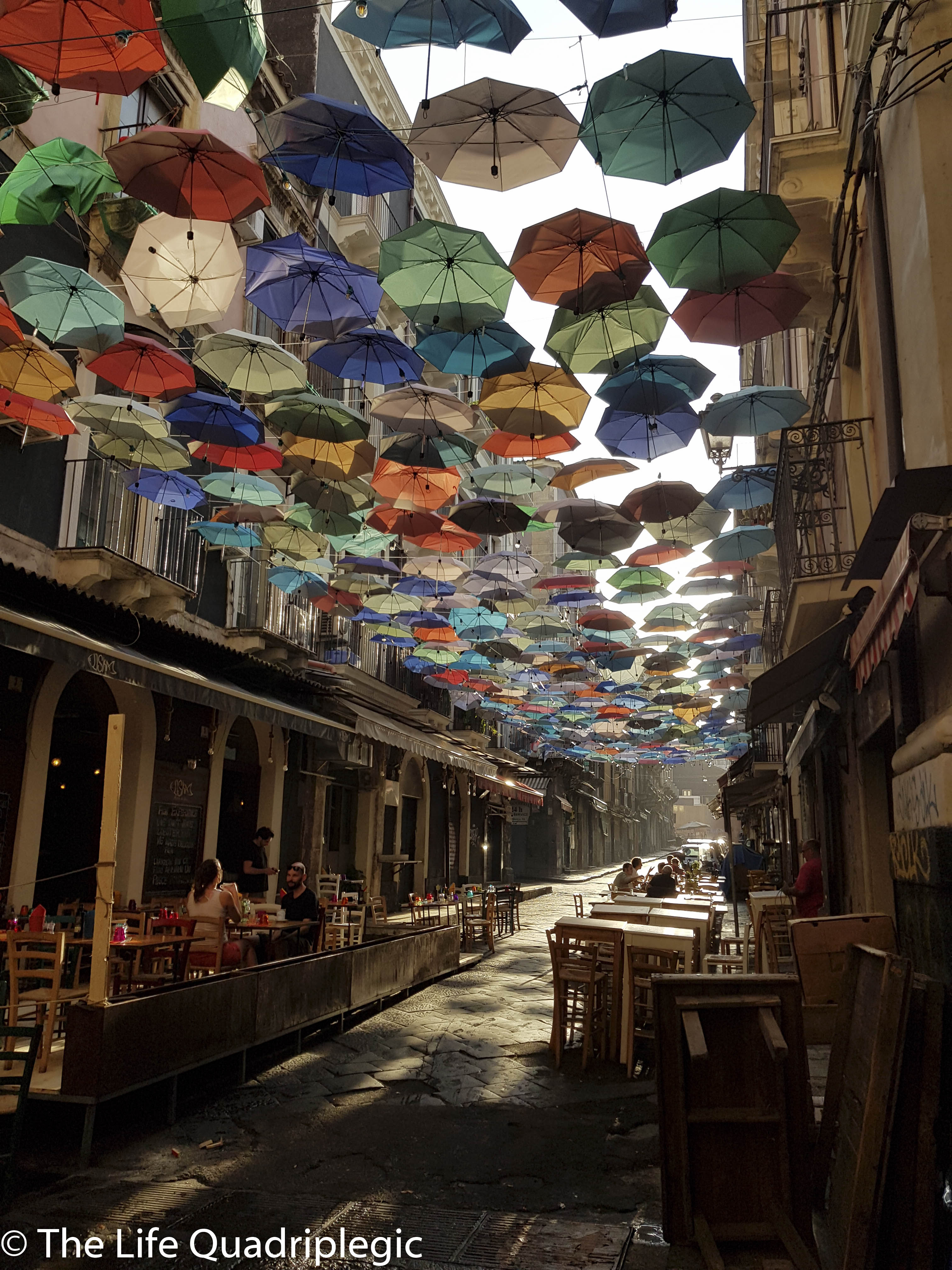 Marzamemi
Marzamemi is a pretty fishing village on the south-east coast of Sicily. Along the seafront there are a number of fish restaurants and stone houses looking out over the turquoise sea.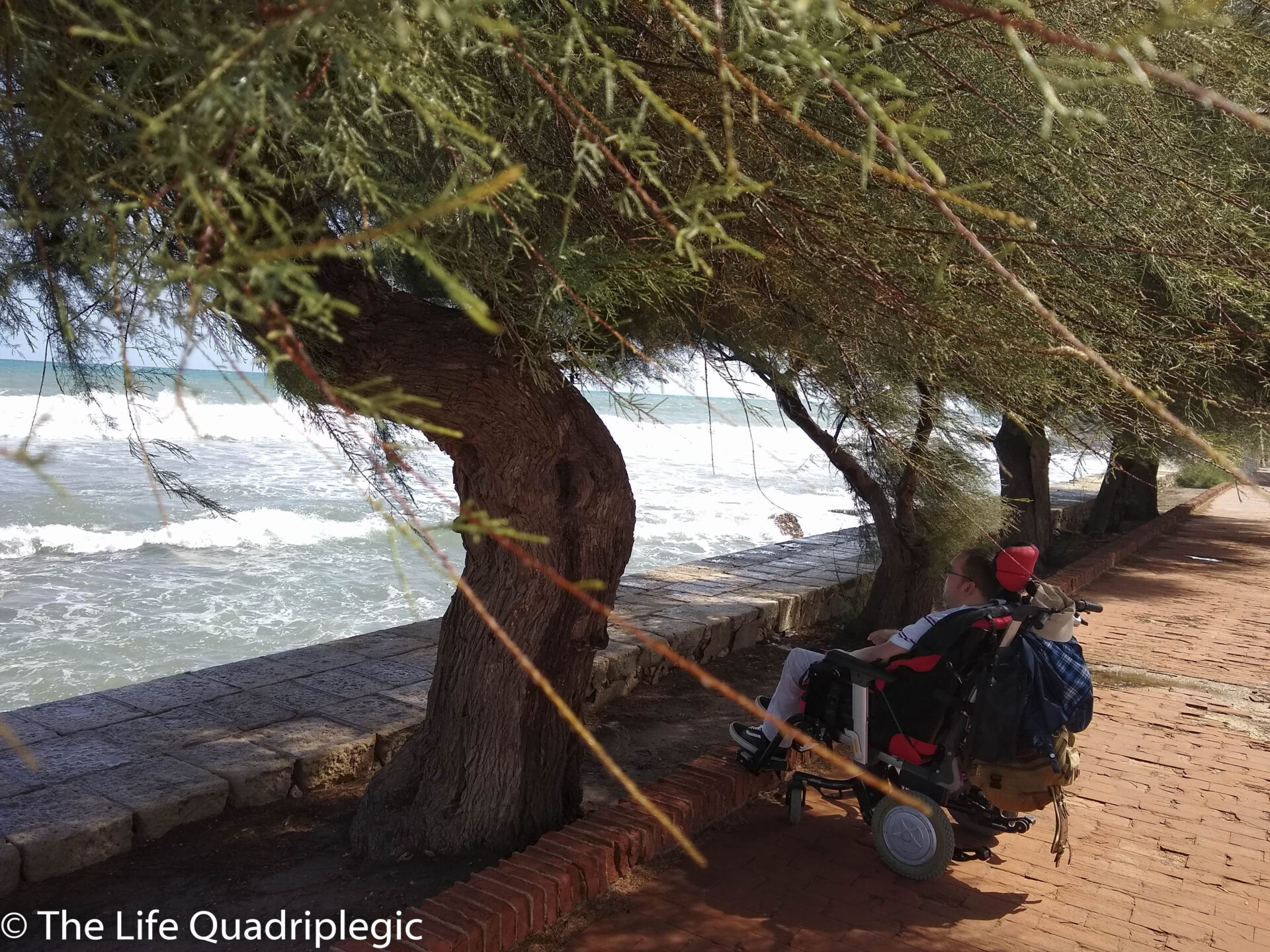 Wheelchair access isn't bad here but it would have been helpful if there were more dropped curbs along the seafront.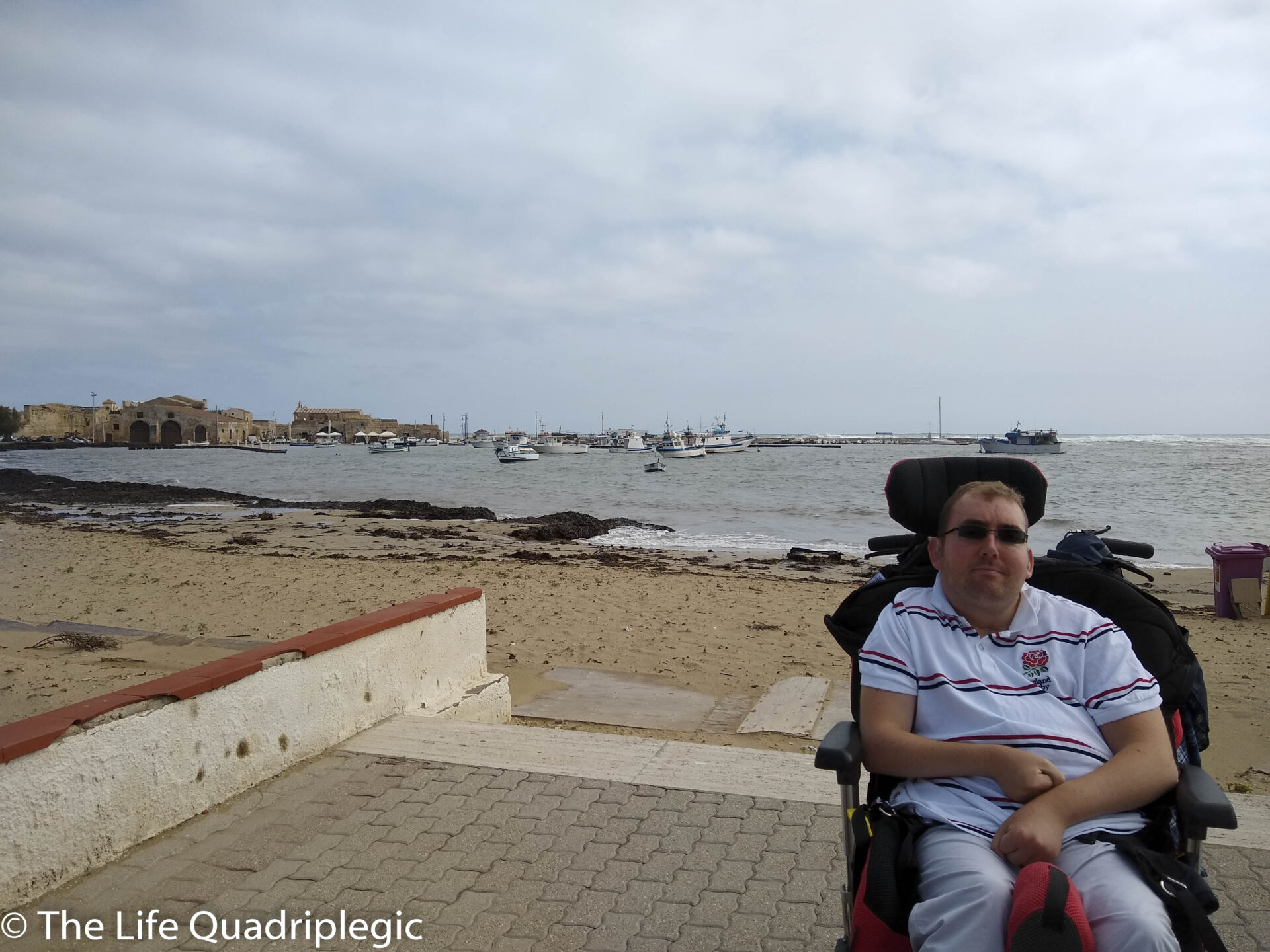 We sat and had lunch in the central square which is surrounded by restaurants. It's a nice place to sit and relax on a sunny day.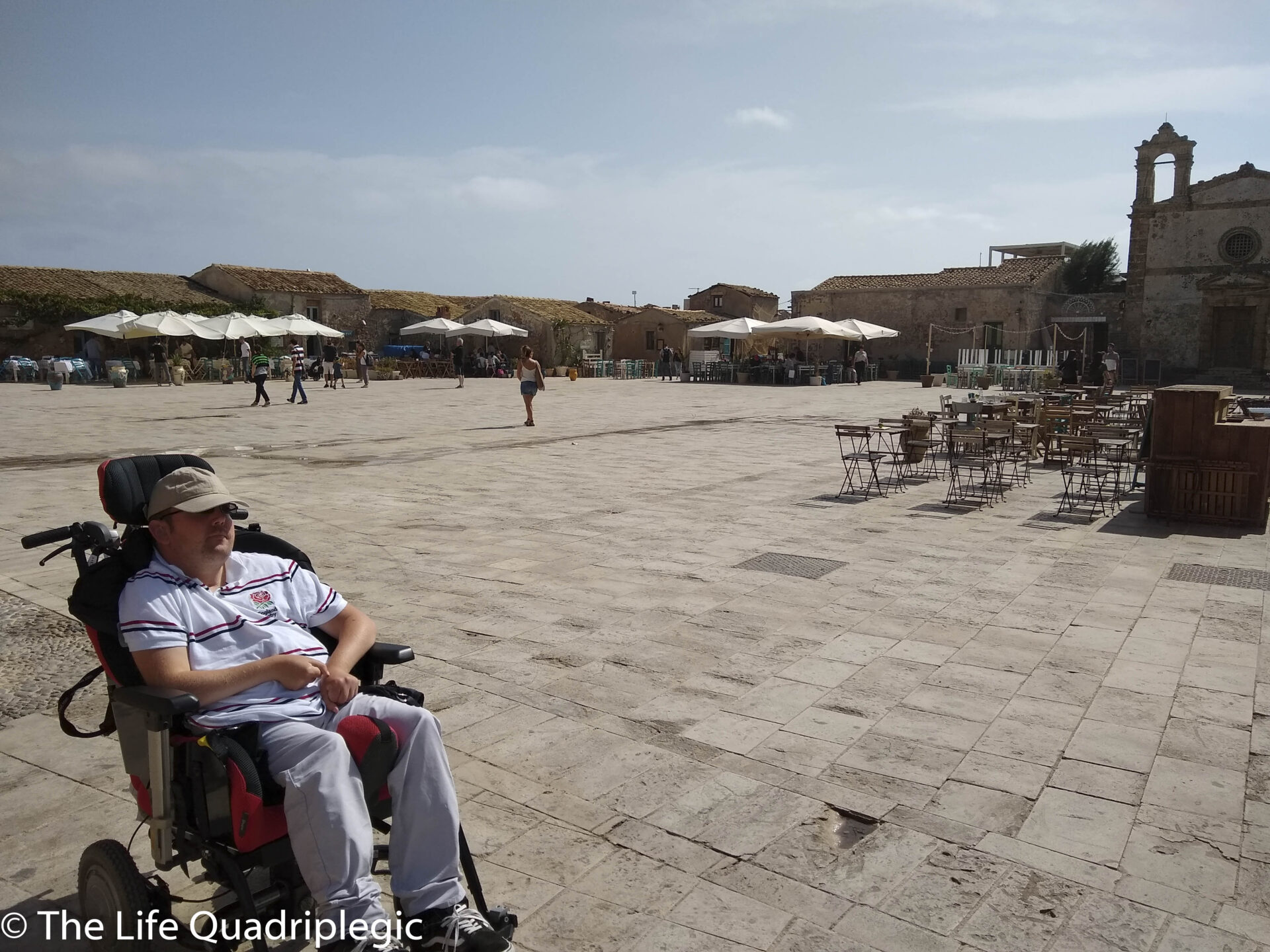 Syracuse
Syracuse is a 2700 year old city located on the south east coast of Sicily. It was an important city in ancient times and was a powerful city state. Syracuse is also notable for being the birthplace of mathematician and engineer Archimedes who is famous for shouting Eureka and running naked through the streets.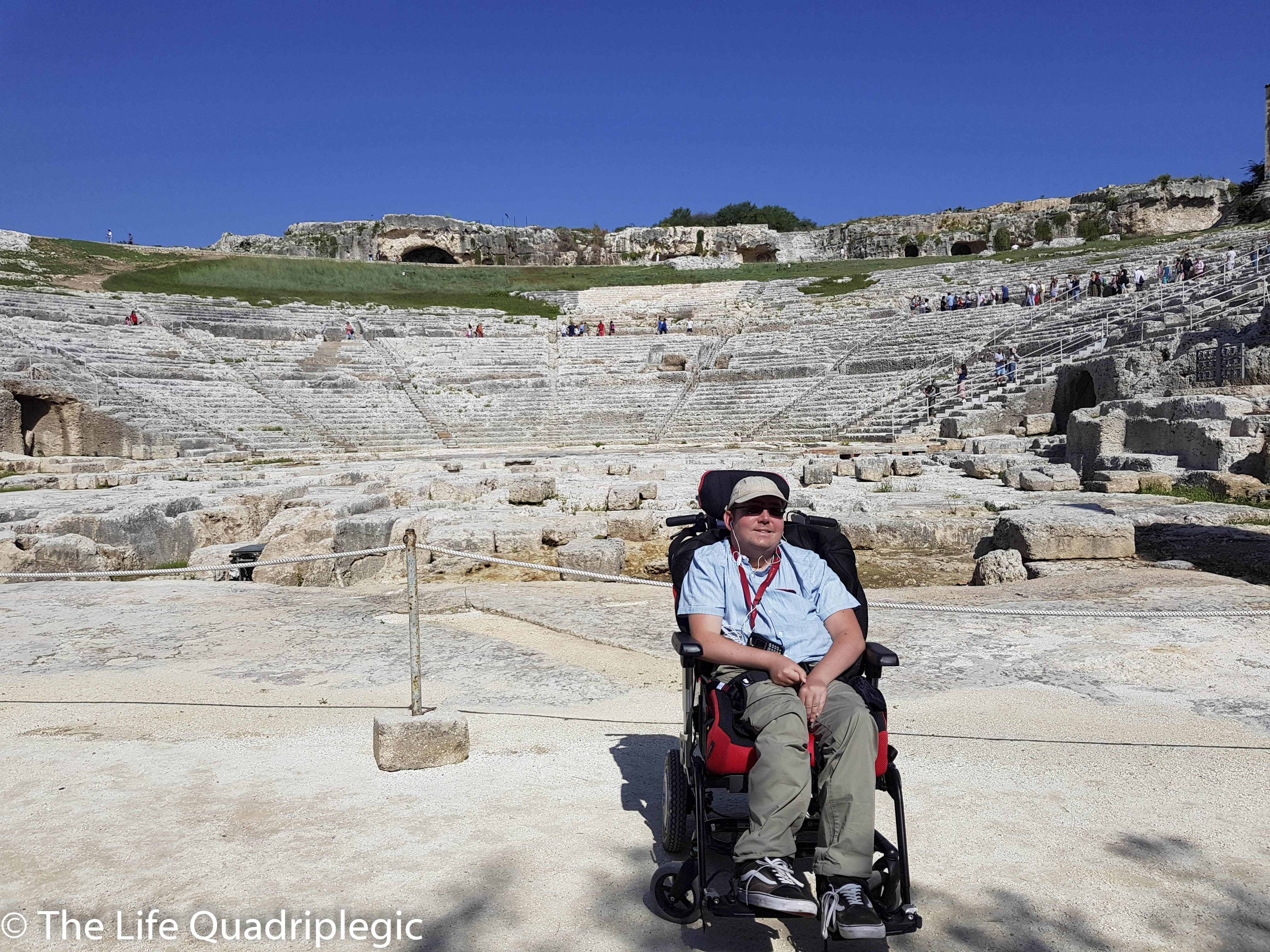 We visited an archaeological park in the city where there were lots of ancient remains. These included the Teatro Greco – an ancient Greek amphitheatre carved out of the rocky hillside in the 5th century BC. It was an impressive size, capable of accommodating up to 16,000 people in its heyday.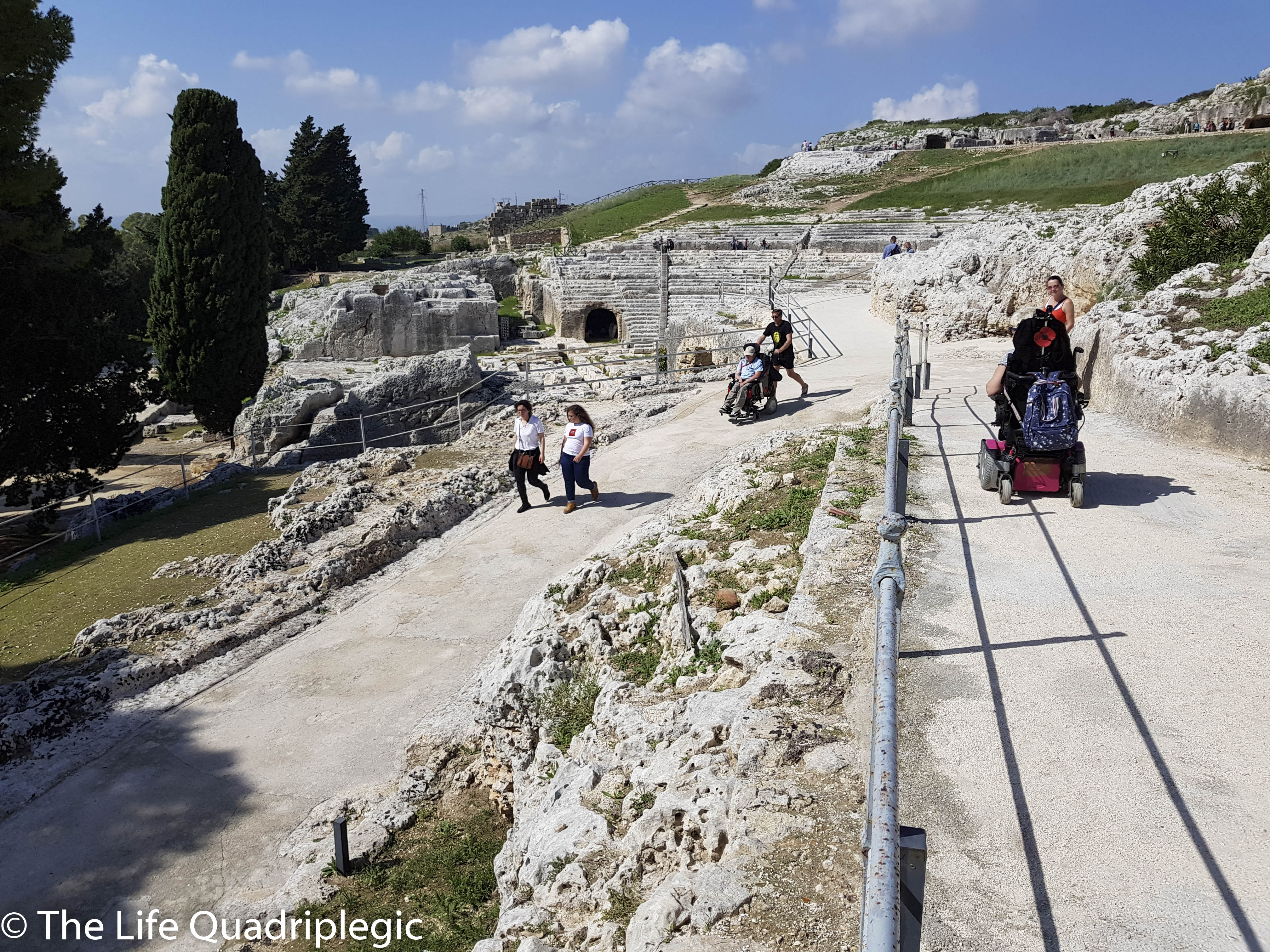 The wheelchair access around the site was very good. There were pathways and ramps running in front of and up the top of the amphitheatre.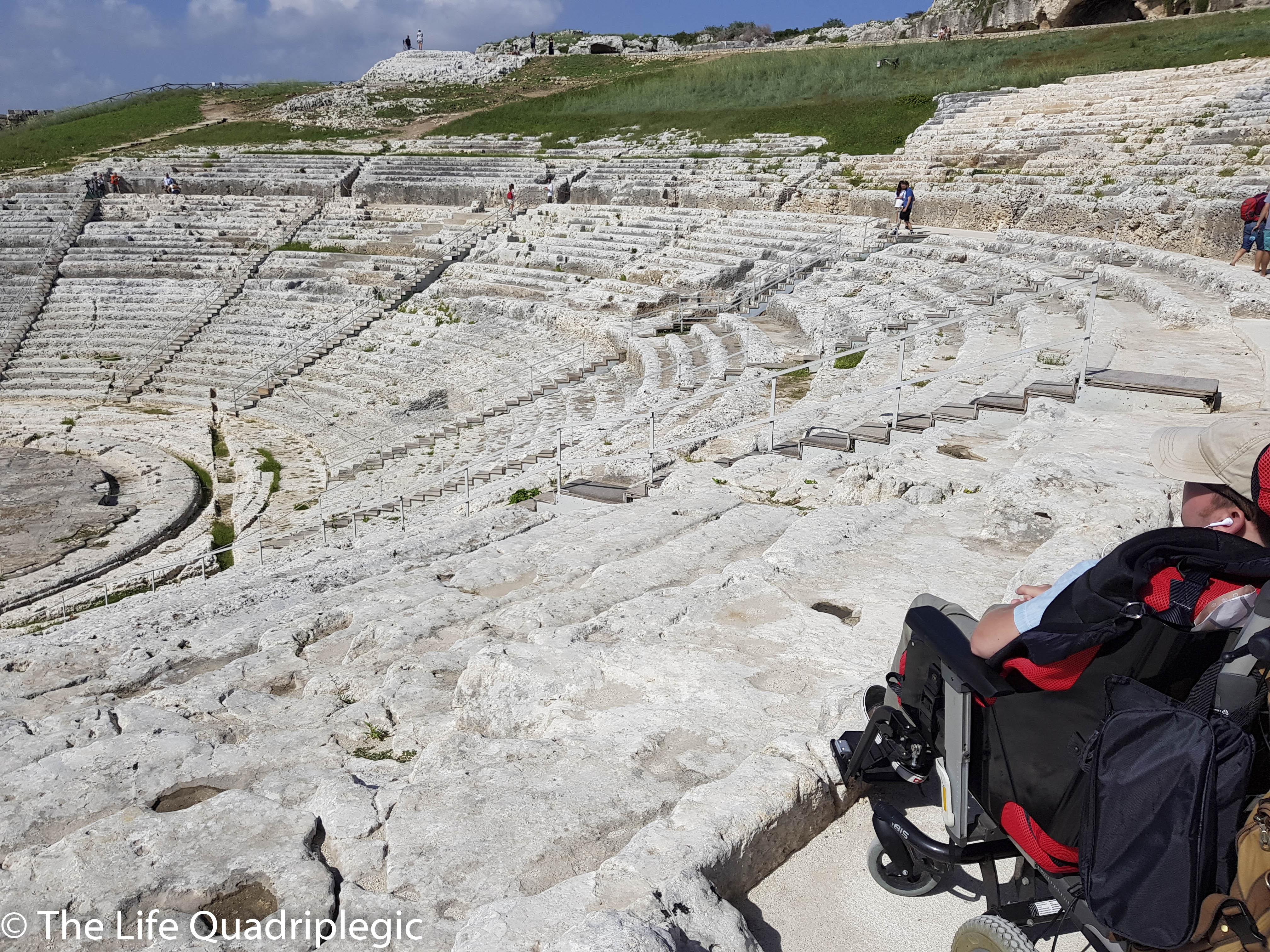 Elsewhere on the site is the Latomia del Paradiso which is an ancient quarry where stone for the ancient city was extracted. 7000 survivors of the war between Syracuse and Athens were held prisoner here in 413 BC. Now it is a peaceful garden filled with magnolia and citrus trees.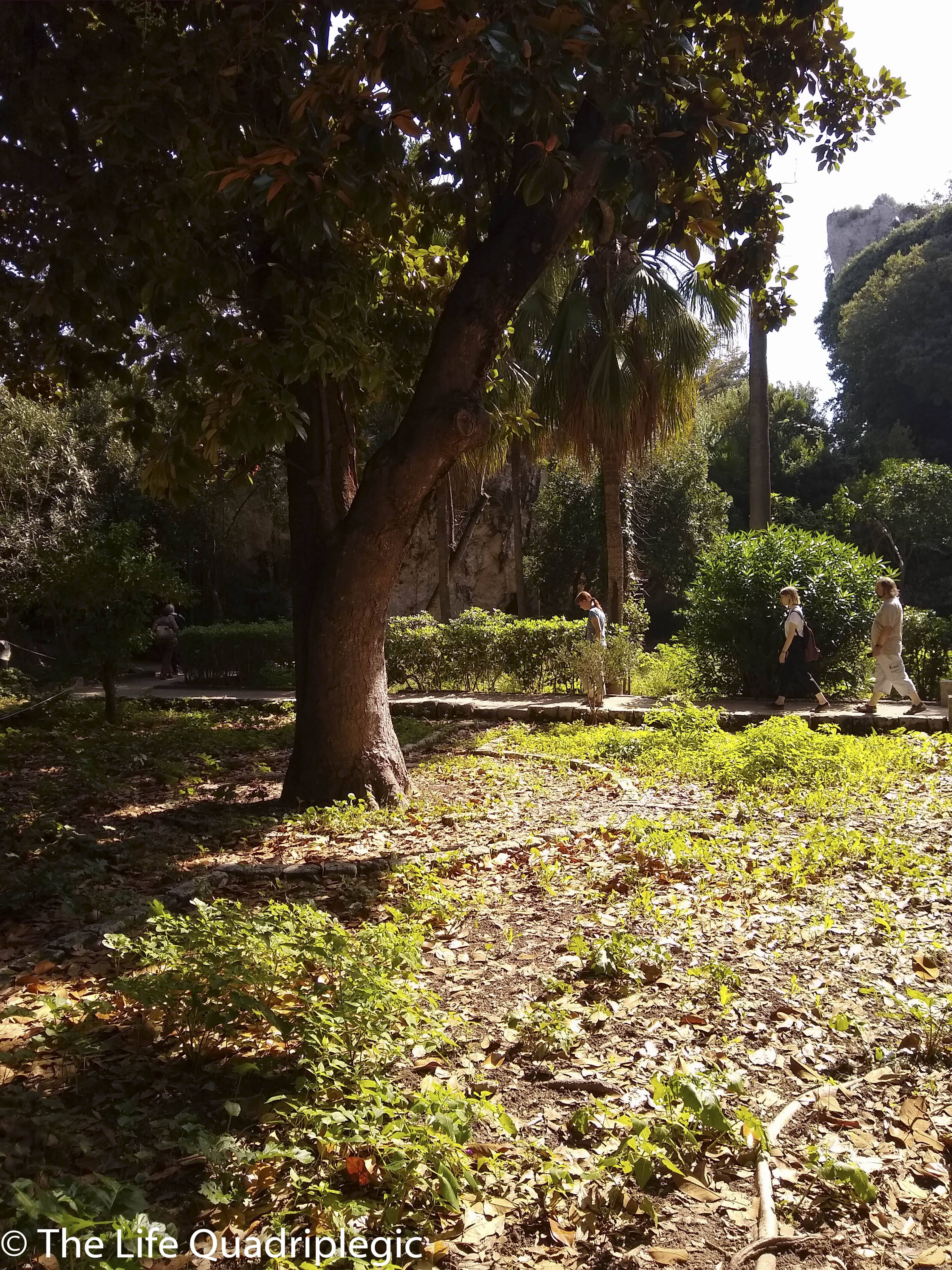 The main route to this area was down some stairs but there was an alternative step-free route for wheelchair users not normally open to the public.
Nearby is the Orecchio di Dionisio which is a 23 m high grotto which extends 65 m back into the cliffside. The ground inside this cave was pretty flat but it was very dark and hard to see much until your eyes adjusted.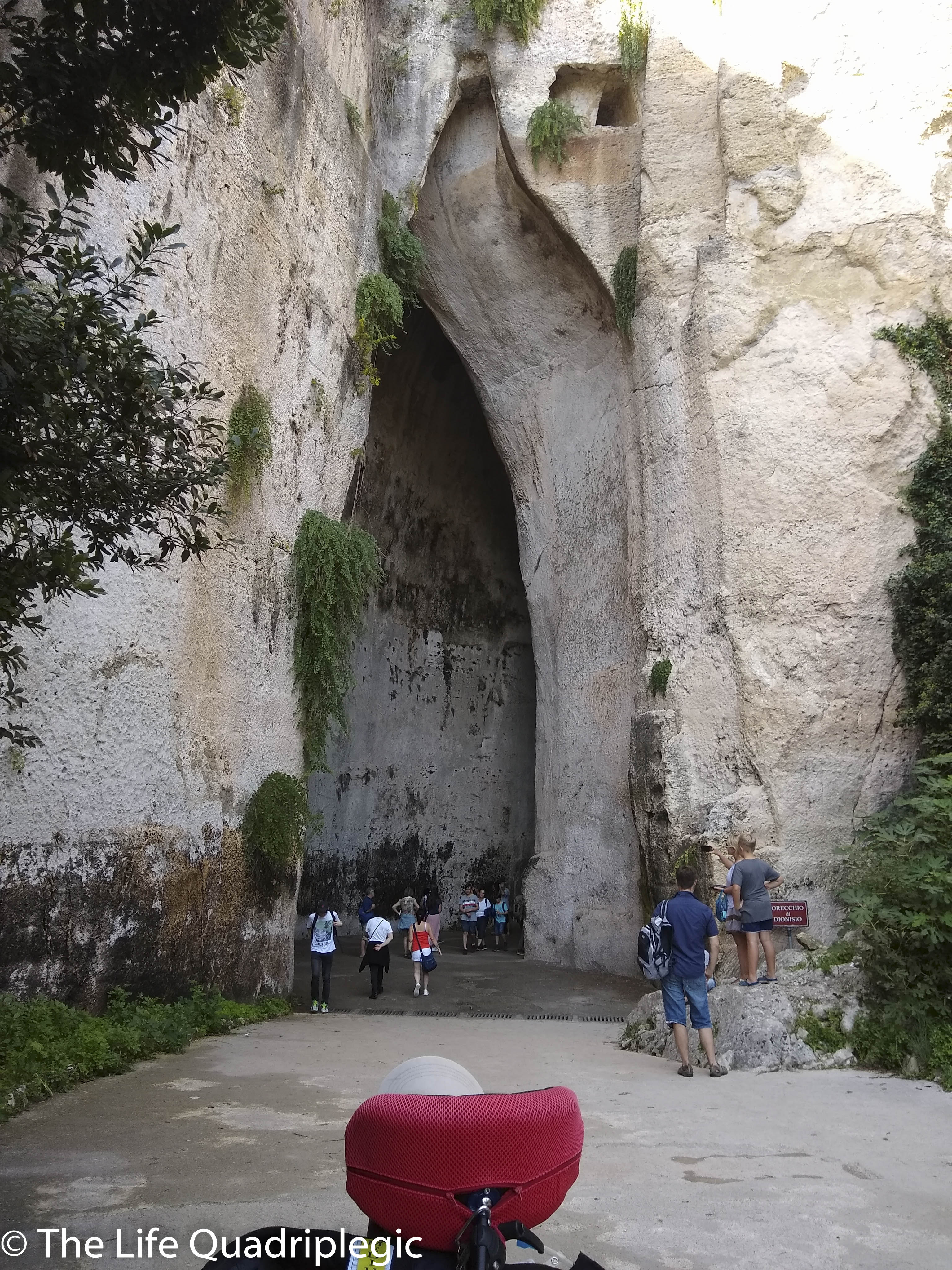 After the archaeological site we went into the city for some lunch in one of the city squares. I then went to quickly have a look at an exhibition about Archimedes before heading to the seafront to relax in the beautiful afternoon sun.
Pozzallo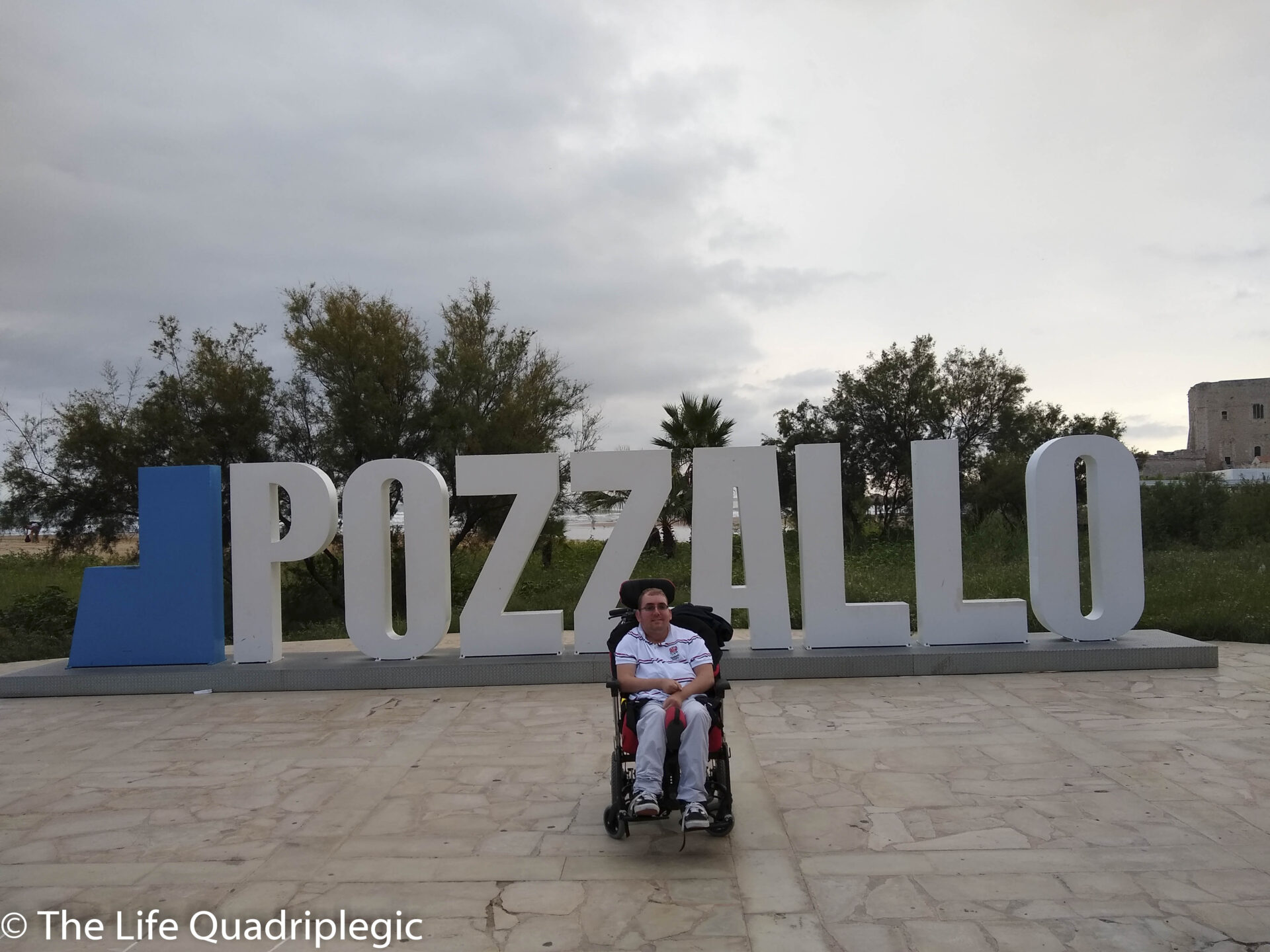 This seaside town on the south coast of Sicily was only a 10 minute drive away from Kikki Village, so we came here a few evenings to go to the bars or to have dinner.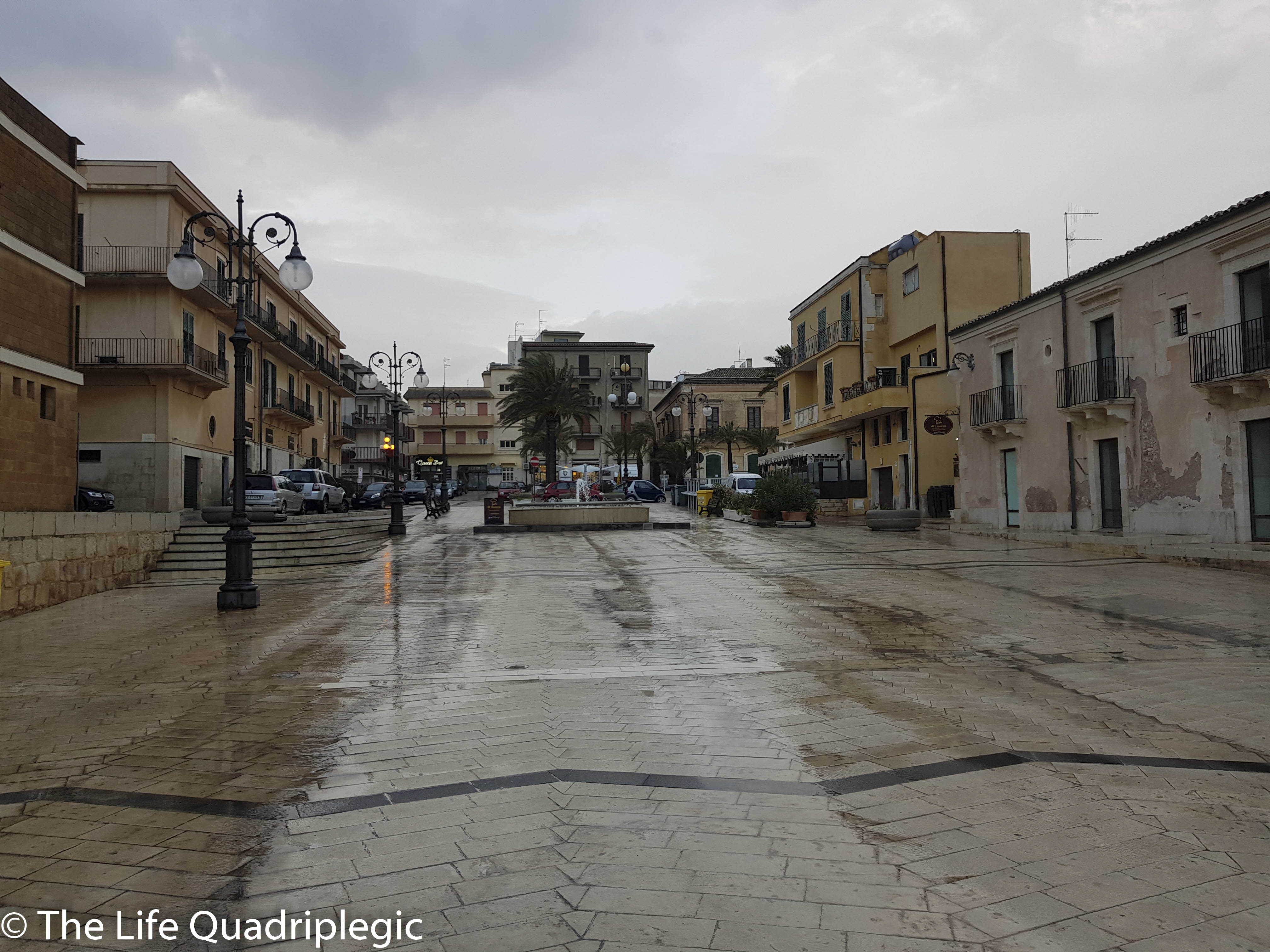 We spent our final day in Sicily on one of Pozzallo's blue flag beaches using the beach wheelchair from Kikki Village.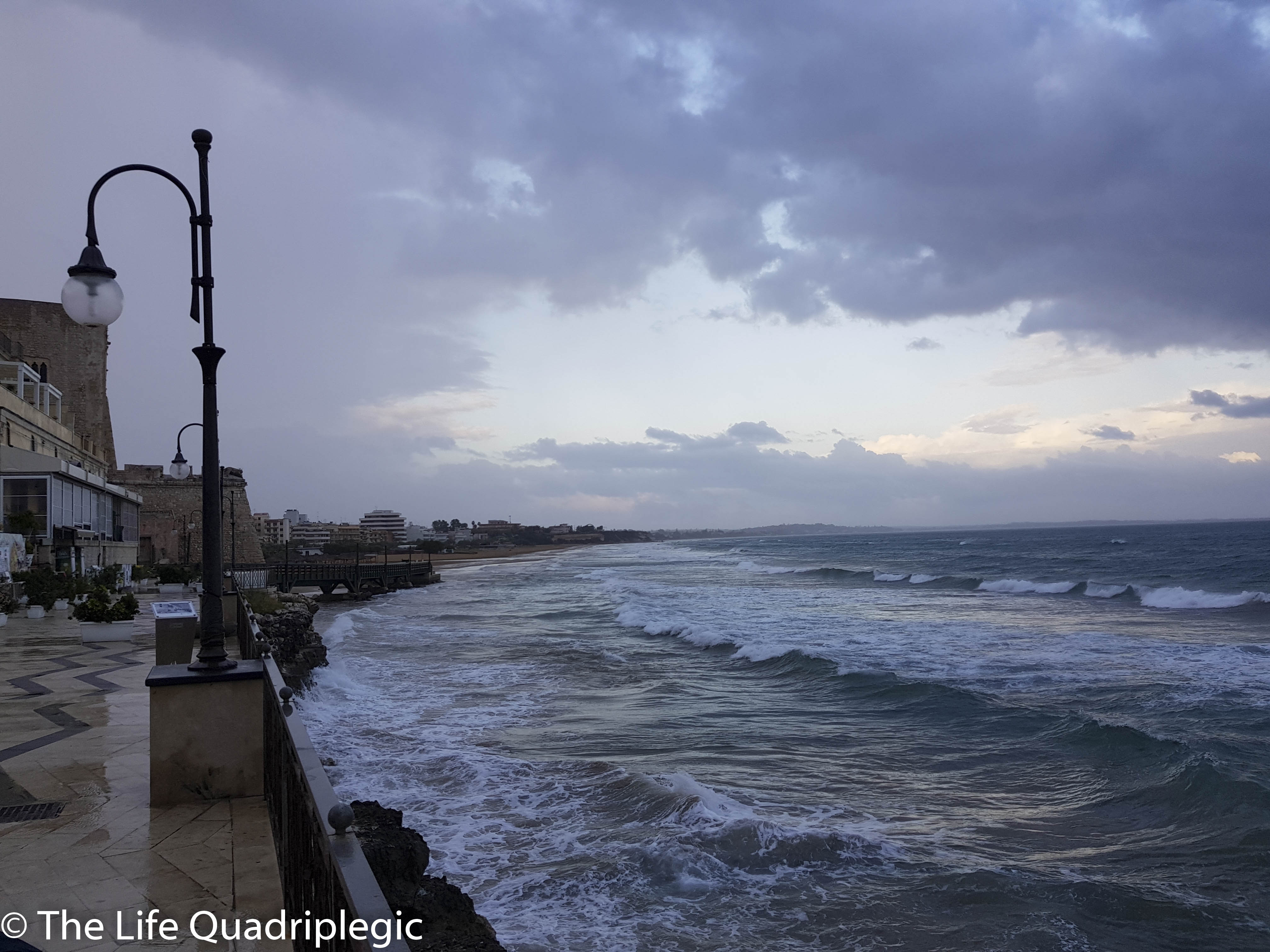 It was a beautiful warm day and it was extremely pleasant relaxing in the shade and getting my feet wet in the sea.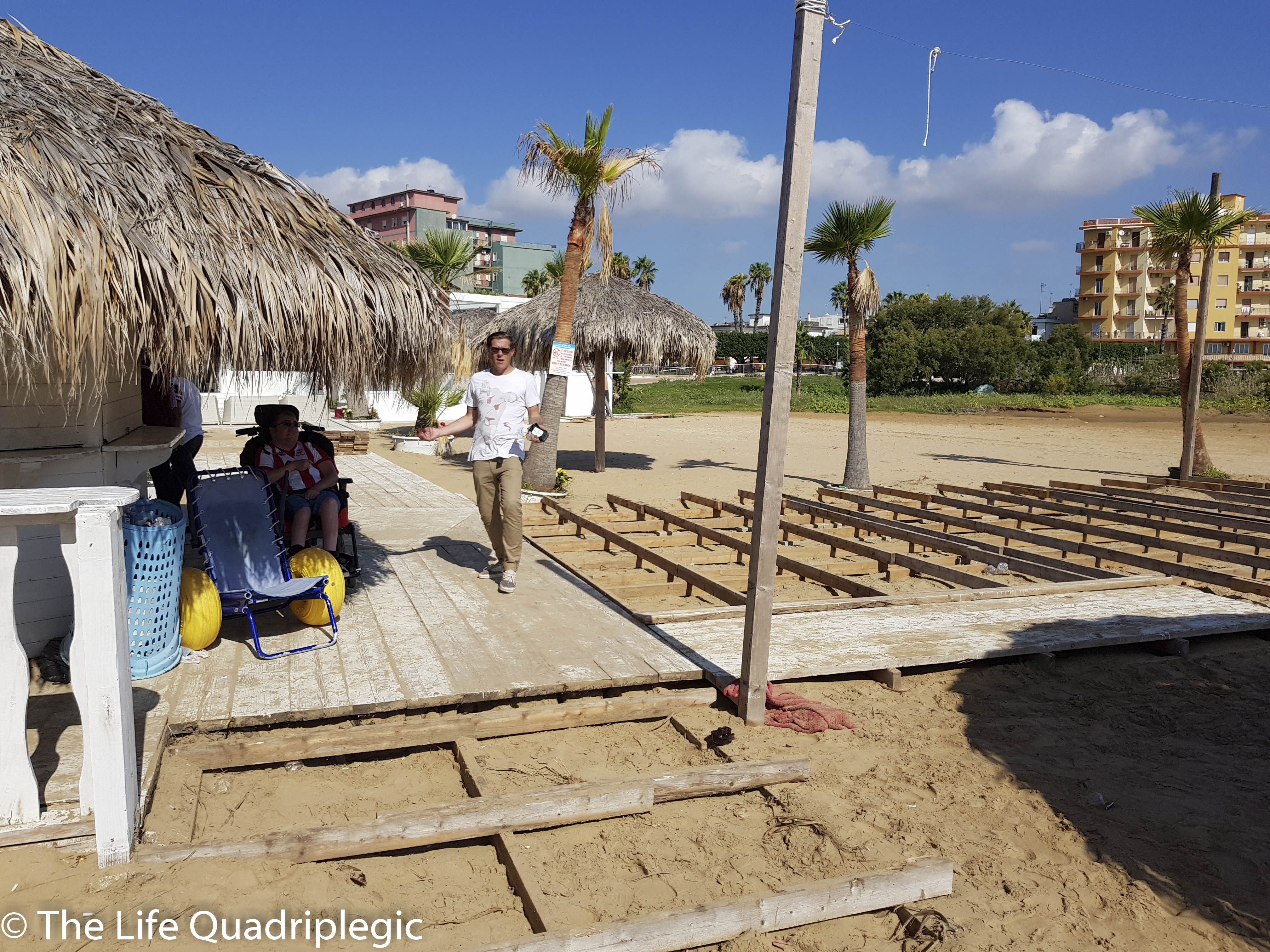 A wooden path ran onto the beach which provided access for wheelchair users. Most of the wooden walkways seemed to be unfinished as only the underlying supports were present for a lot of it. Nevertheless there was enough to get on the beach.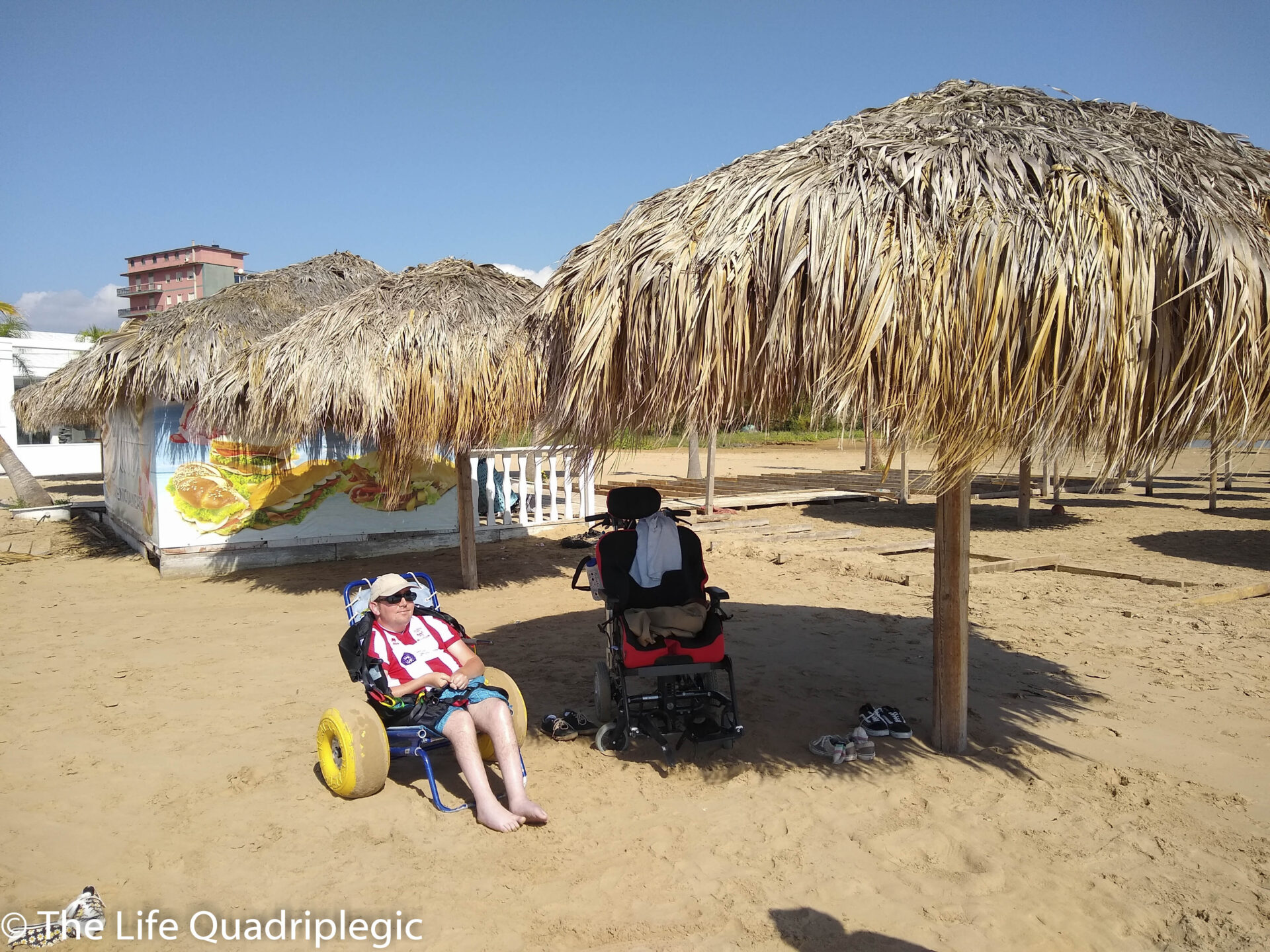 Conclusion
Sicily is a beautiful island and definitely worth visiting in my opinion. Kikki Village is a great place to stay for disabled people as it is fully accessible with good excursions to interesting places. Plus the food they serve in their restaurant is excellent – but be prepared to eat a lot of it! I went in October which was outside of the peak season so it was very quiet – there were only 4 other guests in the whole place. I think if I went back I would go another time of year – maybe in the spring or early summer – when hopefully it would be a bit livelier.