It's that time of year again – the great festival of consumerism that we call Christmas. You've probably already started your Christmas shopping (if not get on with it!)
Just a word of warning: be careful of what websites you buy from.
I fell for a scam. Read on to find out what happened so that you don't make the same mistakes that I did.
Back in November around the time of Black Friday, I was in the middle of one of my daily procrastination sessions browsing Facebook. I came across an advert. It was an advert for a full Stormtrooper outfit like from the Star Wars movies.
I've wanted one of these proper stormtrooper outfits for years, but they have always cost hundreds of pounds. This one was £26, marked down from £296. On the face of it this looked like an amazing deal. But sadly it was too good to be true.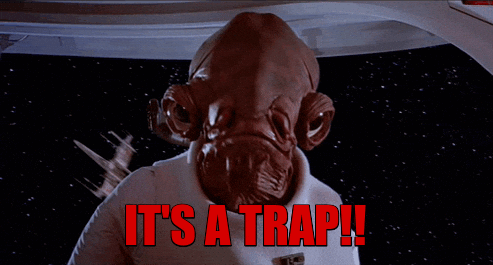 So I clicked on the advert and it took me to a website called rebatesesg.com. Everything looked legit.
People had written in the comments about buying the product and how pleased they were with it. There were even photos of "people" wearing the armour, and photos of it in the box. So this helped to convince me that the site was legit. But I realise now that these comments were fake.
So, about 3 weeks after I ordered what I thought was going to be a proper stormtrooper outfit, a package arrived.
It wasn't stormtrooper armor in a box like I was expecting. In fact what I received was a fabric fancy dress costume and a flimsy plastic mask. It's something that you could buy for about £10 in a fancy dress shop.
Look at it. Just LOOK at it…
The outfit on the left looks super cool, and would have made an awesome fancy dress costume.
The one on the right, however, looks as if the Empire had been hit by crippling austerity.
Post-Brexit Empire perhaps.
I was livid.
I sent the company an angry email asking for a refund. But they just fobbed me off saying it may differ slightly in colour or measurement, compared to the picture on the website. It doesn't just differ slightly, it's a totally different product.
Now, it seems that rebatesesg.com has been closed down. I get an error when I try to access it.
I'm not the only one that has been scammed by that website either. Here are some comments from scamadviser.com:
Now I found this same "stormtrooper kit" on a different website. It's called everyonedays.com, and it's still running. You can see it for yourself. Everything is the same, just a different website. Same wording, same layout, same pictures. Even the comments at the end are exactly the same.
Rebatesesg.com was obviously abandoned so they are trying a different website. Everyonedays.com is only about 6 months old, which is a red flag. Scam websites tend to be young. Both websites are based in China, which is another red flag. I should have googled it before I bought anything from them.
So, the moral of the story is be careful what websites you buy from. If you are unsure about the website Google it first to make sure it's not a scam. Here's a link for more tips on how to spot scam websites.
Good luck with the rest of your Christmas shopping, and watch out for the scammers. Or should I say may the force be with you.