I've come across many disability products over the years and some are more useful than others. There are some however that I find particularly useful that have made life easier in some way.
Disclosure: Please note that some of the links in this post are affiliate links, and at no additional cost to you, I will earn a commission if you decide to make a purchase after clicking through the link.
So without further ado here are 10 disability products that will make your life easier.
1. Glassouse Assistive Device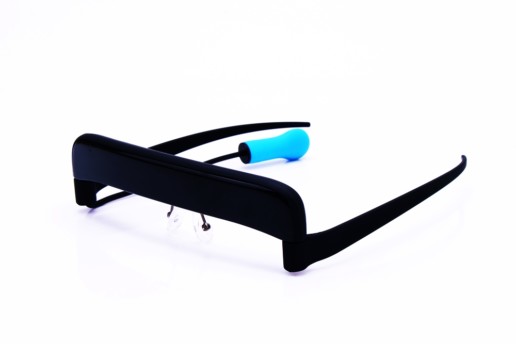 I wrote a full review of the GlassOuse before. I had to include it on this list because it certainly makes using my PC and smartphone much easier. In fact, I literally wouldn't be able to use my smartphone independently without it. You literally just have to connect it with Bluetooth, put it on your head, and away you go. You can use it for any Bluetooth device such as your PC, smartphone, or even a smart TV. If you are unable to use your hands to operate electronic devices I would definitely recommend getting a GlassOuse.
2. GuardKleens
Granted, a clothes protector is not the most exciting of products, but it is useful. If you need someone to feed you then you have probably experienced getting covered in food or drink at some point. I have. Not all feeders have the steady hand of a surgeon. So it's a good idea to have something to protect your clothes from food that goes AWOL. I found that GuardKleens do the job very well. They come in boxes of 50 and are disposable napkins that can stick on your clothes via an adhesive strip at the top. They have a pouch built into them which I have found very useful for catching errant crumbs that previously would have collected in my lap. I bought 600 of these the other day on Amazon because they are about 50% cheaper to buy in bulk, and I use them every day.
3. Dragon NaturallySpeaking
Dragon is a voice recognition program for your computer which lets you type, move the mouse, open and close programs, and much more just by using your voice. For me as someone who has difficulty using their arms, it is a revelation. I used to struggle to operate a computer using a normal mouse, a tracker ball, and even a graphics tablet.
But, using Dragon naturally speaking is SO much easier. I can type paragraphs like this one in seconds just by talking. Before I would use an on-screen keyboard which was much more laborious. I literally wouldn't be able to use my computer now if it wasn't for Dragon. It does get a bit annoying sometimes when it doesn't understand what I'm saying. But it definitely makes my life easier. I highly recommend it if it takes any effort at all for you to use a computer. Dragon will help you.
4. H&S wooden bookstand
This is a great little bookstand. It's robust and can handle most books. It has 2 metal arms at the front to hold pages down which is very useful and it works very well. I have a stand which I used to use to lift my PC monitor up which I now put the book stand on. It is rated it up a bit so I don't have to bend my head down. If you like reading but can't or don't want to hold the pages then investing in one of these book stands would be a good
5. "The Hydrant" drinking bottle
As a wheelchair user I used to have to ask people for drinks every time I wanted one. But with The Hydrant that I can drink any time I want independently. It's basically a water bottle with a long tube that you can clip onto your clothes. There is of bite valve that can be placed on the end of the tube and you bite onto it and suck to get a drink. It is incredibly useful for staying hydrated. People might not always be around to ask the drinks, we might forget, so having the water bottle with you all the time is a good way to help make sure you don't get dehydrated. It has a handle on it so you can hang it on the back of your wheelchair, or even hang it on the side of your bed.
6. Lazy Bracket Phone Holder
This somewhat dubiously named "lazy phone holder" is brilliant for holding my smartphone in a comfortable position without needing someone else to hold it. The padded bit goes behind your neck and the flexible arms can be positioned so that the phone is in a good position for you to see it.
Although it seems to be branded as a product for "lazy" people I believe this thing will be very useful for lots of disabled people who are unable to hold their phone with their hands. The bracket can be adjusted to fit a wide range of phone sizes and it even holds my Amazon Kindle Fire tablet. I love this thing!
7. SwetWipes antibacterial body wipes
SwetWipes are an adult version of baby wipes and can be used as a substitute for a shower or bath. They would be especially useful for people who are bedbound or find it difficult to have a shower or bath. I was surprised how quickly it took to get washed and dressed using these and still felt clean. They are antibacterial, large, and thick, and are designed so that you only need to use one wipe For your whole body. They are certainly worth a try in my opinion if you sometimes don't want to have a shower.
Check out my full review for more info.
People in wheelchairs tend to get a lot less exercise than able-bodied people. Especially if you can't walk at all, like me. So I have a Motomed exercise bike. This exercise bike is designed especially for people in wheelchairs. So I can cycle with my arms on the pedals at the top of the bike, and then with my legs on the pedals at the bottom, without having to get out my chair. This is pretty much the only way I can get any exercise, so it's a very worthy investment. Obviously exercise is good for your health. The bike has a motor in it so it can move the pedals itself passively, or you can cycle actively yourself using your own power. I tend to do a bit of both. Passive cycling is good for relaxing the muscles, and I don't always feel up to exercising actively if I'm tired.
9. Fastfit waterproof trousers
These waterproof trousers are made in the UK by a company called Fastfit clothing. The trousers are designed to be easy to put on whilst sat in a wheelchair. You just have to put the trousers on top of your legs and tuck them underneath. They look just like normal waterproof trousers too so they don't stand out. Stylish and practical.
10. Electric wheelchair panel cover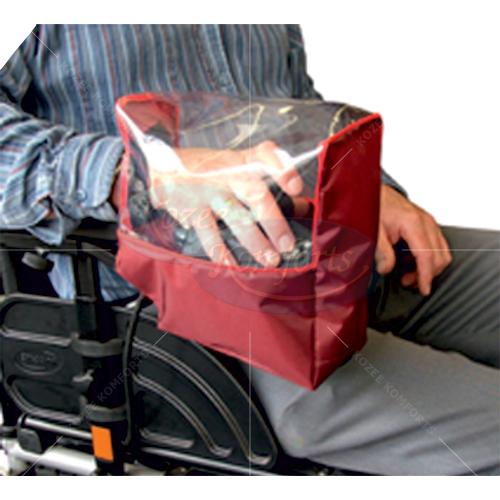 This cover goes over the control on a powerchair and has a whole which you can put your hand in to drive. It's a good way to keep your hand dry and shielded from the wind while you are driving. The top of it is clear so you can still see the controller.
Are there any disability products that you can recommend? Let me know in the comments!